Bitcoin closed the past week with returns of about 35.8%; here's what has happened historically when the asset's price has performed similarly.
Bitcoin Registered 35.8% Gains During The Past Week
BTC has continued its strong upwards momentum recently, with the last week being one of the best-performing weeks in the history of the cryptocurrency as the coin managed to close it is 35.8% in the green.
According to the latest weekly report from Glassnode, only 16 trading days since 2015 have seen larger 7-day gains than the latest rally, showing how rare and special such price surges have been.
Here is a chart that shows the data for the 7-day price performance of Bitcoin since the year 2015: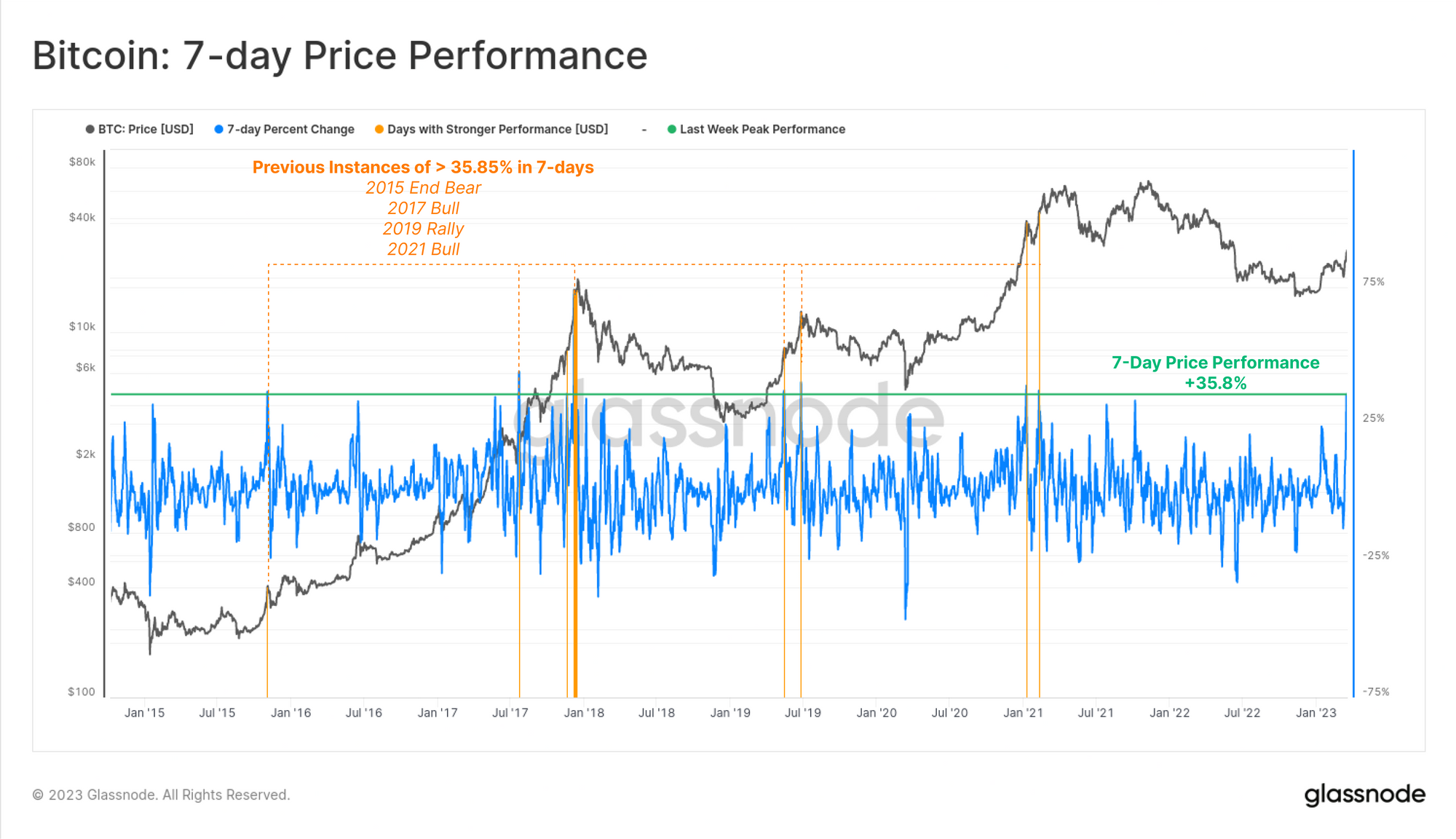 Looks like the value of this metric has been pretty high in recent days | Source: Glassnode's The Week Onchain - Week 12, 2023
In the above graph, Glassnode has highlighted (in orange) the previous instances for Bitcoin where the price showed stronger 7-day percent returns than the latest one.
It seems like the last time BTC saw a higher amount of 7-day gains was when the bull run of the first half of 2021 was almost at its top. Similarly, multiple days with this trend were observed at the top of the 2017 bull run.
The chart shows that these Bitcoin bull runs also saw an instance of this trend when the rally was still on its way up but had nonetheless entered the late stages.
A couple of occurrences of higher 7-day returns were also observed during the rally that took place back in April 2019. This mini-bull rally shares many similarities with the current one, as it also pulled BTC out of the bear market lows.
The first trend instance was seen in the latter half of this rally, while the second was observed right at the top, much like during the bull runs of 2017 and 2021.
All these occurrences suggest that Bitcoin has generally only seen days with such strong 7-day percentage returns when a bull rally has entered its late stages.
One clear exception to this, however, took place way back in 2015, when the end of the bear market of that cycle saw such returns, but the buildup towards the bull rally was only in its early phases then.
If the current market is comparable to all these previous bull rallies, then the 35.8% returns that Bitcoin observed in the past week may mean that a top is near, or at least the rally has entered its late stages.
Naturally, a different trend is still not out of the realm of possibility, as the instance at the end of the 2015 bear market already showed. However, it's still true that such a trend hasn't been repeated all these years since then.
BTC Price
At the time of writing, Bitcoin is trading around $27,900, up 16% in the last week.
BTC seems to have dipped below $28,000 | Source: BTCUSD on TradingView
Featured image from Kanchanara on Unsplash.com, charts from TradingView.com, Glassnode.com