Bitcoin slide to $37,000 on March 7 sparked some purchasing interest, resulting in a price bounce to $39,000 on March 8. Surprisingly, the upward sloping trendline that served as an accumulation zone for traders in 2022 was the origin of the upside retracement move.
Price Fall Signals Retracement
Bitcoin price established another lower high on the 4-hour chart, showing that bears are still in control and that more loss is likely.
Today is set to provide a breath of relief and let some steam out of the pressure cooker that is Ukraine, with global markets still anxious and on edge. As this favorable news is picked up and turned into another round of bullish uplift for the cryptocurrency, expect more decompression going into the U.S. session.
Over the last few days, bitcoin's price has suffered a significant retreat from its latest major swing high of $45,600. The initial decline of roughly 15% sent BTC/USD to $39,000, and the pair was tested further on the negative over the weekend.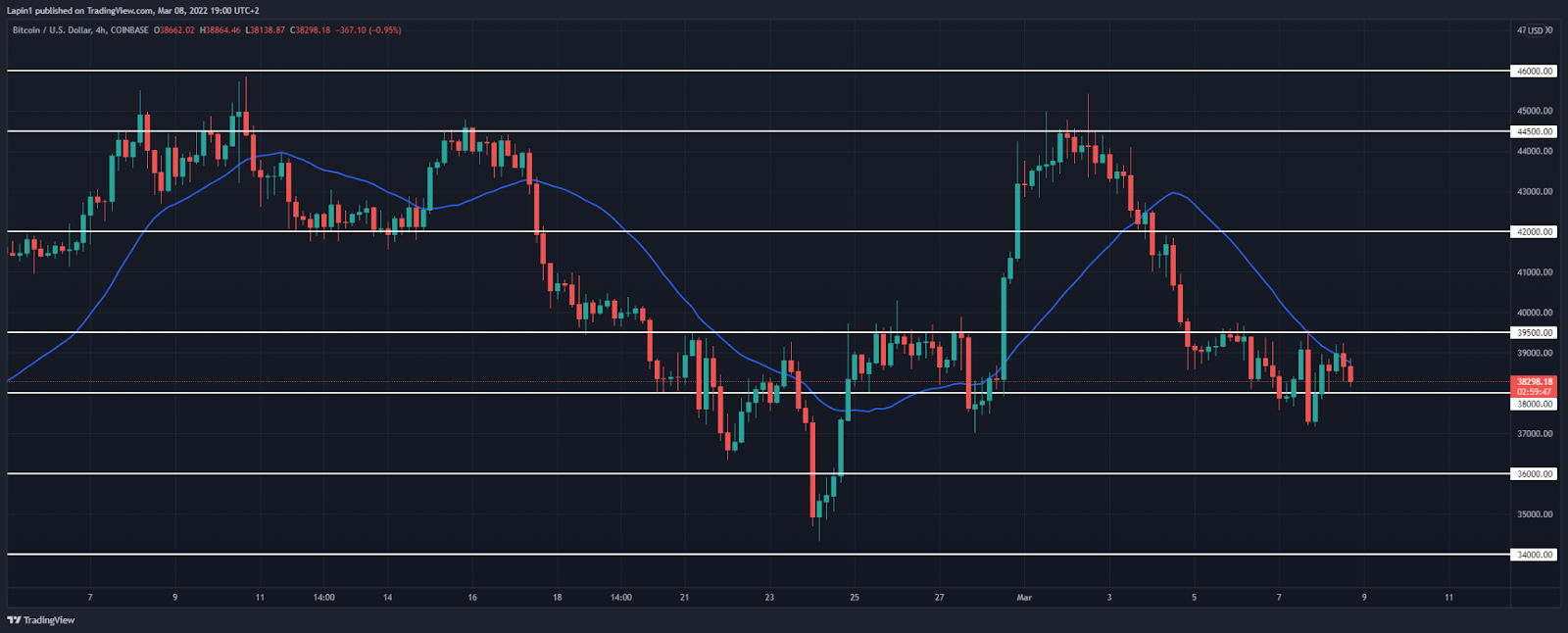 BTC/USD 4-hour chart. Source: TradingView
Despite being mildly oversold at 45.6, the 14-day RSI appears to be headed for the 47 level, which has previously served as resistance.
If price strength reaches this level, BTC/USD will likely trade towards the $40,000 barrier, with a breakout likely to rekindle bullish sentiment.
Despite bears probing the downside again yesterday, bearish momentum has slowed.
Related Article | Risk Aversion Pulls Crypto Market Down, Bitcoin Still Below $40K
Bitcoin May See Upside
In his latest view, Rekt Capital noted the successful retest of the trendline, speculating that the move might push Bitcoin above $43,100 in the near future, assuming it breaks above the green dashed diagonal resistance shown in the chart below.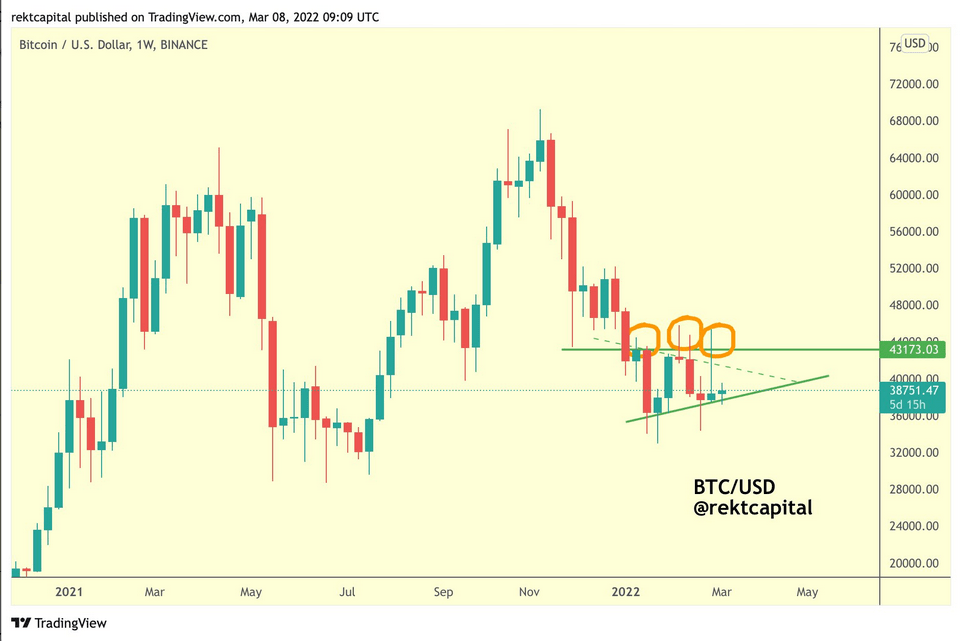 BTC/USD weekly price chart. Source: Rekt Capital, TradingView
Throughout Q1/2022, Bitcoin remained trapped in a trading range — between $34,000 and $45,000 — indicating an interim positive outlook. BTC was able to withstand significant selloff pressure as a result of persistent macroeconomic and geopolitical concerns, such as expectations of rate hikes and the armed conflict between Russia and Ukraine.
Last weekend, Filbfilb, the creator of trading platform DecenTrader, said that "Bitcoin is rangebound on a macro level," but that its long-term structure suggests it would break to the upside.
"In the immediate term, if the 50 DMA and 3-day level can prove to be supported, a retest of the $43K and high timeframe level could occur," said Flibflib, adding that a further break above Bitcoin's yearly pivot level of $48,000 would be "very significant and implicit of a fundamental change."
Related Reading | Crypto Markets Slightly Recover After Weekend Decline
Featured image from iStock Photo, chart from TradingView.com