Bitcoin price fell yesterday by over 10%, and price action has been on a downward descent since. The selloff was in response to a variety of factors, including the introduction of a new ban in India, a CFTC probe into Binance, and a debate over what was thought to be whale moving a billion in BTC.
During the correction, the second-highest record ever was set for largest amount of money liquidated in long positions. Interestingly, the last major correction was far deeper, but saw a similar level of liquidations. Here's what that means for market sentiment, and how that could impact Bitcoin price action in the days ahead.
The second highest ever total long liquidations happened during yesterday's blood bath | Source: BTCUSD on TradingView.com
Monday Bitcoin Bloodbath Results In Second-Largest Purge Of Longs Ever
During most of 2020 aside from the initial onset of the pandemic, Bitcoin price was immune to any negative news, and kept on climbing against all odds.
The asset's perfect storm macro environment has propelled it into the limelight of the finance industry, and to a price beyond $60,000 per coin over this weekend's high.
Related Reading | Bitcoin Could Close March With First Ever Quarterly Bear Signal
Whether its due to technicals being overheated, a string of bad news, or the fact that traders were so heavily overleveraged, a selloff cut the price per BTC back by 10% starting late Sunday night into Monday afternoon.
The selling continues, though bulls are showing signs of building support. During the madness, some $1.6 billion of margin longs were liquidated, according to data from Arcane Research.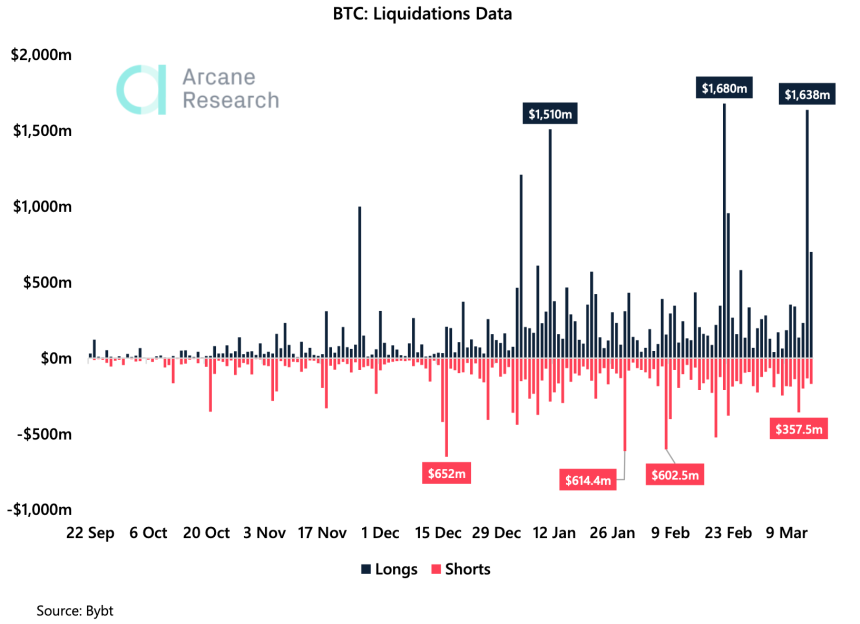 More than $1.6 billion in over leveraged traders were liquidated on Monday | Source: Arcane Research
Why Did The Correction Wipe Out So Many Cryptocurrency Traders?
Bitcoin is in a bull market, and whenever the trading range makes a clean breakout, the asset has been traveling at the rate of tens of thousands per month.
The trend has been "only up" resulting in very few pullbacks aside from this latest one, and two other sizable corrections. The largest ever recorded, according to Arcane Research, was only a mere few million higher than the most recent crash, even despite a significantly less severe decrease in the same timeframe.
Related Reading | Data Shows Bitcoin Peaks Last Roughly 40 Days: When To Sell Your Coins
Clearly, sentiment is overly bullish, and that has left some bulls too eager to get into position for the next move higher. Many in Bitcoin could also now be in enormous profit, much more willing to take a gamble at current levels than before.
Whatever the reason, the traders have been targeted, and could act as a floodgate of liquidity until the leverage across the market decreases, and prices can rise again naturally.
Featured image from Deposit Photos, Charts from TradingView.com