Britney Spears' conservatorship has been highly controversial. Recently the hosts of the "Toxic" podcast Tess Barker and Barbara Gray who have been investigating the conservatorship case have come up with a claim that the popstar had used Bitcoin right in 2014 based on information and materials they have gathered.
They allege that the singer was forced to use the cryptocurrency so that she could hide even small expenses from her father and conservator Jamie Spears.
Related Reading | In 2014, Selected MIT Students Got $100 Of Free BTC. What Did They Do With It?
It was in July this year when Britney's shocking public testimony broke the internet and netizens became aware about her 13-year conservatorship ordeal, thus giving momentum to the #FreeBritnety movement.
The award winning pop icon had disclosed that she was "afraid" of her father and her entire family had literally "ruined" her life. During this long nightmare of abuses by her father and family, she was supposedly put on lithium against her will, she was forced to perform and was denied the right to have more children.
These revelations by the singer has provoked people around the world and many prominent personalities such as politicians, celebrities and entrepreneurs have voiced their support towards her which has thus culminated into the #FreeBritney movement.
Free Britney

— Elon Musk (@elonmusk) July 5, 2021
For fans and followers of Britney, the "Toxic" podcast is where hosts Tess and Barbara lay out everything about Britney Spears, her controversial conservatorship, and the movement of fans trying to end it. They spend a lot of time talking to exclusive personalities and examine new sides of the story, in the process thus uncovering disturbing truths about the legal system that go way beyond Spears.
Meanwhile, Jamie Spears, the father of Britney, has changed his stance and his now saying he won't leave the conservatorship without a fight. It is important to note that Jamie Spears has been receiving $16,000 every month since 2009 along with monthly office costs and a percentage of the gross revenues from Britney's tours and multiyear Las Vegas residency. And even for the attorneys he often hires, they are paid out of his daughter's income, bills that to this day amount in millions.
Hollywood Actor Drew Barrymore Voices Her Support for #FreeBritney
Speaking to an media outlet, the popular Hollywood actor Drew Barrymore mentioned that even though she has been trying to stay out of the Free Britney movement, the information over the recent weeks has made it clear that Britney Spears needed as much support as possible for her cause.
Related Reading | The 'YOLO Economy' Kicks off as Generation Lockdown Turns to Crypto for Financial Freedom
Barrymore said, "I feel that there's a human being at the core of this. But since she put herself out there more… she's the key to her freedom. This is about her and her life and everybody deserves the freedom to make mistakes or success of their life and everything in between. That is what life is!"
Hollywood A-lister Ryan Reynolds Shows His Support For Britney In Instagram
Ryan Reynolds is the latest celebrity to voice his support for the #FreeBritney movement. In a movie poster he shared in his Instagram story, Ryan tweaked the title of his latest movie "Free Guy" to "Free Gal" and switched out the coffee cup he holds in his right hand to a flag with Britney's face on it.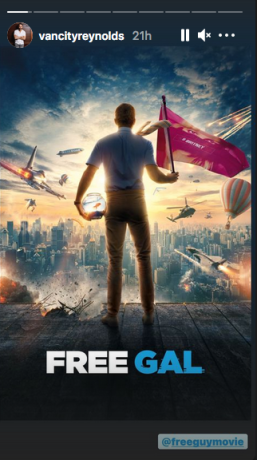 Featured image of Britney Spears from iStockPhoto, Charts from TradingView.com