Bitcoin enjoyed an impressive rally over the past 60 hours. The flagship cryptocurrency rose by nearly 13%. The sudden upswing allowed it to jump from a low of $8,900 to test the psychological $10,000 resistance level.
Throughout the upward move, over $23 million worth of BitMEX short positions were liquidated as all previous bearish calls were invalidated. However, one of the most prominent analysts in the industry who is well-known for his bold predictions now estimates that Bitcoin looks "toppy."
Bitcoin Seems Poised for a Correction
The renowned chartist maintains that after the recent bullish impulse most market participants became overwhelmingly bullish about Bitcoin. Although there are many reasons to believe that BTC has more gas in the tank, the analyst said that several technical indicators suggest otherwise.
A look at Bitcoin's daily chart reveals that the relative strength index (RSI) and moving average convergence divergence (MACD) appear to be hovering around oversold territories, which can be interpreted as a negative sign.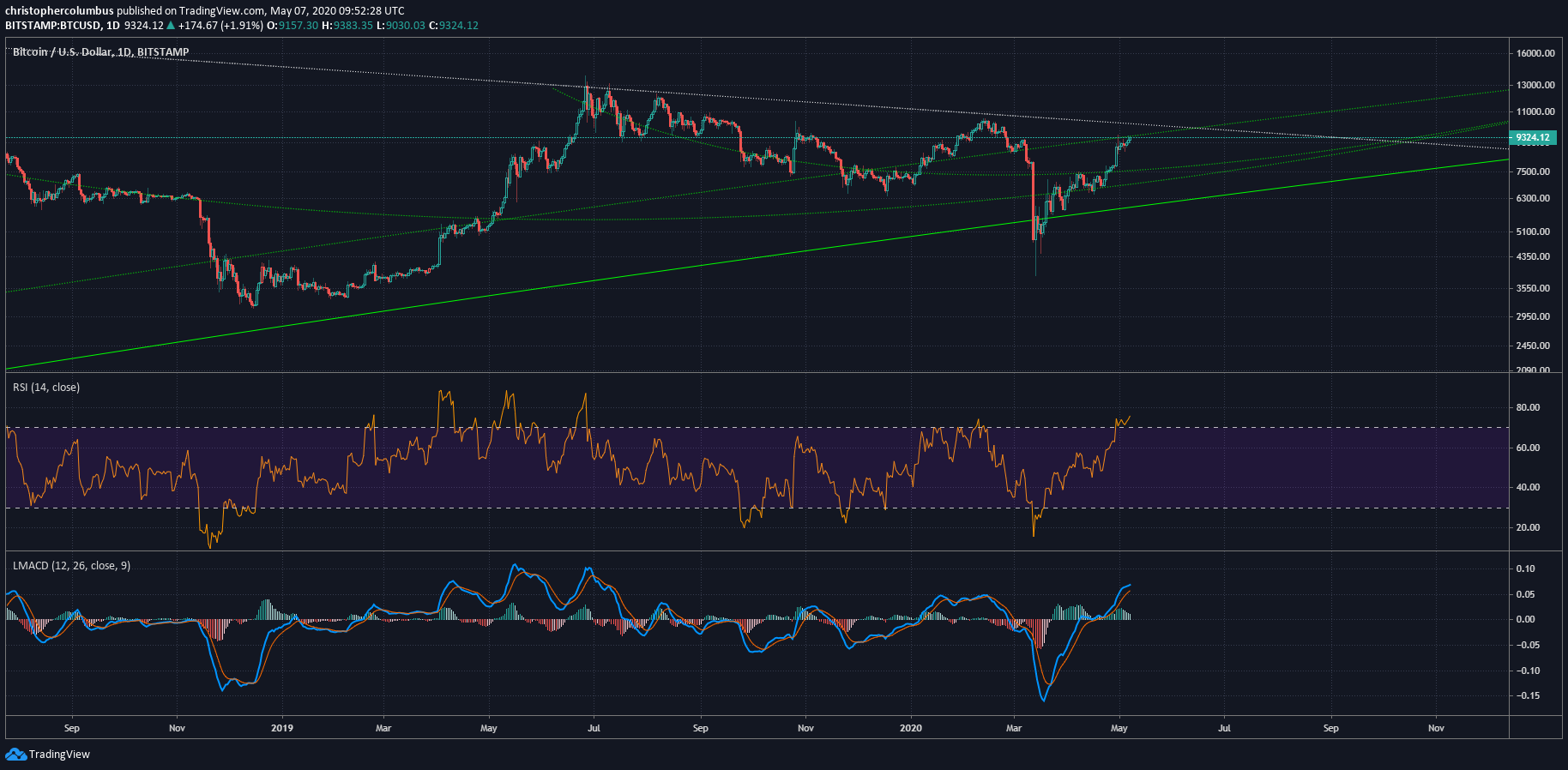 Additionally, there is a massive resistance wall ahead of the pioneer cryptocurrency that could prevent it from advancing further up. This barrier is represented by a declining trendline that dates back to the December 2017 peak of $20,000 and is currently located around $10,900.
Based on these technical factors, the trading aficionado remains skeptical about Bitcoin's price action and supports the idea that a correction is underway. But, he is not the only one who remains bearish.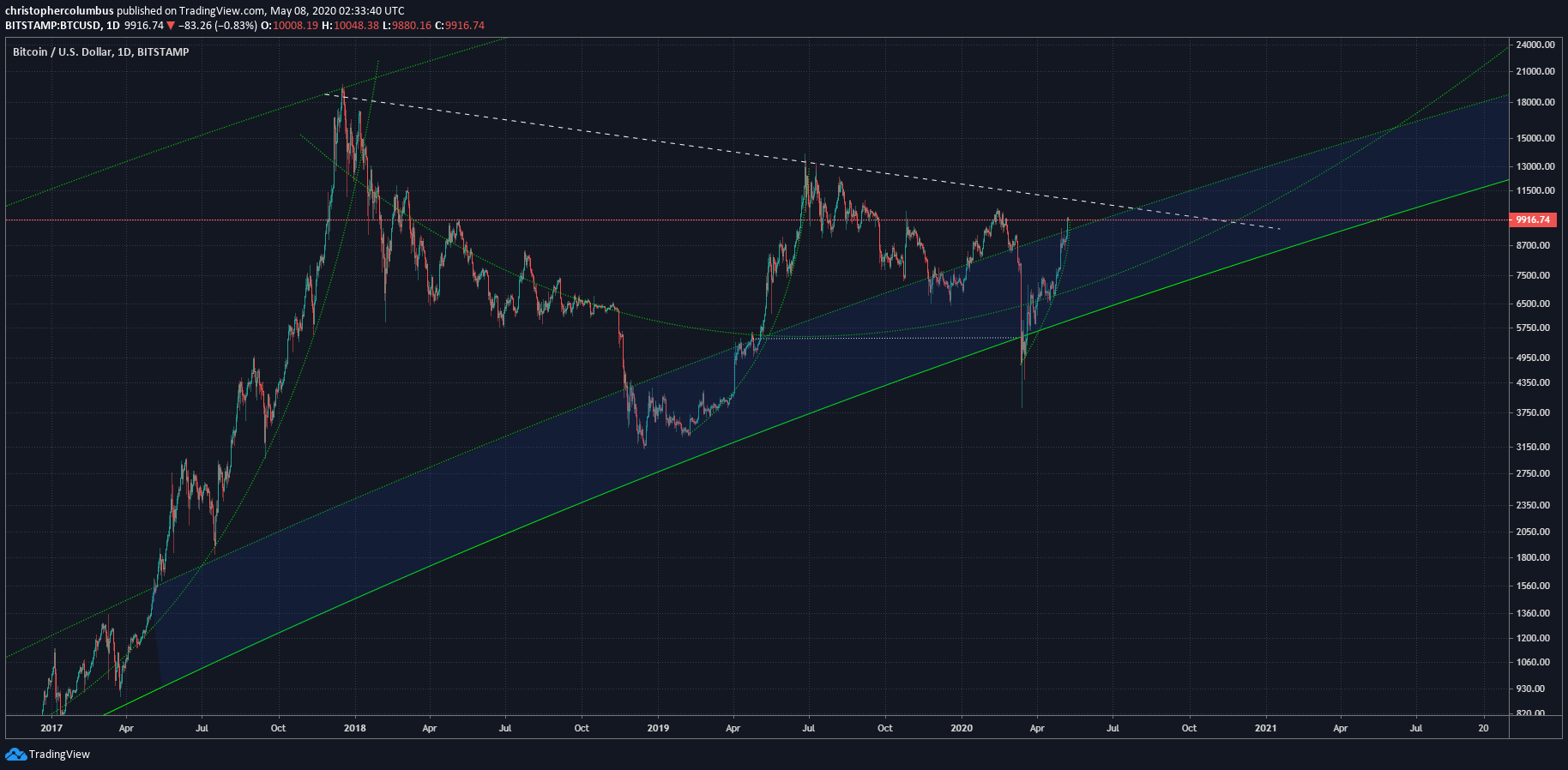 The head of Hedge Fund Telemetry, Thomas Thornton, who has been extremely accurate at anticipating Bitcoin's tops and bottoms, said to have no long positions at the moment. The trading veteran is currently waiting on the sidelines for a retracement to materialize.
Thornton pointed out that the Tom Demark (TD) Sequential indicator is printing an aggressive "13" candlestick. Such a bearish formation in combination with an overbought RSI is significant enough for the analyst to stay out of Bitcoin for the time being.
The Wisdom of the Crowd
As many analysts continue to call for a severe pullback, Santiment, a behavior analytics platform, explained that price rarely does what the crowd expects.
Dino Ibisbegovic, head of content and SEO at Santiment, analyzed the overall view among market participants across more than 1,000 social media channels. After a deep dive into these data sets, the analyst concluded that the pessimistic outlook currently outweighs the more bullish one.
Ibisbegovic affirmed that betting against the popular belief has proved to be a profitable strategy in the cryptocurrency market. As a result, he has become a contrarian and argues that Bitcoin may continue to rise substantially before the halving, which could lead to a dump after this event takes place.
As emotions heat up in proximity to Bitcoin's halving, Thornton's posture to stay out of the market seems the most reasonable one. By avoiding this period of high volatility, one reduces exposure to getting caught on the wrong side of the trend.
Featured Image from Unsplash