The Chinese crackdown on mining activities has awakened a lot of decisions and actions. Many miners are already trooping to the US, the new mining hub, to continue their operations. Recently, the NDRC (National Development & Reform Commission) in China seized more than 10,000 mining rigs in Inner Mongolia.
The report even disclosed that the operation was the 45th time that the watchdog has carried such out. Given the losses that miners incur in the wake of these incidents, many forward-thinking companies are protecting their interests.
One of such companies to take proactive action is Huobi Global, a crypto exchange with millions of users, including Chinese citizens. The first step the company took was to restrict the Chinese citizens on its platform.
Related Reading | New To Bitcoin? Learn To Trade Crypto With The NewsBTC Trading Course
Now, mainland china residents can no longer access the platform. As a result, Huobi Global is currently moving funds to fill the withdrawal needs of the clients. Also, it plans to stop all Chinese accounts gradually until December 31.
Miners Move Bitcoin To Support Withdrawal Needs
Huobi Global is occupying the eighth position amongst the largest Bitcoin Pools. However, now that they've restricted Chinese citizens, the miners have to move their funds worth $4.21 Billion to meet the withdrawal needs.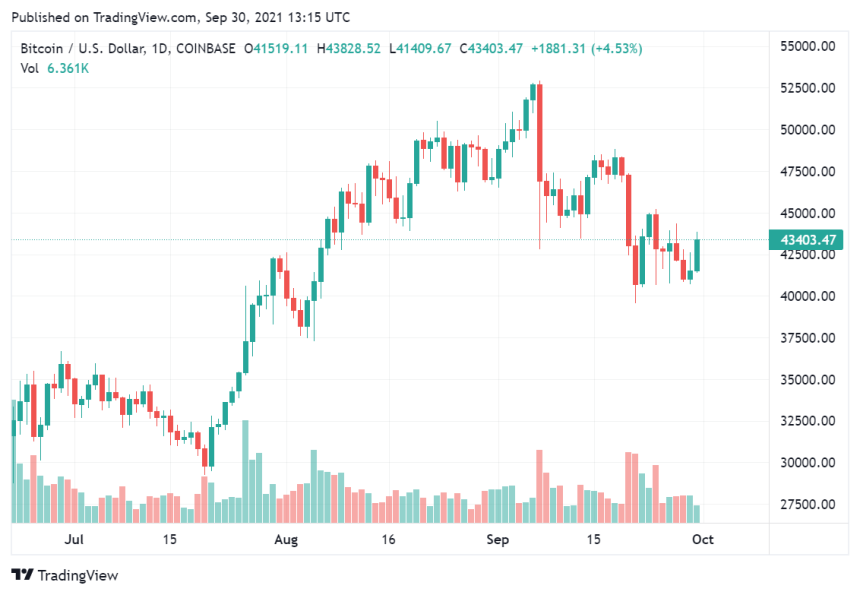 Bitcoin is now gradually recovering its previous losses | Source: BTC/USD on TradingView.com
Apart from this Bitcoin fund movement, there were massive movements from Ethereum wallets on September 26, amounting to 800,000 ETH or $2.29 billion from ETH whales.
Related Reading | Miner Refunds The Giant Sum Of 7,626 Ethereum Mistakenly Sent By Bitfinex
The crackdown from the Chinese government is causing havoc in many pools as many exchanges are no longer allowing new entrants. The Huobi Global exchange is amongst the exchanges affected by this development.
Featured Image by Pexels - Charts by TradingView