The crypto market is an unusual one. The Wild West atmosphere, the volatility, and the 24/7, 365 trading provides little rhyme or reason, and often times Bitcoin and altcoins rise together, while other times they do not.
At the start of the year, both Bitcoin and altcoins performed well relative to their bear market lows. Many altcoins doubled in value, until Bitcoin breached $4,200 and altcoins struggled to keep up ever since – bleeding out in their ratio relative to Bitcoin. The carnage continues, and as Bitcoin tests new 2019 highs, altcoins may be facing a major capitulation event if they fall any further than the bear market lows they had previously set.
Bitcoin Dominance Hits 60%, Over 63% Could Spell Doom for Alts
Bitcoin's rally continues. After breaching above the important FOMO trigger of $10,000, soon after, Bitcoin bested $11,000 and just recently made its first test of strong resistance at $11,500.
Related Reading | Bitcoin Returns 144,912% in 7 Years, Investors Always Wish They Bought More
Resistance from $11,500 through $12,000, with key areas around $11,700 offer the final nail in the coffin for the bear market. Analysts claim once this level is taken, the bull market will truly begin.
With so little resistance above this area, Bitcoin should – as one-half of the Winklevoss twins has pointed out – push right to $15,000 soon.
https://twitter.com/macnbtc/status/1143480407733743618?s=12
Alongside Bitcoin price, BTC dominance is also rising. Dominance is now breached 60%, and is quickly trending higher. Crypto analysts say that 63.5% represents an area at which a bounce for alts might be expected – or signal certain doom if Bitcoin continues to suck all the value out of the market.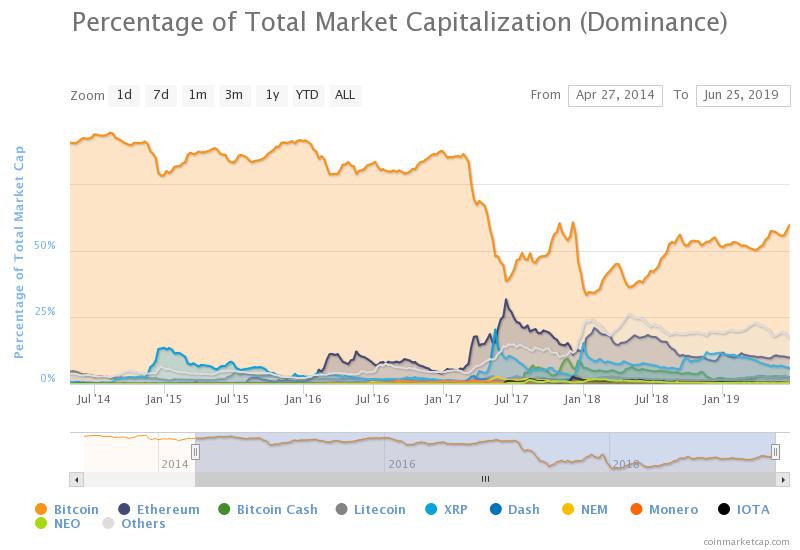 Crypto Analyst: Altcoins Could Face Major Capitulation Event
The allure of alt season may soon be nothing more than a pipe dream designed to be shilled to the masses while further value was extracted from their already heavy altcoins bags. Altcoins – except for a few rare exceptions – have struggled to regain ground lost during the bear market relative to Bitcoin.
Related Reading | Bull Market Imminent? Why Investors are Stacking Ethereum, XRP, and Litecoin
Compared to Bitcoin which has reclaimed 75% of its all-time high, most altcoins are still down from where they were 16 months ago at the start of the bear market.
Top 10 … 16 months later..

Bitcoin: $11,500 ( +35% )
Ethereum: $314 ( -69% )
Ripple: $0.47 ( -50% )
Bcash: $477 ( -63% )
Litecoin: $135 ( +4.6% )
EOS: $7.20 ( -25% )
Cardano: $0.095 ( -75% )
Stellar: $0.127 ( -67% )
NEO: $18.06 ( -85% )
IOTA: $0.45 ( -75% )#bitcoin https://t.co/SAJQpEgiPU

— A v B (@ArminVanBitcoin) June 25, 2019
#2 and #3 crypto assets by market cap, Ethereum and Ripple, are "inches away" from new lows and ready to fall off a "cliff." Analysts warn a major capitulation event may be ahead.
$XRP inches away from new yearly lows, $ETH flirting with a down-cliff. $ALTS have been under performing $BTC for a while, and still look very weak to me. I do think a major capitulation is likely for them.

— SalsaTekila (@SalsaTekila) June 25, 2019
Even Litecoin, which has its halving a little more than a month away, has vastly underperformed Bitcoin as of late.
Altcoins face additional suffering if they cannot recapture ratio they lost against Bitcoin in the coming days, but it is showing no signs of stopping and is simply absorbing all of the value out of alts as well as all new money coming in.
Featured Image from Shutterstock