Data shows greed in the crypto market is on the rise, a signal that another Bitcoin correction could be coming soon.
Fear And Greed Meter Says Crypto Market Has Turned Greedy
As per the latest report from Arcane Research, the fear and greed meter has started pointing towards greed after showing fear for the past few weeks.
The "fear and greed index" is a Bitcoin indicator that displays the current market sentiment on a meter that goes from zero to hundred.
Values of the metric below fifty mean that the crypto market is currently fearful of the future. Very low values imply extreme fear.
Related Reading | Whales Moving Coins Hints At Bitcoin Maturity As Macro Asset
On the other hand, when the meter points above 50, it means investors have started to become greedy, and very high values mean they are extremely greedy.
Here is a chart showing how the value of the Bitcoin fear and greed index has changed over the last year
Current value of the indicator seems to be 59 | Source: Arcane Research
As the above graph shows, the market sentiment around Bitcoin was that of fear over the last three weeks. The metric's value has shot up now and currently looks to be at about 59. This shows investors have now turned greedy in the crypto market.
Below is a meter that displays this sentiment: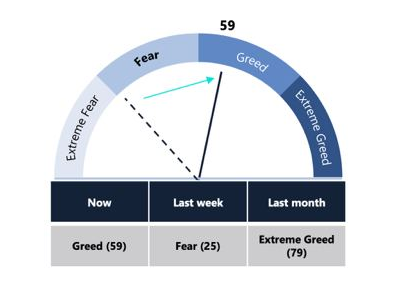 The fear and greed index points at greed | Source: Arcane Research
Looks like last month, the meter pointed at extreme greed as the indicator's value was around 79, while last week the values were low at around 25.
Related Reading | Bitcoin Shakes Off Bloody September As Price Breaks $50K, Headed For New All-Time Highs?
Generally, when the market shows extreme fear, investors think of it as a good buying opportunity as BTC price usually appreciates following such periods.
An uptrend in the Bitcoin price, however, is accompanied by greedy sentiment. When the meter starts pointing at extreme greed, it may mean that the market is due for a correction.
BTC Price
At the time of writing, Bitcoin's price floats around $52.6k, up 25% in the last seven days. Over the last month, the coin has accumulated 2.5% in gains.
Here is a chart showing the trend in the price of the crypto over the last five days:
BTC's price continues the upwards momentum | Source: BTCUSD on TradingView
Bitcoin has continued a great uptrend the past several days as the coin now approaches a test of the $53k level. But with the fear and greed index starting to point at greedy market sentiment, BTC could be due for a correction soon. Though other factors can also affect the price so it remains to be seen where the trend will go next.