Data shows the Bitcoin fear and greed index has been pointing towards fear lately, something that might keep buyers from the Halloween Effect.
The Bitcoin Fear And Greed Index Points At Fear
The BTC fear and greed index is an indicator that measures the sentiment and emotions of the market based on various sources, and displays them on a numeric meter.
The metric uses a system with 0-100 as values, where low values indicate fear in the market, and higher ones show greed.
Extreme fear and greed occur when the indicator shows very low or very high values, respectively. Periods of fear usually happen when Bitcoin goes in the red, while those of greed are seen during big moves up.
Here is how the fear and greed index has looked like recently, as per the latest Arcane Research report: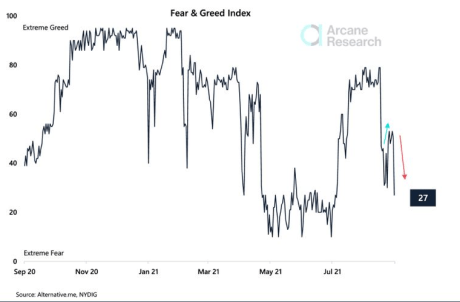 The Bitcoin market continues to show fear | Source: Arcane Research
Last week the indicator slowly started shifting towards greed as the market recovered from the crash of 7 September. However, before the greed level could be hit, sentiment quickly turned into fear as BTC had yet another crash.
Related Reading | Despite Dips, Bitcoin Exchange Reserves Reach Lowest Values Since 2018
The fear and greed needle points at fear currently | Source: Arcane Research
The below chart shows the trend in Bitcoin's price over the last month, highlighting the crashes that lead to this state of fear.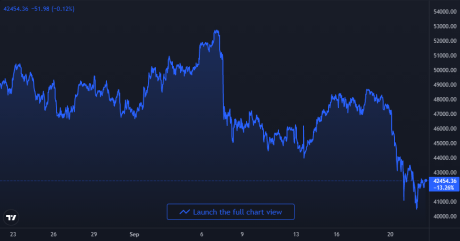 BTC's price continues to fall down | Source: BTCUSD on TradingView
Over the last few days, Bitcoin has had two big dips where the price went down to $40.5k in the first one, but all the way down to $39.6k in the second one. These have only fed into the fear sentiment.
Will These Fear Levels Hold Buyers Back From The Halloween Effect?
The Halloween Strategy is a trading method that's based on the idea that stocks, Bitcoin and other assets perform the best between 31 October and 1 May.
Traders using the strategy generally recommend "to sell in May and go away," until the next Halloween comes around.
Because of this idea, buyers usually see this time of the year as an optimal entry point into the market. This is sometimes dubbed as the "Halloween Effect."
The effect is a weird statistical anomaly as data over a period of a few years suggests the trading strategy does seem to produce better results.
Related Reading | Mid-Cap Altcoins Hold Onto Highs Better Than Bitcoin And Ethereum
Next month is the Halloween month, but will the effect attract buyers to Bitcoin this time? As the fear and greed index shows fear among traders currently, investors might be hesitant to enter the market right now.
If the market continues to show fear through the next month, then perhaps the Halloween Effect won't benefit BTC this year.