Over the past few hours, Bitcoin has undergone a strong bounce from its local lows at $9,800, trading at $10,300 as of this article's writing. This $500 bounce marks a positive trend for an asset that has shed 20% in the span of four days.
Fortunately for bulls, a number of technical analyses indicate that Bitcoin has room to rally. This can be corroborated by the state of BTC futures markets, most of which are printing negative funding rates in a sign that bears are overconfident.
Bitcoin Primed to Bounce to $11,000: Here's Why
Bitcoin is primed to bounce as signs of a short squeeze have built. One trader shared the chart below on Saturday. Referencing the chart, he suggested that Bitcoin was primed to retest $10,000 after falling as low as $9,800 during the brunt of the selloff:
"Some alerts went off so checking back in. This makes sense IF this area holds. Some squeeze signs building. That will get you the 50 MA retest and lines up with fibs and s/r. 11k's first before lower in my view. This would also be in line with the weekly fractal."
He proceeded to note that this bounce would be in line with another analysis of his that suggests Bitcoin will follow the path of the March correction.
Chart of BTC's price action over the past few weeks with analysis by crypto trader CryptoISO (@Crypto_ISO on Twitter). Chart from TradingView.com
Not the Only Analysis Suggesting So
The analysis shared above is far from the only one suggesting Bitcoin is primed to bounce after a $2,000 correction.
Raoul Pal, the CEO of Real Vision and a Wall Street veteran, shared the chart below on September 3rd with the following message:
"In the post-Halving bull cycles, bitcoin can often correct 25% (even 40% + in 2017), throwing off the short-term traders (or giving swing traders a shot at the short side). Each of those was a buying opportunity. DCA opportunity ahead?"
Also optimistic is another technical analyst, who noted that the way in which Bitcoin's weekly formation is currently set up suggests a further recovery is to be expected:
"$BTC funding and premium index reached the lowest it had been since March 19th yesterday… Except this time we're retesting a multi-year S/R level with a confirmed bullish break in MS all the way up to the monthly chart…"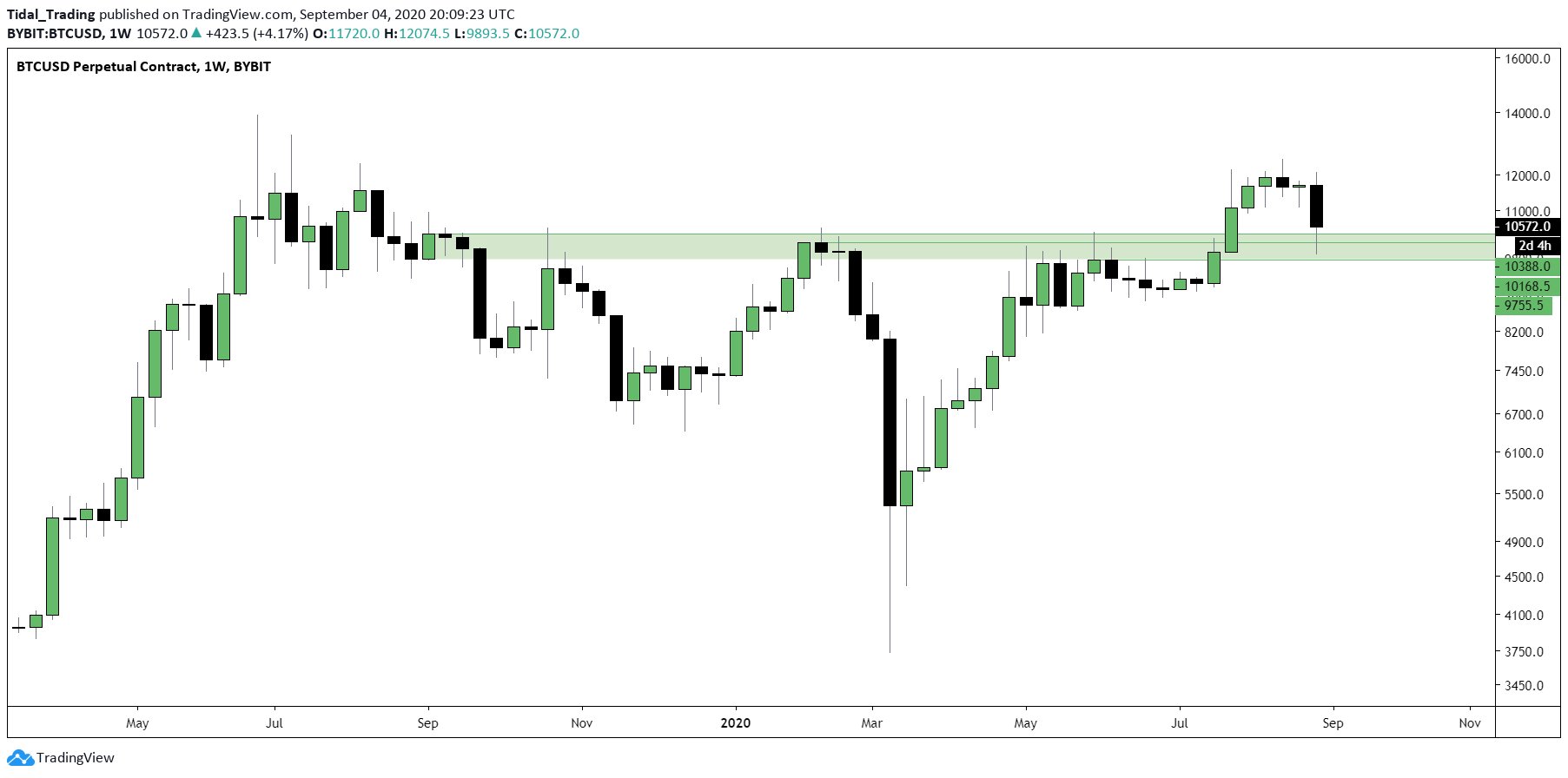 Chart of BTC's macro price action with analysis by crypto trader HornHairs (@CryptoHornHairs on Twitter). Chart from TradingView.com
Analysts say Bitcoin will soon bounce. What comes after that, though, is currently anyone's guess.
Featured Image from Shutterstock
Price tags: xbtusd, btcusd, btcusdt
Charts from TradingView.com
Here's Why the Bitcoin Price Could Soon Retest $11,000