Bitcoin rallied to over $19,000 in the same week that saw President-elect Joe Biden's decision to appoint Keynesian economist Jenet Yellen as the next US Treasury Secretary.
Anthony Pompliano, the co-founder/partner at New York-based Morgan Creek Digital Assets, noted that Ms. Yellen's economic management style complements Bitcoin's bullish case. In his note to investors published Tuesday, the macro analyst said the former Federal Reserve Chairman has a tolerance for bubbles and inflation.
"Janet Yellen is likely to be Bitcoin's greatest ally over the coming 4-8 years," explained Mr. Pompliano. "She has never seen an opportunity to print money that she didn't like. She has never seen a situation of high inflation that scared her."
He cited Ms. Yallen's decision in the years that led to the collapse of the housing market in 2008. She argued against deflating the bubble, believing that the US economy was ready to absorb the shock should it bursts. Meanwhile, she also favored using the Federal Reserve's power to reduce unemployment, iterating her strong appetite for inflation.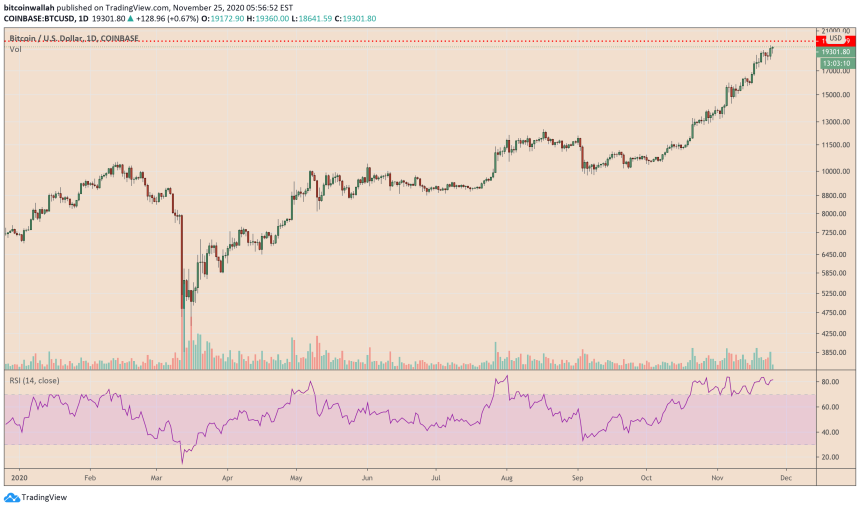 Bitcoin is up by more than 350 percent from its mid-March nadir. Source: BTCUSD on TradingView.com
Ms. Yellen also defended a $3 trillion stimulus package to cushion the aftermath of the 2008 economic crisis. That prompted many economists to call her a "dove," which means she prioritized unemployment curbing over reducing inflation.
A Bitcoin-Friendly Keynesian
Mr. Pompliano noted that Ms. Yellen's methods matched what the Federal Reserve anticipated amid the ongoing economic slowdown led by the coronavirus pandemic.
The Federal Reserve Chairman Jerome Powell commented earlier this year that his office would like to see inflation above 2 percent. With Ms. Powell on the Treasury chair, she would ensure that her regime pulls out every monetary stimulus to push unemployment lower.
"Bitcoin will benefit from the fear of high inflation, regardless of whether it actually occurs or not," added Mr. Pompliano.
"When people think high levels of inflation are coming, they will move their capital to be positioned in inflation-hedge assets," he added. "If the inflation comes, great. If inflation never happens, the capital flows will drive asset prices higher anyways."
The statements also took cues from a flurry of corporations and investors that transferred a portion of their cash reserves into the Bitcoin market, fearing inflation. They include Nasdaq-listed MicroStrategy that bought $425 million worth of BTC and payment giant PayPal that reportedly purchased 70 percent of the newly-minted Bitcoin supply in the recent weeks.
Billionaire investors Stan Druckenmiller and Paul Tudor Jones also invested in the cryptocurrency market as insurance against a declining US dollar.