The number of BTC awarded to miners for adding blocks to the Bitcoin blockchain is set to decrease next year. These so-called halving events occur about every four years and are part of the cryptocurrency's distribution schedule.
The next halving, expected in May of 2020, will be Bitcoin's third. The previous two halvings resulted in huge surges in BTC price in the months that followed them.
Will Bitcoin Rally Following the 2020 Halving?
Bitcoin was originally designed with a hard and fast supply distribution schedule. Every 210,000 blocks mined by the Bitcoin network, the number of Bitcoin awarded to miners for successfully adding a block to the blockchain decreases. In 2009, block rewards were 50 BTC. After four years, this decreased to 25, then to the current reward of 12.5 in 2016.
The number will reduce once again to 6.25 BTC next year. Previous having events have been followed by steep run ups in Bitcoin price. From a theoretical perspective, this makes sense. Equal or increased buying pressure with few new coins hitting the market will make the price rise.
We can not predict the future but we can learn from the past:

The two previous halvings (blue dots) leaded a massive surge on #Bitcoin price.

We are getting closer to the third one. pic.twitter.com/7LKdedyksu

— Crypto Rand (@crypto_rand) September 9, 2019
Using a stock to flow model, the Twitter cryptocurrency analysis account CryptoRand charts that the 2020 halving might see prices soar as high as $100,000 per Bitcoin, if the previous halving events are anything to go by.
Meanwhile, other popular trading analysis Twitter accounts have drawn even more bullish conclusions based on previous performances following Bitcoin halving events. Rekt Capital identifies that Bitcoin price rose over 13,000 percent following the first halving and 12,000 percent after the second. If Bitcoin was to rally by similar percentages from its current ~$10,000 price point, the eventual top may be between $385,000 and $425,000.
How much has #Bitcoin rallied as a result of each of its Halvings to date?

Halving 1:

+13,378%

Halving 2:

+12,160%

If Bitcoin rallies anything between 12,160 – 13,378% as a result of Halving 3…

The price of one Bitcoin will be $385,000 – $400,000#Crypto

— Rekt Capital (@rektcapital) September 7, 2019
Despite the knowledge of the halving being freely available to anyone that cares to read about Bitcoin, there is evidence to suggest that some high net worth investors do not know about the halving or its potential implications. With known events, there is a tendency for a market to price news in prior to its delivery. However, Grayscale Investments stated this summer:
"We were surprised to learn that many [clients] were not even aware of this event."
Cryptocurrency market commentator Joseph Young concluded that the halving may not be priced in and the BTC price may still react positively to the event:
According to Grayscale, many investors are not aware of the bitcoin block reward halving. As such, it still remains a key factor for the price and it is not completely priced in.

"We were surprised to learn that many of them were not even aware of this event." (Grayscale) pic.twitter.com/Fg7A7SWJYt

— Joseph Young (@iamjosephyoung) June 7, 2019
Interestingly, Litecoin recently had its own halving event. Whilst the altcoin experienced a run up in price out of tandem with the rest of the cryptocurrency market in the weeks leading up to the halving, since the supply of new Litecoin entering the market has reduced, the price has crashed more spectacularly versus Bitcoin than any single top ten crypto asset: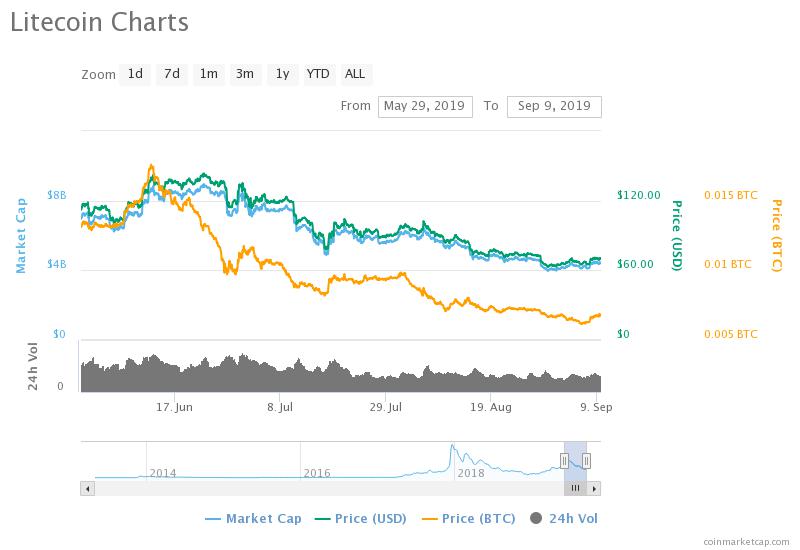 Related Reading: Crypto Analyst: Bitcoin Price Could Be Trapped in Tight Range Until Halving
Featured Image from Shutterstock.