Tezos is one of the few cryptocurrencies that has managed to shine during these times of economic uncertainty. Indeed, multiple days of back-to-back gains have seen XTZ catalyzing calls for an impending altseason.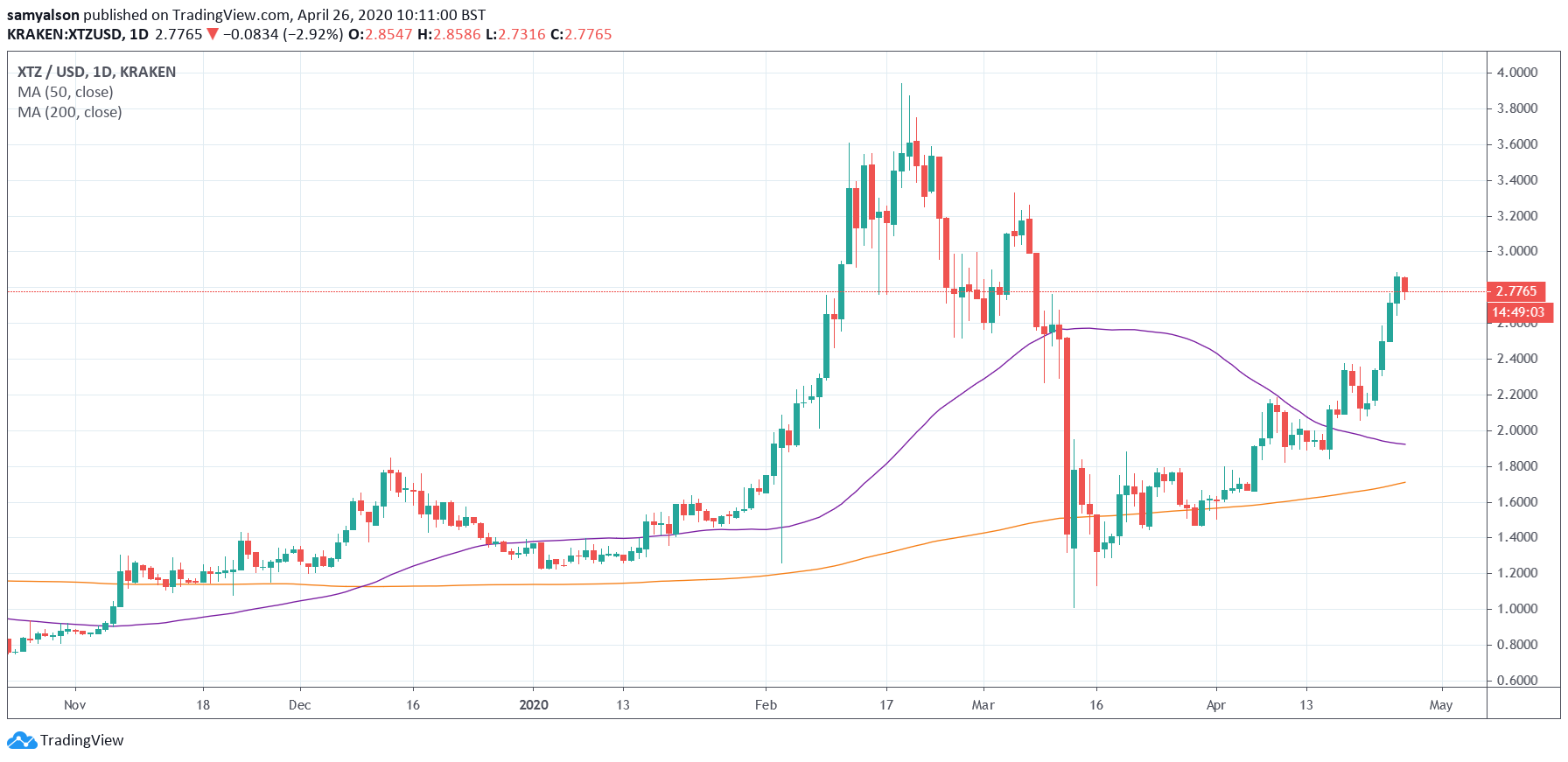 With that, late last week, Weiss Crypto Ratings announced their list of top cryptocurrency projects. And in yet another win for Tezos, it ranks as Weiss' top pick for "technology," managing to beat Bitcoin, which languishes in the eleventh seat.
However, despite the methodology used in compiling the list, for the foreseeable future, Bitcoin remains the number one choice for most.
Huge Support For Tezos Shows Community Backing
Massive gains for XTZ see Tezos as one of this year's top performers. Certainly, fans of Tezos continually sing the praises of the tenth largest cryptocurrency by market cap. Citing its staking function as a major draw over and above that of other projects.
This level of community support is apparent in the percentage of Tezos staked. According to stakingrewards.com, almost 79% of XTZ is staked at present. Making it the most staked token in the crypto industry, and that's regardless of its rather modest reward percentage in comparison to the competition.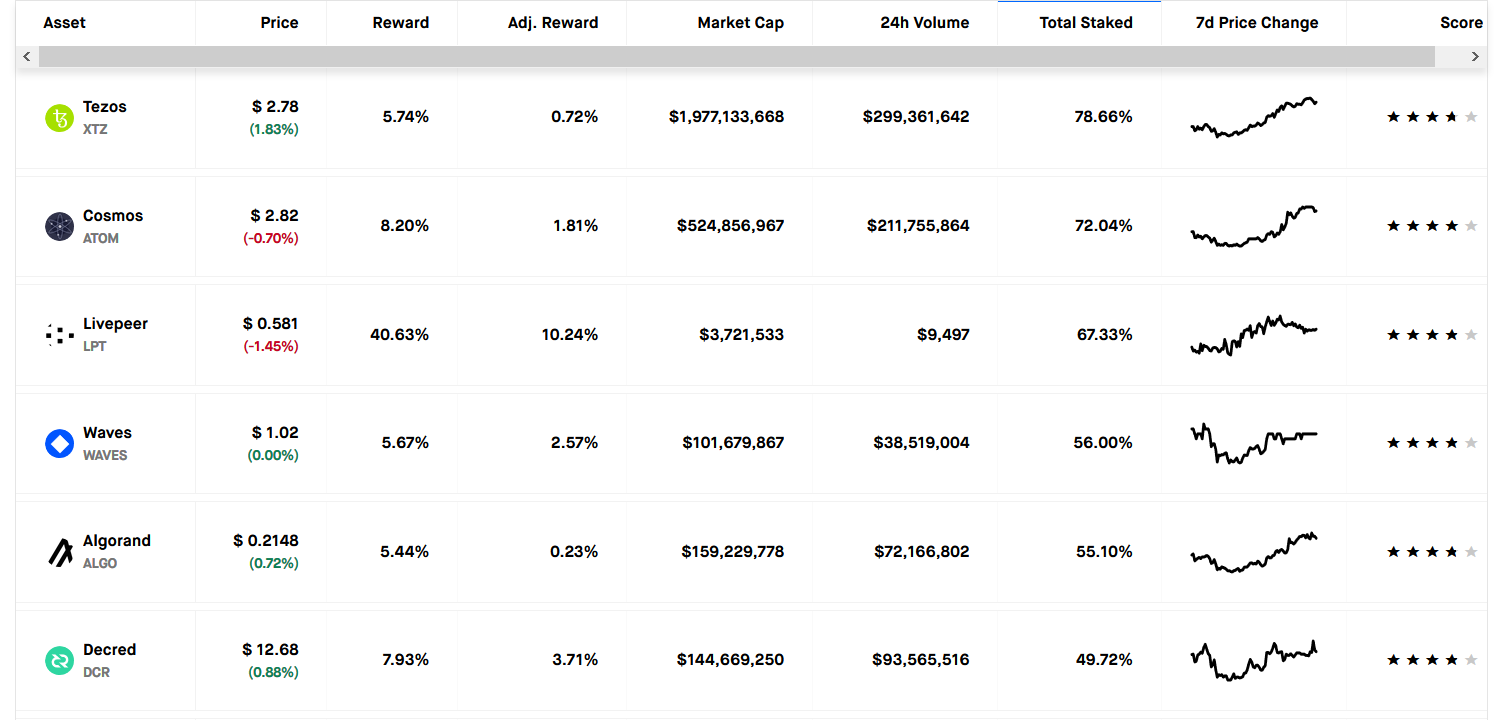 In line with this sentiment, the folks at Weiss Crypto Ratings agree. They rated Tezos as one of four "Excellent" projects for "technology." They also scored it a "B-" for tech/adoption, and "D+" in terms of risk/reward.
For comparison, Bitcoin scores a "Fair" for technology, an "A" for tech/adoption, and "D" for risk/reward.

How Much Credibility Should we Give Crypto Ratings?
There's no doubt that Tezos holders feel gratified by the latest Weiss Crypto Ratings. But how much credence does Weiss, or for that matter any crypto rating service, have?
Indeed, rating services will draw disagreement with the wider public, especially so with regard to divisive tokens. An example of this is Grin. According to Weiss, Grin has a tech/adoption rating of "B", which outranks the tech/adoption ratings for Monero, Binance Coin, as well as Tezos.
An analysis of the criteria used by Weiss to assess tech/adoptions shows the following:
"1. Our Technology Model evaluates each cryptocurrency's potential to achieve a variety of goals: High transaction speeds and other scaling solutions, decentralization, energy efficiency, sophistication of monetary policy, governance capabilities, flexibility to upgrade and others.

2. Our Adoption Model determines the degree to which each crypto has achieved those goals in the real world — in terms of network security, network capacity, speed, scalability, market penetration, decentralization, developer participation, public acceptance plus a host of other factors."
In respect of technology, Weiss themselves state that that the metric is assessed on potential, rather than any hard data. And in terms of adoption, to evaluate Grin as having more market penetration as Monero, Binance, and Tezos might be unsatisfactory.
Bitcoin is Still Number One
What's more, despite Bitcoin scoring only a "Fair" for technology, which is a reasonable assessment considering its lack of scalability and slow throughput, this doesn't affect its standing as the top of the pack.
Indeed, in its favor, Bitcoin has the branding and recognition that the rest can only dream about.
What this shows, rightly or wrongly, is that despite Bitcoin being first-generation technology, this has no bearing on its popularity or even its price potential.
Photo by Jack Church on Unsplash