Despite Bitcoin bouncing at $9,000, analysts remain bearish on the leading cryptocurrency as the asset fails to recover crucial support levels.
Bitcoin Prints Series of Bearish Signs Suggesting An Imminent Correction
An analyst recently remarked that if Bitcoin doesn't bounce from here, a bearish divergence that has formed between an indicator and BTC's price will persist. The divergence persisting, according to him, signals that this is "the top":
"Without compounding the obvious, without a spike to undo the developing BTC divergence, this is the top," the analyst commented, referencing the divergence formed between the momentum indicator at the bottom of the chart and the price of Bitcoin at the top of the chart.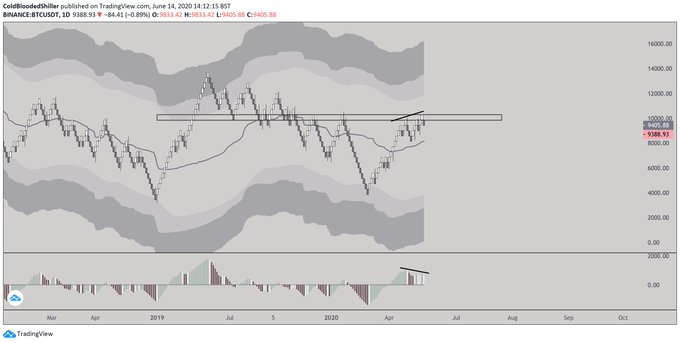 The bearish sentiment has been echoed by other market participants.
As reported by NewsBTC previously, the price of BTC recently slipped under the 50-period 12-hour exponential moving average.
This technical level has been extremely important to Bitcoin since the start of 2020, acting as support during the rallies in April and May, along with marking highs earlier this year.
The level is so important that prior to dropping to $3,700, BTC was rejected at the moving average. This precedent suggests that a strong correction in the cryptocurrency market is likely in the works.
As one commentator explained:
"I've been seeing more and more comments saying BTC going down to support is unlikely because that'd be too big a drop. That's not how BTC works. Retraces are short and vicious. Crashes even more so. 40% down is not unlikely, it's happened before, it'll happen again."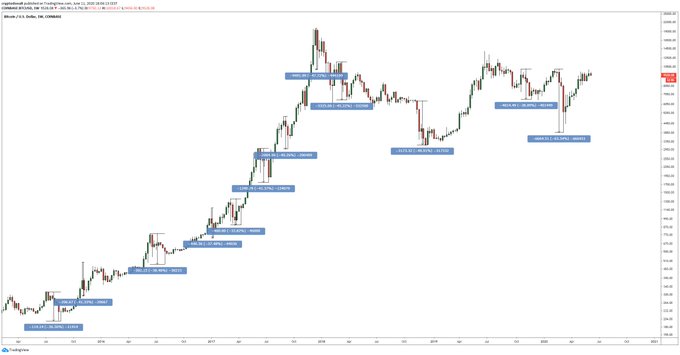 Keep Your Head Up: The Long-Term Outlook Is Bullish
While there are these technical factors suggesting downside is imminent, this doesn't take away from the fact that Bitcoin's long-term fundamentals remain bullish.
Commenting on how the ongoing pandemic and recession has forced governments and central banks to print vast amounts of money to keep people and firms afloat, Dan Morehead of Pantera Capital recently said:
"Now that we're in the trillions, the deficit just simply has to have a positive impact on the price of things not quantitatively-easable — stocks, real estate, cryptocurrency relative to the price of money. Said another way, the BTC/USD cross-currency rate will rise. The price of bitcoin may set a new record in the next twelve months."
And with there being growing social unrest and geopolitical disputes, Bitcoin could grow as a safe-haven play.
Featured Image from Shutterstock
Price tags: xbtusd, btcusd, btcusdt
Unless Bitcoin "Spikes," It's Hard Not to Say This Is the Top: Analyst Explains