Bitcoin broke below its support zones and trades around its yearly open after another massive selloff. At the time of writing, the first cryptocurrency by market cap trades at $29,605 with an 11.2% loss in the weekly chart.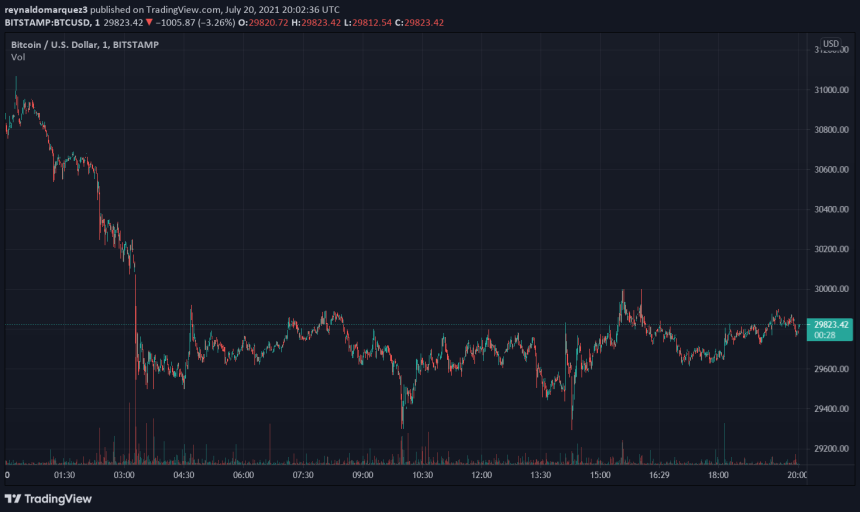 The crypto market has followed Bitcoin, except for a handful of coins, and the top ten sit on more pronounced losses.
For three consecutive months, BTC and major cryptocurrencies have been in the red. May and June saw two capitulation events that pushed BTC's price below its current levels. Hence why so many investors and traders expect further downside to consolidating a third and possibly final capitulation.
The weeks leading to the most recent crash saw Ethereum (ETH) outperforming Bitcoin (BTC). The second cryptocurrency by market cap rose from around $1,600 to $2,390 before retracing to current levels.
However, a recent report by Arcane Research concluded that BTC remains the best performer in the crypto market. In consequence, the BTC Dominance has increased as altcoins are pushed further down their support levels.
As seen below, the Bitcoin Dominance stood at 46.92% by the time the report was published with ETH following with a 16.96%. USDT (5.12%), BNB (3.72%), ADA (2.86%) taking on XRP (2.05%) and DOGE (1.82%) positions.
The chart shows that Bitcoin retraces around 11.2% since the beginning of July 2021. Cryptocurrencies with large market caps saw the less severe drops with only 18.5% closely followed by small-cap tokens with 19.6%. Mid-cap cryptocurrencies took the biggest fall with a 22.4% drop. Arcane Research said:
(…) All indexes have now seen considerable negative monthly returns three months in a row. In May, all indexes saw negative returns of around 30%. In June, the monthly returns ranged between -5% for bitcoin to        -28% for the Small Cap Index. This month, we're currently on the path towards another month of substantial negative returns for the broad crypto market.
Bitcoin Derivatives Experience Rise In Open Interest
Arcane Research also registered a decline in volatility for the 7-day chart. This metric stood at 1.68%. The last time Bitcoin experience such low volatility was in October 2020.
Conversely, the BTC-based derivatives have seen an increase in Open Interest (OI). The Bitcoin futures have been playing a major role in the market's dynamics. The first capitulation event was preceded by a high OI with a spike in liquidations when BTC turn to the downside.
This metric was on a decline but is moving towards April and May highs, Arcane Research said, with 395,000 BTC. This represents a 95,000 BTC increase since OI touched a bottom at the end of May.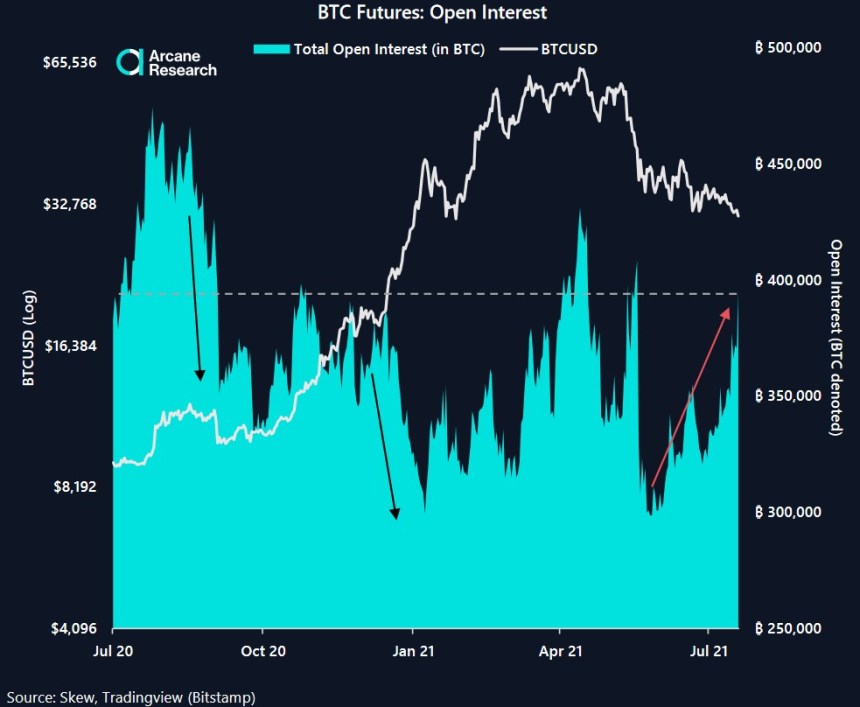 In the coming weeks, the market could see further movement due to the recovery in the Bitcoin hashrate and the implementation of Ethereum's EIP-1559 with the London Hardfork.