Earlier this week it was reported that bitcoin's main forum had experienced some unexpected downtime. As we've gotten accustomed to from other incidents with bitcointalk,  the discussion was taken to the bitcoin subreddit where theymos, the forum's administrator, confirmed that there were some issues with the storage disks. After he claimed to have fixed the problems and brought the forum back online, users are unable to access the forum once again.
Bitcointalk's downtime and data loss
Theymos finally posted an update on the situation hours after users had started complaining about the downtime. As seen in the first update by bitcointalk's official twitter account, the problem that caused the downtime was the failure of some storage disks. It was later revealed that any post data from approximately 9 hours before the downtime would not be recovered after the restoration.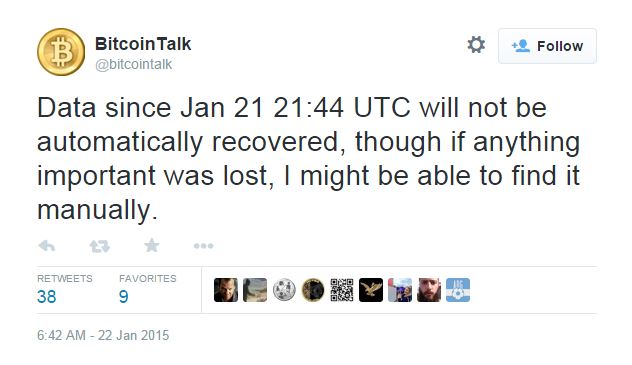 Theymos posted on reddit saying that the forum was going to be restored on to some different server hardware. Additionally, problems were supposedly fixed after a new system was put in place and set up. The forum was up and running without any serious issues for several hours, in fact. But today, days after he claimed to have taken proper care of the failures and supposedly brought the forum back to normal, users are unable to use the Bitcoin forum for the second time in a week. This time, there's an error displayed everytime someone tries to access the forum, though.
Connection Problems

Sorry, SMF was unable to connect to the database. This may be caused by the server being busy. Please try again later.
We can't be sure sure about what it was that caused the error this time as there hasn't been any official update yet. Hopefully, there will be an update on the forum's status soon.
Images via Twitter.