ESPN Events has announced that Atlanta, Georgia-based BitPay will serve as the new title sponsor of the annual St. Petersburg Bowl — an NCAA-sanctioned post-season college football game that has been taking place since 2008.
BitPay, renowned for its business of allowing merchants to easily accept bitcoin payments and convert them instantly to local currency, will have the game known as the Bitcoin St. Petersburg Bowl beginning with this year's game, slated to be held on the 26th of December at Tropicana Field in St. Petersburg, Florida.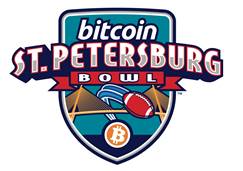 "Our goal is to continue to move bitcoin into the mainstream and sponsoring the St. Petersburg Bowl offers us that opportunity," noted Mr. Tony Gallippi, Executive Chairman at BitPay. "College football fans and the bitcoin community represent a similar target demographic – tech-savvy men between the ages of 18 and 40."
BitPay has secured the game title sponsor opportunity for three years until the December game in 2016.
Aired nationally on ESPN — a major sports network — the St. Petersburg Bowl game is watched by many sports fans (particularly those interested in football, quite obviously), and BitPay's hoping to use the opportunity to "further promote interest in the digital currency on a national scale."
"We're extremely excited to welcome BitPay to college football and our bowl home in St. Petersburg," says Brett Dulaney, who heads the St. Petersburg Bowl. "We look forward to a long and mutually beneficial arrangement."
Previous sponsors of the St. Petersburg bowl include magicJack (voice over IP service) and Beef 'O' Brady's, a sports bar/restaurant franchise.
Tickets to the game will be available via traditional channels (such as TicketMaster), but also by paying with bitcoin (this includes merchandise, too).
Bitcoin in sports
This isn't bitcoin's first encounter with sports.
Earlier this year, NBA team Sacramento Kings announced they would be accepting bitcoin for game tickets and merchandise. And most recently, the San Jose Earthquakes (Major League Soccer) announced they too would be accepting bitcoin — even in-stadium at concession kiosks and in their gift store.
The St. Petersburg Bowl game kicks off at 8 p.m. local time on December 26th. For more information, visit bitcoinstpetebowl.com.