Co-founder of BlockFi and senior vice president of operations, Flori Marquez, shared the company's insight on collected customers' data and shed some light on the crypto industry's growth as they have seen "huge moves" of Americans interested in it, suggesting a burgeoning adoption.
During an interview with Yahoo Finance, Flori Marquez shared some interesting numbers. In the year over year Bitcoin returned 112%, and compared to gold and S&P respectively, she said, "that's a negative 4% and 24%."
So, year over year, it has been volatile in the last 30 days. But it's still a great investment for people who were participating a year ago.
Marquez claims this year was big for crypto in terms of mainstream consumer demand, which took BlockFi to research amongst customers' data to try understand their sentiment on Bitcoin at the moment.
we've seen that 1 in 10 people plan to gift crypto this year. And also, about 2/3 of Americans prefer to talk about crypto versus if you think about five years ago, only 1% of people had ever traded crypto, and 50% of Americans had never heard of crypto five years ago.
BlockFi has around 75,000 clients using their Visa Signature Credit Card which offers rewards in Bitcoin, "And that's absolutely huge because most fintech companies look to see about 10,000 credit cards in their first year" Marquez added and further suggested that Americans are highly interested in earning "different types of awards", but not necessarily looking forward to earn cash back.
BlockFi's co-founder claims that 2/3 of their clients "actually spend less with cash back" since starting to use their Bitcoin-rewards cards because they are "more into crypto". Their clients nowadays show a long-term 'hodlers' way of thinking, and see BTC as an asset that could generate them an important yearly return that cash cannot offer.
when they receive a Bitcoin reward, they're not selling that for cash. So the upside isn't necessarily the $140 that you're receiving in Bitcoin today. The upside is what could that Bitcoin be worth a year from now.
A Chainalysis research shows that, by October 2021, the goblal crypto adoption had grown over 2300% since Q3 2019 and over 881% in the last year as many countries face devaluations and citizens all over the world want to protect their savings, and there is also a large boost coming from institutional investment. The total market cap of crypto reached $3 trillion in 2021 and is currently at $2,2 trillion.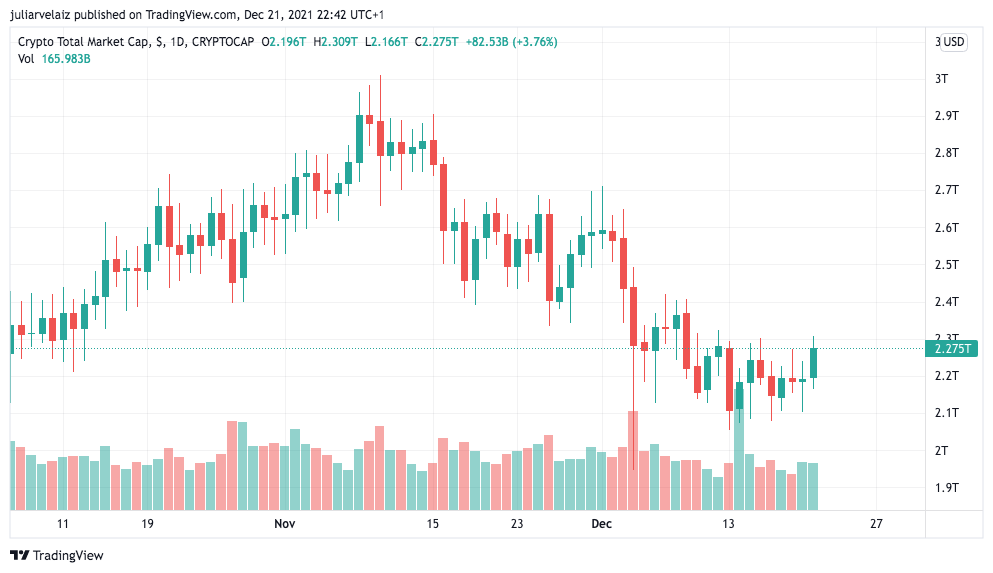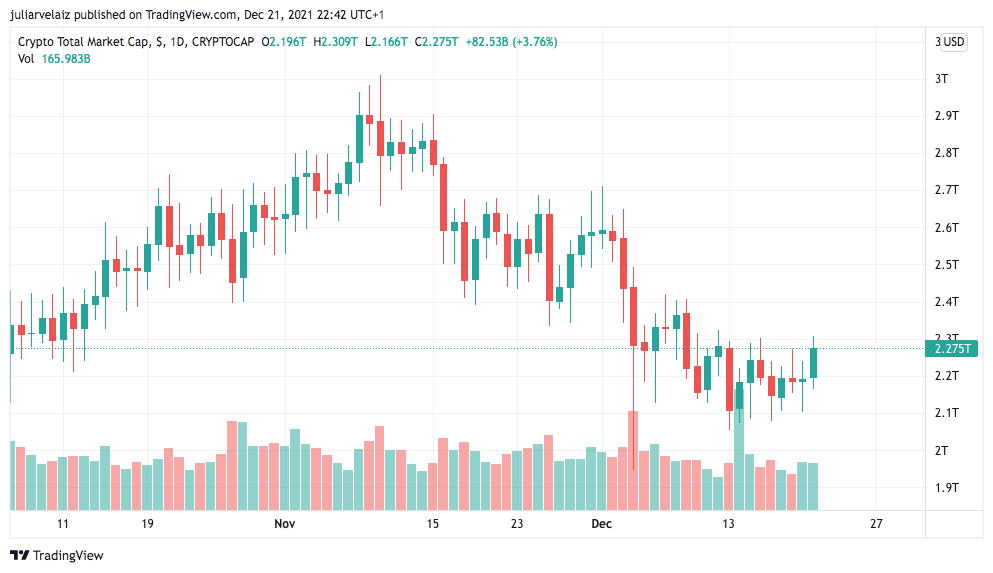 Related Reading | Has The NFT Bubble Popped? Prices Down 65% While Ecologists Sharpen Knives
BlockFi Sees The Growth Of Crypto Driven By FOMO
During 2022, Marquez expects to see more first timers American customers enter the crypto space as she thinks that "a huge driver is going to be FOMO", meaning that the industry is getting so popular –and cash is looking less useful– that people do not want to miss out on the possible returns.
Reading | FOMO Beware: Spot Bitcoin Buying Volume Remains Low, Despite New ATH
For Marquez, this Holiday season could incentivize the FOMO as many are talking about their 2021 investments and how they worked out. "I do think that crypto has become a bit more digestible for the average consumer than it was five years ago", she claims.
Furthermore, Marquez thinks that crypto will keep seeing new talent come in, people who have changed paths trying to find a "right fit" for the long-term during the pandemic. She claimed there will be more "shifting from other more traditional industries into crypto and the fintech sector", and thinks that's a new opportunity to bring in historically excluded demographics.
As many others do, Marquez hopes to see some regulatory clarity for crypto next year, and commented that "BlockFi is a huge believer in partnership with regulators" to achieve building a bridge that connects traditional finance with crypto. She suggested clarity would boost the mainstream adoption because users will think the space is safer if regulators are in it.