A Brazilian deputy has requested the Finance and Taxation Committee to conduct a public hearing on Bitcoin, sources report.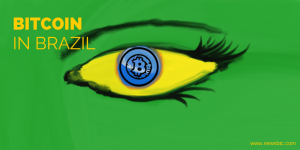 Manoel Junior, a congressman for the State of Paraiba, doesn't have a track record of speaking for/against the digital currency sector. His earlier public welfare initiatives were mostly focused on municipal and medical developments, showing no affiliation with the technology sector. The second-time elected politician however is backing a Bitcoin Exchange, coinBR, in their initiative to boost the Brazilian digital currency market.
In his letter addressed to the President of Brazilian Finance and Taxation Committee, Manoel raises the need to discuss the government's actual stand on Bitcoin. A rap of questions he puts forth are as follows:
Could Bitcoin replace national currencies in the means of payment functions, unit account and store of value?
If so, what are the effects of this on state power to set monetary and exchange rate policies?
What are the repercussions Bitcoin generates for the financial system and its stability?
Could risks from the use of digital currency can be estimated and controlled?
What measures may be adopted by the State to ensure the safe operation of this new payment system?
coinBR earlier said in an official post that, over the last few months, they are seeking to form a dialogue with legislative representatives to discuss the possibility of a fruitful, risk-free Bitcoin economy in Brazilian markets. The request, as coinBR admitted, has drawn inspirations from the countless debates that took between the digital currency and government representatives in the US and Canada. It is now further inspiring politicians like Manoel Junior as well.
Following the committee's approval, the applicants will be able to address the aforesaid questions to the State of Representatives, including officials from Brazil's Central Bank, the Federal Revenue of Brazil, the Securities and Exchange Commission and the Council for Financial Activities Control.
The Brazilian Senate Committee has earlier dropped their plans to regulate Bitcoin, citing a not-so-active local market.