Throughout much of 2019, Bitcoin has vastly over performed most of the altcoin market, except for a select few such as Litecoin, which saw increased buy pressure ahead of its halving – an event that sees the reward miners receive in a crypto asset reduced in half.
But BTC dominance has been in a strong uptrend alongside Bitcoin itself, which went parabolic starting in April, resulting in over 300% gains before its rally topped out at $13,800. Recently it set new highs as altcoins capitulated, but now it's began to decline, its uptrend has been broken much like Bitcoin's, and the alt season that crypto investors have been waiting for may finally be here.
Alt Season When? BTC Dominance Drops Off After Bitcoin Rally Begins to Correct
BTC dominance has steadily grown since the massive $1,000 green candle that happened back in April, sending Bitcoin on a parabolic rally that has taken the entire world by storm. But before Bitcoin could reach a new all-time high, its parabolic rally is in serious jeopardy, and the first real correction since the rally began is playing out.
Related Reading | Altcoins May Never Again Reach All-Time High, Even if Bitcoin Hits $100K
The correction that hit Bitcoin, also has caused BTC dominance to correct, and its uptrend has been broken. BTC dominance has fallen from a high of near 67%, to under 65%. But it's the uptrend line that's been broken that is significant. With BTC dominance potentially ready to plummet, could this finally be the alt season crypto investors have been waiting for?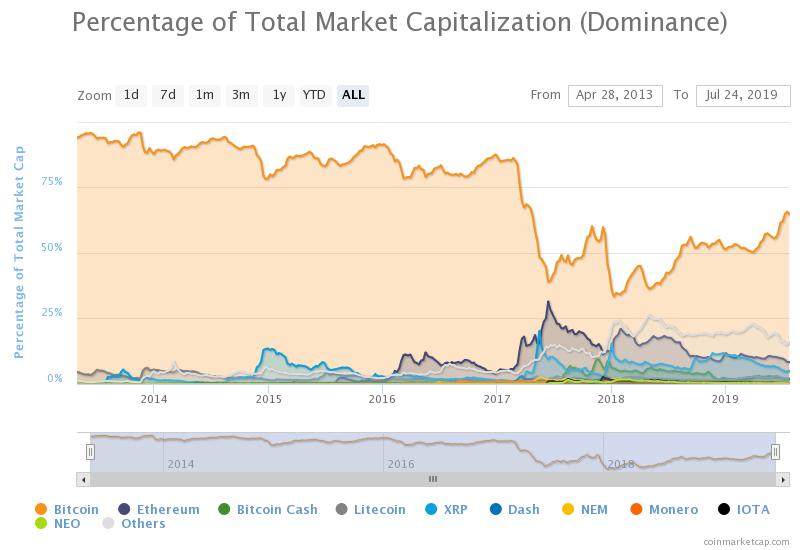 What Happens to the Crypto Market if Dominance Rises?
It's worth noting, that Bitcoin fell below support turned resistance at 67% dominance as the 2017 bull run really heated up, and has never again breached that level. Prior to falling below, Bitcoin enjoyed most of the market's life well above 75% dominance. While an alt season is certainly possible, could the resistance at 67% simply the last stop before Bitcoin reclaims its full dominance, and the rest of the crypto market continues to bleed out the rest of its value until much of the altcoin space no longer exists?
If this happens, altcoins will never again reach their all-time high prices that happened back in 2017, and investors will need to accept that alt season was a once in a lifetime opportunity. In fact, new data shows that if altcoin ratios against BTC were to maintain, they would never again reach a new all-time high in USD – even if Bitcoin were to reach $100,000 USD per BTC.
Related Reading | Bitcoin Price at $10,000 is in Danger As Bulls Begin to Lose Support
But this scenario only entertains the idea of altcoins maintaining their ratios. Should BTC dominance continue to rise well above 67% the offset will need to come from value leaving the altcoin market, and not only will they never reach another all-time high, they may be doomed completely.