Cardano (ADA) crumbling, down 18.7 percent
Facebook gives nothing in return says, Charles Hoskinson
Charles Hoskinson, the co-founder of Cardano, is often brazen. After forcing changes in the Cardano Foundation, he now says Facebook enslaves and gives nothing in return. Presently, ADA is down 18.7 percent week-to-date.
Cardano Price Analysis
Fundamentals
Online commentators believe that Facebook is a primer, readying crypto assets to new highs. With a broad user base of over 1.7 billion spread across the globe, Facebook's stablecoin in Libra will indeed shed light on what crypto and digital assets are.
Even so, Charles Hoskinson is adamant. Arguing that despite expectations, Facebook as a tech company gives nothing in return. Instead, what the scandal-ridden social media giant does is enslave. While Talking to Finance Magnates, he said:
"I am not entering a market and looking to extract value from people. Facebook has to come into countries it doesn't know a lot about and convinces them to enslave themselves to an economic monopoly and give nothing in return. And their only pitch is that you'll pay less on fees."
However, he didn't stop there. Responding to critics busy tearing down IOHK and frustrated by shifty deadlines, Charles said:
"I also think the community has been exceedingly unfair with their criticism of our deadlines…People are saying we're incompetent, that we don't know what we're doing. Moreover, there's many people on Reddit and Twitter and other things who have said things that are just crazy. "
Candlestick Arrangement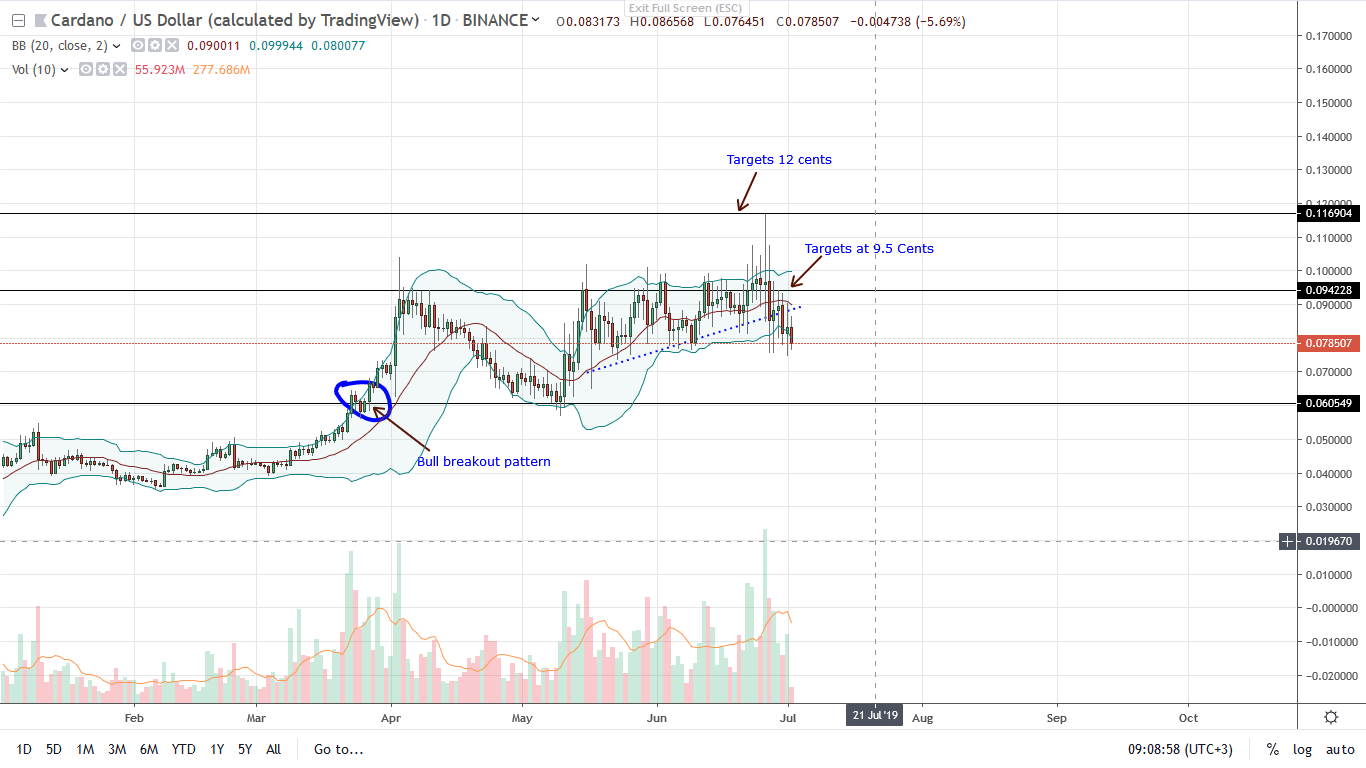 At the time of writing, ADA is on the chopping board. Sliding 18.7 percent week to date, ADA is steadying at 10th in the market cap's leader board. Regardless, this correction was inevitable. After months of spirited performance, ADA's market cap surged, reflecting an improvement in prices.
Meanwhile, ranging within a 4 cents zone with caps at 9.5 cents, bears are pressing lower. With increasing bear momentum, ADA bear candlesticks are banding along the lower Bollinger Band (BB). That, if anything, hints at bulls' weakness and an impending disintegration probably back to 6 cents.
In that case, risk-off traders can consider fading the primary trend, sell on pullbacks with targets at 6 cents. This overview will hold as long as prices are oscillating below the main resistance and buy trigger line at 9.5 cents.
Technical Indicator
Ideally, any break above 9.5 cents or 6 cents ought to be with high trading volumes. In that case, June 26 doji candlestick with 603 million leads this trade plan. Any break out or dump below 9.5 cents, or 6 cents should be with high participation preferably exceeding 603 million.
Chart courtesy of Trading View. Image Courtesy of Shutterstock