ADA down 2.1 percent
Shelly TestNet set for June
Focus is on Shelly and what it brings to Cardano: Decentralization. Test Net said to be this month. According to commentators, its success could either mean success or failure for IOHK and Charles Hoskinson. At the time of writing, ADA is shaky, falling 2.1 percent from last week's close.
Cardano Price Analysis
Fundamentals
There is evidence that the crypto space is full of talented developers. Diluting their building efforts are schemers and pump and dump artists. Their artistry can be at a significant loss for honest investors. These are individuals who are keen on clipping the market and earning what is rightfully theirs.
On the other end are quick rich scheme masters and perpetrators of pump and dumps. Regulators are after them. Besides them, there are also after creators of flimsy, half-baked but well marketed platforms. So prevalent were they that a comprehensive report revealed that investors lost billions of dollars in ICOs.
However, Cardano is after something else. Charles Hoskinson, the mastermind of this innovative project, is categorical. Their peer reviewing of every product, every smart contract is for good reasons:  To give credence to the results of their Research and Development. Behind it is the objective of flipping Ethereum and being a go-to platform where the code is law and smart contracts are verifiable.
Nonetheless, there is a level of disenfranchisement, even after Shelly. Already, select pools of validators are available for test-net later this month. However, the hard question is whether prices will rally if the test net is successful.
Candlestick Arrangement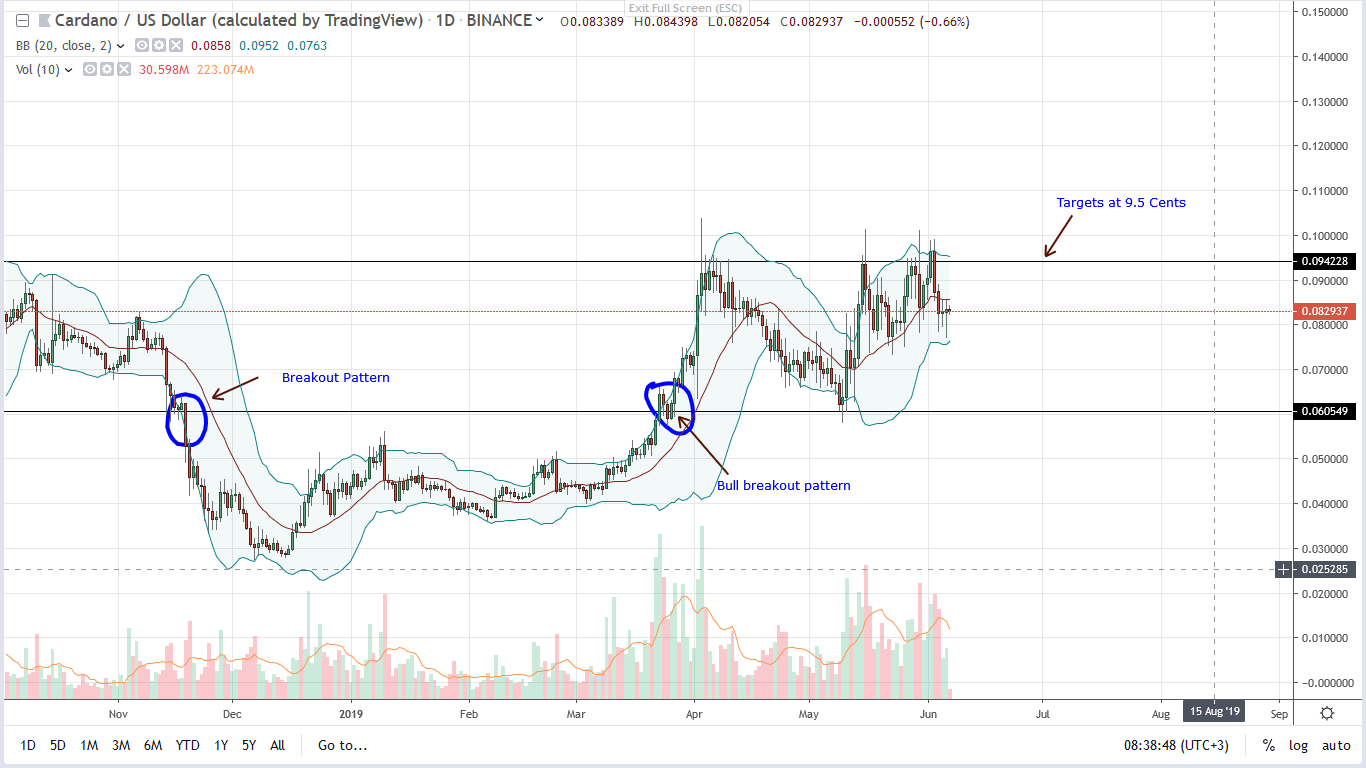 Presently, Cardano (ADA) is trading within a bullish breakout pattern. After an astounding Q1 2019-spilling to April and May, ADA price increment means the asset is trading in the top-10.
Nonetheless, bears are running havoc. Like most coins, it is down 2.1 percent in the last week. If Stellar steadies, resisting sellers, XLM could flip ADA to ninth. Even so, that is not to dismiss ADA buyers. After retesting 9.5 cents and failing to close above that main resistance line, printing lower lows against the upper Bollinger Band (BB), ADA prices may drop to 6 cents.
That will constitute a retest that is so typical of a breakout pattern. Already there are hints. There is a double bar bear reversal marked by May 30th bear bar. The absence of buy pressure gives bears a leeway to press lower as revealed by June 3rd through 6th bears.
On the other hand, any sharp thrust above 9.5 cents confirms bulls of early April. That could see ADA rally to 12 cents.
Technical Indicators
From above, the May 30th bar is leading. It is extensive as it is and has high trading volumes of 367 million. Any surge above 9.5 cents or drop below 6 cents confirming or nullifying this price forecast must ideally be with high engagement exceeding 367 million.
Chart courtesy of Trading View. Image Courtesy of Shutterstock