Cardano (ADA) is up 7.3 percent
The path towards complete decentralization continues through Shelly TestNet
Shelly TestNet is live. To the end, Charles Hoskinson is in Israel as he waits for feedback from the country's developers. Meanwhile, ADA is consolidating along 9.5 cents following June 26 doji candlestick.
Cardano Price Analysis
Fundamentals
Charles Hoskinson is a technical leader, passionate about crypto. After parting ways with Ethereum following the contentious and implicating DAO, he continues to head Ethereum Classic development.
Overly, he is generally thorough, guiding Cardano's IOHK in matters quality. As a smart contracting platform prioritizing quality and peer reviewing over speed and compromise, their five-step development through to Voltaire will produce a verified, peer-reviewed platform which is scalable and completely decentralized.
It may take some few years before Voltaire. However, the release of Shelly TestNet, the path towards the ultimate goal is being fast-tracked. Because of Shelly, there will be decentralization. That is precisely why the blockchain community has its interest in the project.
The TestNet which is live, launched on June 21, allows experimentation on Staking. Besides staking, this TestNet prepares the network for the final transition of transaction validation from IOHk to the community's staking pools.
Testing will be in three phases. The first stage enables users to create a Rust Self Node while simultaneously establishing the basic configuration of staking pools. After that, all these Rust Self Nodes will connect into one "unified TestNet" before incentive building and delegation in the third stage.
Candlestick Arrangement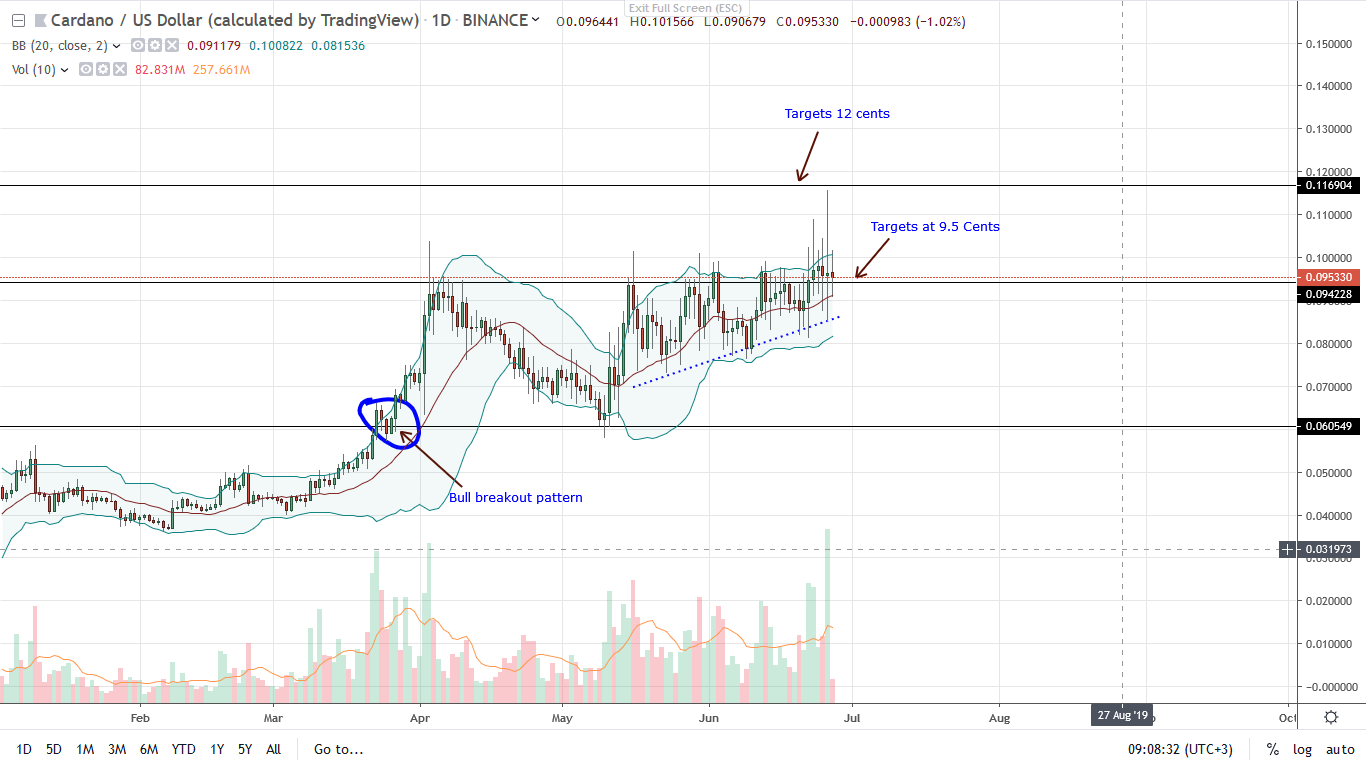 Trading at 9 cents, ADA is bullish and 7.3 percent higher from last week's close. Despite the slowdown in the previous day, the path of least resistance is up. In an altcoin season, ADA is likely to attract capital, especially if this TestNet reveals the real power of Cardano.
Because ADA is within a bullish breakout pattern against the USD, every low is technically a loading point. However, while there is an opportunity for aggressive traders, it is imperative that prices edge past May 2019 resistance at 9.5 cents.
There were attempts on June 26, but the resulting doji points to indecision. ADA prices could print lower. On the other hand, any firm close above 9.5 cents, preferably with high trade participation could trigger ecstatic buys as traders aim at 12 cents. Such a move will confirm the bull breakout pattern of late March.
Technical Indicators
As the trend line shows, the dominant trend is up. Although there is consolidation, trading volumes are high. In that case, break and close above 9.5 cents, validating this trade plan should ideally be with high participation exceeding 603 million of June 26.
Chart courtesy of Trading View. Image Courtesy of Shutterstock