IOHK fired up the Cardano community by releasing details of the Goguen roadmap yesterday. After the successful rollout of Shelley, many look to Goguen as the final hurdle before challenging Ethereum on level ground.
The roadmap puts the Goguen mainnet launch at around March 2021. Considering the frequent delays to Shelley, this represents an ambitious but welcome call.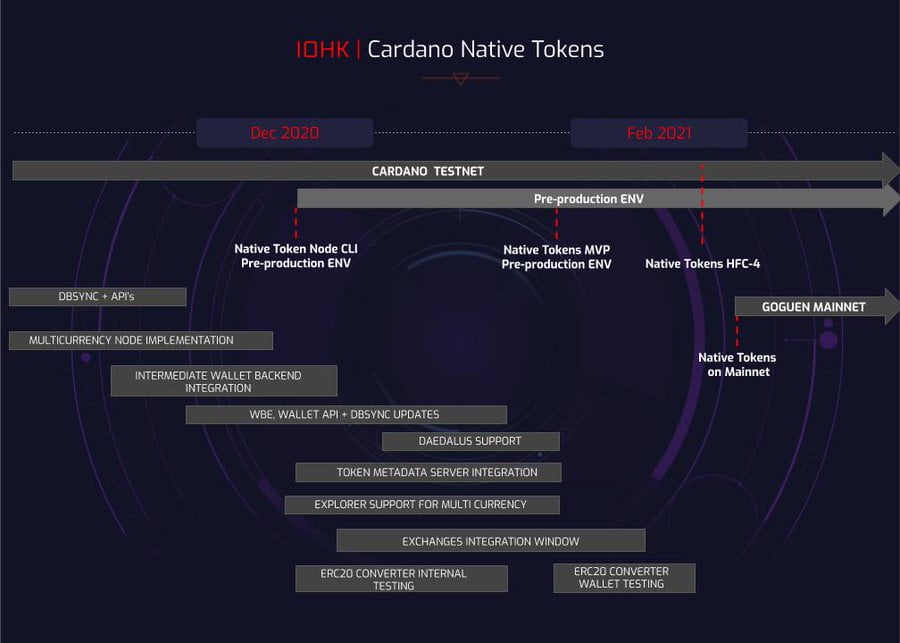 Source: twitter.com
Cardano Gunning For Ethereum
Goguen is a significant leap forward in the capabilities of the Cardano network. With it comes the ability to build decentralized applications and a whole host of other features, including a multi-asset ledger.
Developers, IOHK have gone to great lengths to cater to both technical and non-technical users. This will see the use of a new smart contract language in Plutus. It gives programmers a smart contract platform with functionality built into, or "native" to, the ledger itself.
"It also allows one code base to support both on and off-chain components, improving the coherency and usability of the development experience compared with existing smart contract implementations."
This contrasts with Ethereum's ERC-20 "contract standard," which works through copy-pasting proforma code and modifying it to fit requirements.
There are several advantages to Plutus, including wider interoperability with other smart contracts. But the critical difference is that Goguen allows for smart contracts to be written in different languages. In comparison, Ethereum smart contracts use Solidity only.
As well as that, there's Marlowe, a high-level domain specific language (DSL) built on top of Plutus. It will enable everyday people with no technical expertise to create smart contracts. Cardano hopes this will cultivate a new class of enterprise-level smart contract development with real-world use.
Who Is Jumping The Ethereum Ship?
IOHK released Goguen's details via the Cardano Development October Update hosted by Marketing & Communications Director Tim Harrison.
The update included a section on the up and coming ERC-20 converter, which encourages Ethereum ERC-20 projects to port over to Cardano.
During the broadcast, Vukašin Vukoje, the former COO of Tenderly, an Ethereum monitoring platform, demonstrated using the ERC-20 converter. It showed options for converting BAT, DAI, AGI, USDC, and USDT.
"There are three ways in which our partner can convert their tokens. The first one would be by airdropping on the destination network, basically cloning the token. The second one would be by burning the token on the source network and creating one on the destination network. And the third one would be by locking the token on the source network and releasing it on the destination network."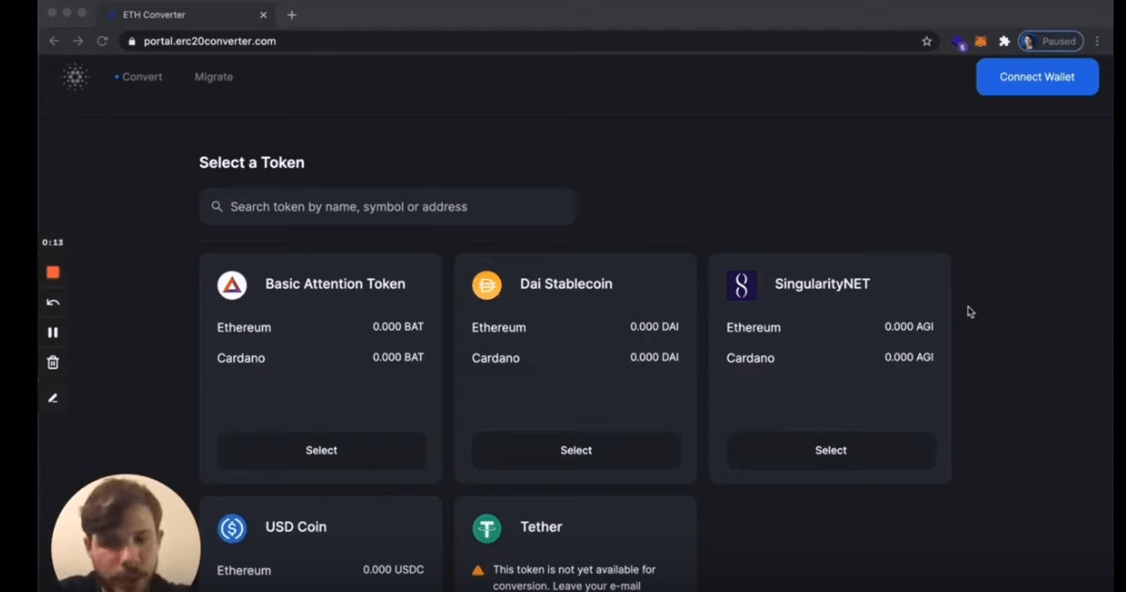 Source: youtube.com
SingularityNET CEO Ben Goertzel has already spoken about his reasons for moving AGI tokens from Ethereum to other blockchains.
But the real surprise was the inclusion of DAI, USDC, and USDT. What's more, as stablecoins, does this give insight into Cardano's DEX ambitions?
The end of Q1 2021 represents a pivotal period in Cardano's development. Not only is Goguen scheduled for rollout, but IOHK CEO Charles Hoskinson estimates the network will be fully decentralized by then as well.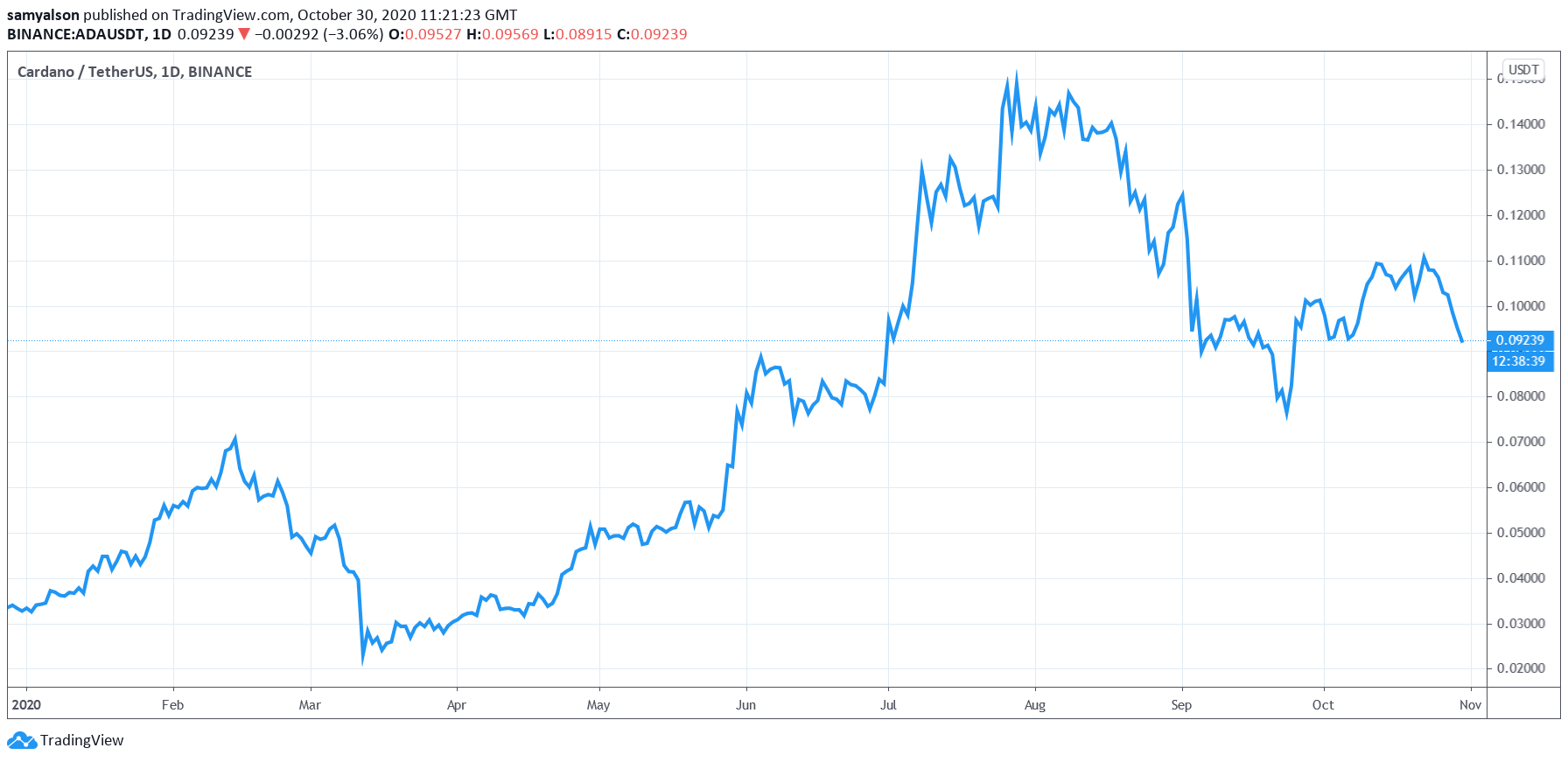 Source: ADAUST on Tradingview.com