There's some pretty interesting stuff going on over at the Coinbase camp. The San Francisco-based company today put together two blog posts on a couple of features that are sure to be crowd pleasers.
The first of the two is the option for Coinbase users to buy back bitcoins following check out. Quite simply, what this means is that when a user spends a certain amount of bitcoin, they can instantly buy that same amount back from Coinbase at current market rates.
So if I were to spend 1 bitcoin on a new desk, for example, I could instantly refill my Coinbase wallet with the same amount of money.
But why?
Some people just like to keep the same amount of bitcoin in their wallets. Others worry the value of bitcoin may significantly rise and they would have just spent so much more than they have to (see the 10,000 bitcoin pizza scenario). But buying back bitcoin, they have the comfort of knowing that if the value does go up, they'll have exactly what it was worth before the purchase.
This will streamline the process significantly for the folks who carry out the buy back process, so if you're one of them, you're good to go!
Bitcoins as bits
This second one is a bit more interesting. Coinbase says they are now allowing users to display bitcoins as "bits", a smaller and more user-friendly denomination of measuring bitcoin.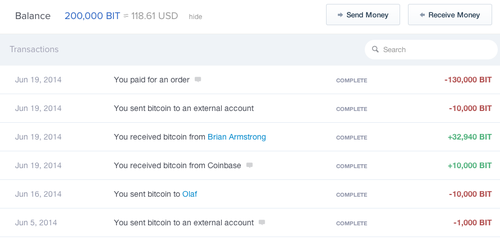 They point to the Satoshi unit — or 0.00000001 BTC (that's 100,000,000 Satoshis) — and how unfriendly of a unit that is.
They write:
Recently, a proposal came up to move to "bits". One bit (or µBTC) is worth 100 satoshis, which means that prices can easily be displayed using two decimal places, as most people are already used to. Another advantage is that bits can be easier to say and understand – for example, $1 USD is currently worth about 0.0017 BTC, or 1,700 bits.
Users looking to enable the feature can do so by going to their Settings page an selecting the Bitcoin unit option to Bits.
Setting a standard?
As one of the most respected names in bitcoin business, Coinbase could very well be setting a standard with regard to bitcoin denominations — something that hasn't been agreed upon in the community.
The possibility that other organizations adopt the bit unit is quite possible in the wake of this, but of course, time will tell.
Meanwhile, the Bitcoin Foundation recently announced they want to establish a Standards Committee to make recommendations on conventions to be used with reference to bitcoin (mainly the symbol as of this junction).
Added: It should also be pointed out, as per the reader comment below, that BitPay has taken this approach in early May. For more on that, follow this link.
[textmarker color="C24000″]Source(s)[/textmarker] Coinbase I, Coinbase II