San Francisco-based Coinbase is making the news again, and this time it's with a milestone.
The company — which allows consumers to easily buy and sell bitcoin — in addition to providing merchant services, has apparently reached 1.5 million consumers wallets.
That's according to the company's About page, which is seemingly updated frequently (by our observation, changes to the page are made every 1-2 weeks).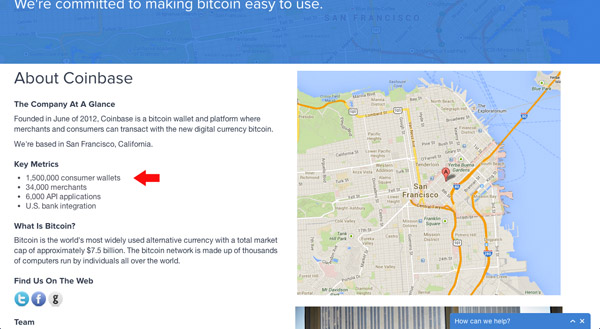 The company's last milestone on this front was in late February, when it was announced that they had reached one million consumer wallets, so it's taken a few months to amass a half-million more wallets.
By comparison, web wallet service Blockchain.info surpassed one million web wallets in January of this year, and the 1.5 millionth wallet was created in April.
Today that figure has passed 1.8 million, according to chart data.
Since November 2013, companies that offer web wallet services have seen a spike in interest, which correlates with a huge price spike that month in which the price of bitcoin topped $1,000 at multiple exchanges.
When we encounter another price spike (assuming we do), you can expect to see the number of wallets created to increase rapidly as more and more individuals see the potential to make money by getting involved.
How long do you reckon until they reach two million?