Crypto prices are seeing another crash, with the global cryptocurrency market cap down 1.3% over the past 24 hours. Bitcoin – which has also depreciated 1.5% over the past day – has fallen below the $27,000 support level.
Altcoins continue to face the brunt of the bearishness, with XRP, Cardano and Solana down around 2-3% and Ethereum down 1.5% and trading below $1,550.
Why Crypto Prices Are Crashing In October?
While most experts were initially bullish on "Uptober", it is now clear that major cryptocurrencies still have to deal with the strong selling pressure on the market.
The Bitcoin price has been unable to breach the crucial resistance at $28,000 and is currently underperforming against every important moving average indicator in the daily time frame, leading TradingView to give it a "Sell" signal. What makes this even worse is that the broader equities market – in particular, S&P 500 and NASDAQ-100 – are showing signs of strength.
On the other hand, Bitcoin dominance continues to surge, leading to a strong correction in major altcoins like Ethereum – the ETH/BTC trading pair continues to lose critical support levels.
A hotter-than-expected PPI also highlights that the Federal Reserve still has a long way to go before the inflation is anywhere near the targeted 2% rate. In the last FOMC meeting, Fed chair Jerome Powell had already signalled a strong possibility of more monetary tightening.
With the crude oil price continuing to soar, along with the ongoing Israel-Palestine conflict, it looks increasingly likely that the central bank will hike its interest rate one more time before the end of the year.
Meanwhile, Bitcoin and Ethereum ETFs are not getting any closer to their approval, with the SEC continuing to drag its feet, despite the admonishments from US Congress members.
As a result, popular trader @CryptoTony__ believes that Bitcoin will fall to the $20,000 price mark before any sustainable upside.
3 New Cryptocurrency To Buy While Crypto Prices Are Down
With the extreme bearishness in the market, investors are pivoting to alternative investment opportunities that have the potential to generate explosive price growth. New presale tokens, in particular, are surging in popularity, especially those that are offering high staking rewards and real-world utility.
Bitcoin Minetrix ($BTCMTX)
Bitcoin Minetrix has emerged as a consensus pick on investors' list of the best cryptocurrency to buy during a bear market. The robust demand for the token is evident in the ICO itself, with the Bitcoin Minetrix presale hitting the $1 million milestone in just two weeks.
The token's popularity – especially amongst retail investors – is totally understandable, considering that its decentralized cloud mining platform is helping them accumulate passive Bitcoin mining rewards.
Ever since the invention of Application-Specific Integrated Circuits (ASICs) in 2013, the Bitcoin mining industry has been dominated by wealthy corporations. Companies like Riot Platforms deploy thousands of miners, along with specialized power plants to fuel their extensive mining operations.
Even then, these wealthy companies combine their computational power to create mining pools, thus increasing their probability of earning the rewards. Two mining pools – Foundry and Antpool – currently control 50% of Bitcoin's global hashing power.
On the other hand, retail investors – with nothing more than a CPU or GPU – will need to pay hundreds of thousands of dollars to mine a single BTC – a process that would require several hundred thousand years.
However, with Bitcoin Minetrix, investors could simply purchase and stake BTCMTX tokens in an Ethereum-powered smart contract to receive mining credits. These credits can then be burned for a percentage of the yield or cloud mining time, both resulting in passive BTC rewards.
The accumulated BTC could end up offering significant returns on investment as experts continue to predict a Bitcoin bull run next year – despite the short-term turbulence in the market. In fact, investors can begin to earn staking rewards in the presale itself, before the cloud mining operation is established.
Bitcoin Minetrix's stake-to-mine dashboard makes the entire process extremely simple and intuitive – no technical expertise or upfront capital investment is needed. It also offers a higher level of transparency, something that investors in the cloud mining industry have been bereft of.
Thanks to the token's unique value proposition, popular traders like Cilinix Crypto are buying Bitcoin Minetrix in the presale itself. However, interested buyers have no time to lose as the first stage of the presale is set to complete in just over 4 days or when its hard cap of $1.54 million sells out.
Visit Bitcoin Minetrix Presale
Meme Kombat ($MK)
Traditionally, poor performance by major cryptocurrencies is often accompanied by a strong meme coin rally, as investors look for any respite from the prevalent bearishness.
Some crypto whales and smart money traders are already stocking up on higher-volatility meme tokens, with a new coin – Meme Kombat – emerging as one of the top choices. The admin of the Crypto Whale Pumps channel on Telegram – who has 25k subscribers and a knack for making money from rare crypto gems – revealed that he has purchased $MK in the ICO.
Thanks to such massive financial endorsements, the Meme Kombat presale has raised close to $500k in just three weeks, nearing 50% of its minimum goal of $1 million.
Similar to Wall Street Memes – a newly launched crypto that has skyrocketed 30% yesterday – Meme Kombat is not any ordinary run-of-the-mill token. Its stake-to-earn mechanism is currently offering an APY of 112%, allowing retail investors to generate attractive passive income.
Investors can allocate a portion of their tokens specifically towards gambling, as the Meme Kombat platform allows a wide range of betting opportunities. The platform will act as a virtual battle arena between 11 characters – each of which represents a popular meme coin like Pepe, Doge, Shiba, Sponge etc.
Players can bet against each other or against the house – they could also engage in some exciting side action betting. The use of AI-based dynamic visualization and random sequencing will make the battles exciting and unpredictable for the players.
Thus, Meme Kombat has all the makings of a token that could generate excellent returns even in the midst of a bear market. After all, the project is capitalizing on some of the coolest crypto trends such as artificial intelligence, stake-to-earn, GambleFi and Play2Earn.
However, the project's most attractive feature is its fully doxxed team as the project has revealed the identity of every important team member, including its founder Matt Whiteman. This level of transparency is unprecedented in the meme coin market and protects investors from any rug pull or scam.
TG.Casino ($TGC)
Smart money traders often use the bear market to stock up on tokens that could emerge as winners during the next bull cycle. A new GambleFi token – TG.Casino – is one such cryptocurrency that has caught the attention of investors, having already raised $750k in its presale.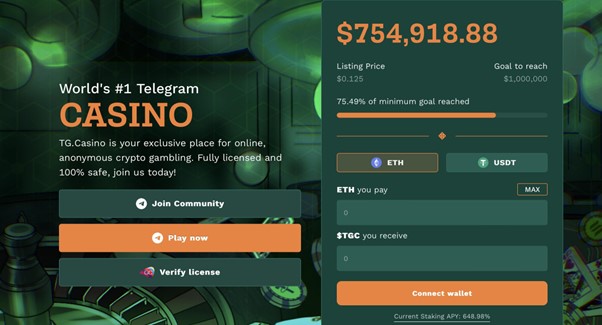 TG.Casino platform is a top rated platform on bitcoincasinos.com noted for its fully anonymous betting action that can be accessed via Telegram. This approach has significant advantages: firstly, millions of crypto and gambling enthusiasts are active on the Telegram app and could drive up the demand for the $TGC token.
Secondly, TG.Casino users can feel safe while enjoying all the gambling and casino services, thanks to the end-to-end encryption of Telegram. Regular audits by Coinsult also help in this regard – the latest audit did not find any vulnerability or centralization risk.
Lastly, TG.Casino leverages Telegram's powerful Bot API to create its own cutting-edge bot that not only handles the platform mechanics but also helps the users whenever they require assistance.
Similar to other projects on this list, TG.Casino has its own on-chain staking mechanism, which makes it one of the best tokens to buy while crypto prices are down. The $TGC staking pool is currently offering an APY of over 640%, with over 6 million tokens already staked in.
Investors staking the token also enjoy loyalty bonuses and priority access to new games.
TG.Casino also utilizes a buy-back mechanism to boost $TGC's value – a portion of the casino profits will be used to purchase $TGC tokens in the open market, 40% of which will be burned while the remaining 60% will be distributed as staking rewards.
The popularity of the GambleFi sector is surging and tokens like Rollbit Coin have displayed thousands of percent of growth over the past year. However, TG.Casino is currently in its presale and is priced at just $0.125, allowing investors to jump on the bandwagon early and maximize their profits.