Lately, the crypto market has been hit by certain short-term impacts as a result of Anton Nell and Andre Cronje's departure from crypto. As the market pins its hope on new projects, investors are also in an urgent search for promising projects. ViaBTC Capital, a rising star in crypto investment, has started to invest in new crypto categories starting from late 2021. It has focused on GameFi, a small category that may promise huge returns. Analyzing on-chain/off-chain indicators and the gaming fundamentals, ViaBTC Capital is looking for the next hit in GameFi.
New opportunities amidst current tensions
Although the market now remains sluggish, some promising GameFi projects are still emerging. Turning challenges into opportunities, ViaBTC Capital is exploring a new crypto category with great potential. At ViaBTC Capital, investment strategies are never confined to the immediate interest. Instead, the institution focuses on long-term development. For example, from a long-term perspective, it helps cryptocurrencies capture the spotlight in global finance, which brings both challenges and opportunities.
The same also applies to the GameFi market. Though 2022 is still waiting for the appearance of phenomenal projects with worldwide impact, the GameFi category is merely a start from the viewpoint of the entire gaming market. Along with the progress of technologies such as blockchain, AR/VR, the Internet of Things, and the metaverse, GameFi mechanisms will grow more diversified in the future. This, coupled with the P2E model, allows GameFi to integrate life, entertainment, and work, which will broaden its growth prospect.
Finding the next hit in GameFi
Having noticed the potential of GameFi, ViaBTC Capital has made fast moves and invested in emerging projects, including four new GameFi projects (STEPN, Edenbrawl, Infinite launch, and AAG).
STEPN
Official website: https://stepn.com/
STEPN is a Web3 lifestyle app with inbuilt Game-Fi and Social-Fi elements. Players will first need to purchase or rent NFT sneakers. In STEPN, you can make handsome earnings by walking, jogging, or running outdoors. STEPN is currently under the public beta phase.
With Game-Fi, STEPN aims to nudge millions toward a healthier lifestyle, combat climate change, and connect the public to Web 3.0 while building a SocialFi platform that fosters user-generated Web 3.0 content and promotes the Web 3.0 lifestyle.
STEPN's One Page
Infinite launch
Official website: https://infinitelaunch.io/
Focusing on GameFi and NFTs Infinite Launch will be the first launchpad to have its own blockchain games to help new crypto adopters get acquainted with NFTs and Play-to-Earn models. Right now, three GameFi projects plan to go through IDO on Infinite Launch. In addition, the platform has also launched the NFT Whale Club.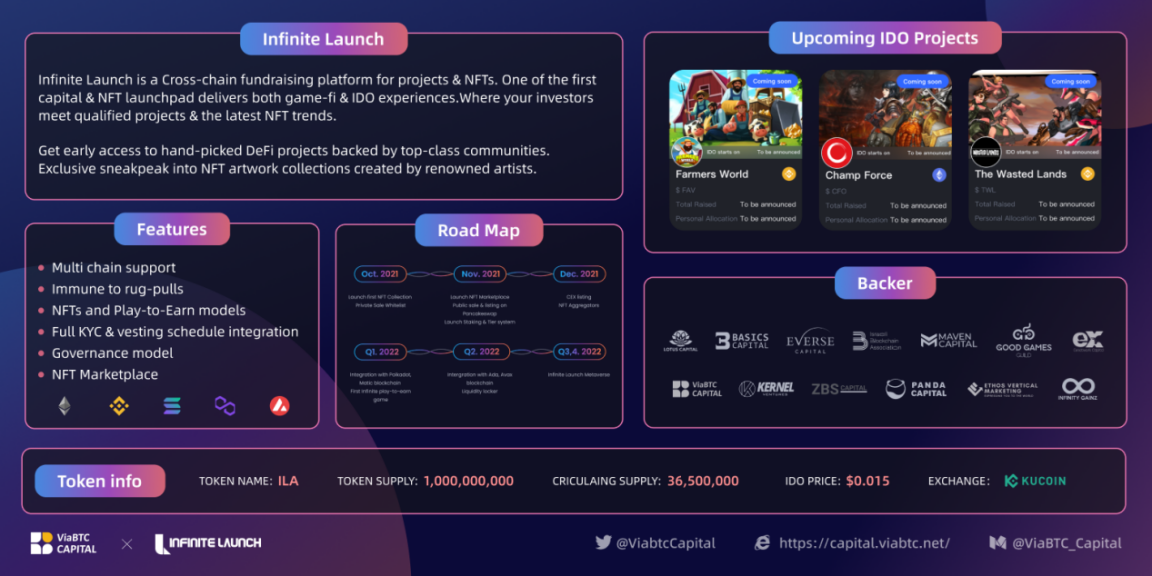 Infinite's One Page
Edenbrawl
Official website: https://www.edenbrawl.com/
Edenbrawl (formerly "Circuits and Shields") combines the action combat of a brawler with the endless depth of a MOBA to create a "Mobrawler". In Edenbrawl, players can kill or block their enemy or land the ball in the enemy's "endzone" to win the 20-minute MOBA match.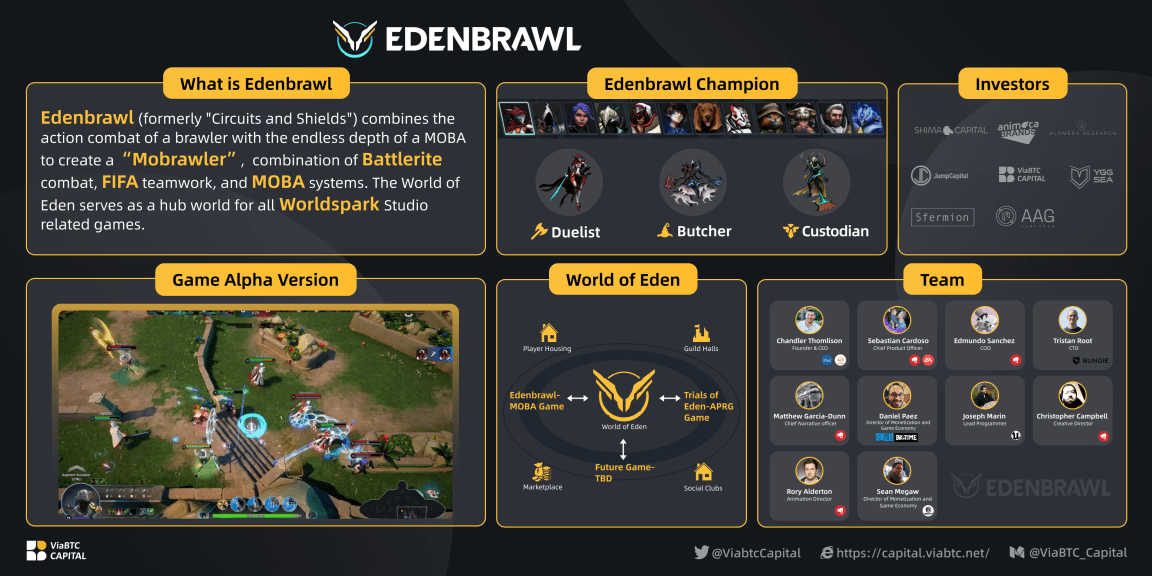 Edenbrawl's One Page
AAG
Official website: https://aag.ventures/
AAG, a one-stop platform for players, guilds, and investors, aims to create economic freedom for the unemployed worldwide through the metaverse economy. It is also one of the fastest-growing guilds in the P2E industry. As of 2021, AAG covered seven countries and created an environment where players, guilds, and investors could interact seamlessly and make earnings through the services it provides.
Official website of AGG
AAG is not just a platform. It has built an all-new model. It has partnered up with many guilds, games, and investors, including ViaBTC Capital. Such a powerful investment network provides AAG with a strong business foundation and empowers it in fields that include gaming, blockchain, DeFi, and community building.
Institutional investors backing AAG
 A time of both challenges and opportunities
The GameFi market is shifting to second-generation and third-generation blockchain games. The market landscape of GameFi differs from that of other blockchain categories. Its relationship with the rest of the blockchain space resembles that between the metaverse and the Internet. GameFi successfully duplicates the financial sector, lending/borrowing system, and value-storing framework in the real world through its distributed structure and the confirmation of asset ownership via blockchain, which is also the reason behind its fast growth.
First-generation blockchain NFT games like CryptoKitties diminished due to the lack of long-term players. Second-generation blockchain games (P2E games like Axie Infinity) run the assets on Layer 2 blockchain networks and operate the game itself off-chain, thereby enabling gameplay with few costs and fast results. In such games, players can earn and monetize in-game tokens by playing the game for minutes. However, they still lack the advantages of conventional AAA games in terms of gaming experiences, game designs, and graphics. As such, second-generation blockchain games failed to build a mature market. ViaBTC Capital has captured the exponential growth of the demand for third-generation blockchain games that stimulate users through paid entertainment such as superior gaming experiences and gameplay, rather than P2E alone.
Having inherited all the advantages of blockchain technology, GameFi has brilliant prospects. In the future, ViaBTC Capital will continue to focus on the value-based investment of gaming ecosystems and engage in investment analysis and project empowerment according to the trend of game development. Meanwhile, it will push for the sound growth of GameFi and help build a prosperous ecosystem of third-generation blockchain games.
(The above content is for reference only and does not constitute any investment advice)
About ViaBTC Capital
An investment platform integrating capital, resources, and post-investment services
We believe that relying on the rich industry resources of ViaBTC Group and aggregating technologies, talents, projects, and capital in related industries around the world can accelerate the ecosystem development of the entire crypto industry. ViaBTC focuses on Web 3.0 and Layer 2 projects as well as DApps that feature DeFi, NFT, or DAO elements.