After a brief pullback, the Solana price has begun rallying again, currently trading at $61 and up 8% in the last 24 hours. This comes as the broader market also pumps, but Solana is coming out on top among the leading ten cryptos by market cap.
Solana Outpaces the Market With a 3x in 2 Months
Solana's price has exploded 3x in since September, climbing from $20 to $61 today. However, these gains are even more impressive considering the broader market's comparatively lackluster rally.
While the market has undoubtedly done a U-turn from its bear market lows, Ethereum is up around 20% since Solana did a 3x, and Bitcoin is up less than 50%.
This indicates that the true bull market is yet to arrive, making Solala's gains a true spectacle and hinting at further room for growth.
The recent pump is due to a collection of new fundamental advancements coupled with an uptrend continuation and buyers rushing before the next potential leg up.
On-chain activity for Solana is thriving, with its top NFT project, Mad Lads, recently seeing a 56% price increase in one week, according to data from SolanaFloor.
Meanwhile, the chain is also seeing rampant meme coin activity, with market participants seemingly opting for Solana's low fees to execute their degen trades.
X commentator Puddles summarised why liquidity might be cycling into Solana meme coins, comparing it to the 2022 Ethereum NFT boom, followed by an explosion of Solana NFT popularity.

Meanwhile, Data from DeFiLlama shows that Solana's total value locked (TVL) and active addresses have seen a significant uptick recently. This indicates a rekindling interest in the chain and may be followed by a monumental increase similar to in 2021.

However, the main narrative that brought Solana to this point is that it retained its vibrant developer community despite a drastic selloff from its all-time high (ATH). This attests to the strongly held conviction of devs and investors in Solana.
The chart below illustrates this, showing the number of developer commits remained relatively flat despite its poor price action.
Consequently, the project's ecosystem was able to continue expanding, keeping it alive and laying the pathway for its recent pump.
3 Other Bullish Altcoins
While Solana is evidently on a tear, analysts are backing other projects that could outperform it. The reasons these other projects look bullish are robust fundamentals, market trends, and current prices.
Cardano
Cardano is following Solana's upward trajectory, pumping over 5% in the last 24 hours. However, it currently holds much more room for growth, given it has pumped 54%, whereas SOL is up 156%.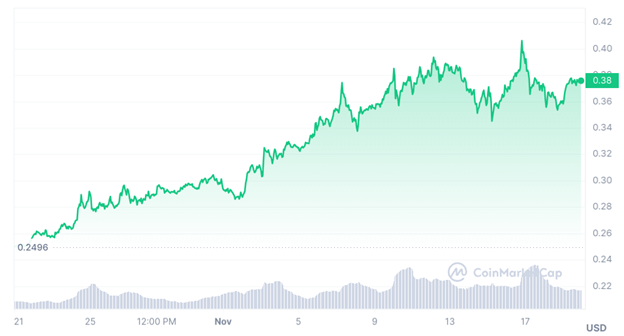 The Cardano community has recently become notably active on social media, topping polls for which crypto could pump next.
For instance, analysis and education provider Real Vision posted a poll on X about which crypto will perform best in 2024, with ETH, SOL, ADA, and LINK as the options.
ADA took the lead, with 58% of over 7,000 voters choosing the project. Yet community support is not the only thing giving Cardano potential.
Analyst Cardano YODA noted that Cardano's TVL is exploding, while rival chains like Solana, Ethereum, and Avalanche are seeing a "dip or slight rise."
The last factor driving Cardano's price potential is that the upcoming crypto bull run will push market participants to seek Ethereum alternatives with lower fees.
Ultimately, Cardano could come out on top in this race because, as well as lower fees, it also boasts robust decentralization and security. In contrast, many other scalable layer 1 blockchains like Solana and Avalanche are notably more centralized.
TGC Token
TG Casino token  is a promising new GambleFi presale backed by analysts as the next token to explode.
The crypto casino industry is currently surging, with its total market cap around $800 million and the broader casino market being valued at $263 billion. This presents tremendous growth potential, and TG Casino is on the cusp of the industry's innovation.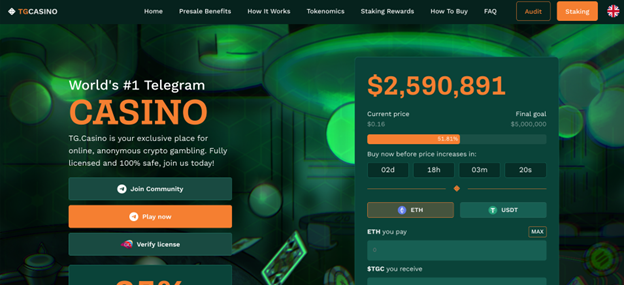 TG Casino is a Telegram-native application tapping into the prevalent Telegram crypto trend while providing users with considerable benefits.
For example, it is much easier to access than other crypto casinos and is available to Telegram's one billion users.
The project is also KYC-free, and users do not need an account. Instead, they can simply connect their wallets and gamble anonymously. This is complemented by Telegram's end-to-end encryption.
Furthermore, TG Casino boasts security features like an audit from Coinsult, and it is one of the only licensed and regulated Telegram casinos.
Meanwhile, the $TGC token provides countless benefits like free rewards, access to exclusive games and rooms, 25% cashback on losses, and a 220% staking APY.
Its presale has fared massively successful, raising $2.5 million in seven weeks. What's more, top analysts like Eric Cryptoman back it to explode after its IEO.
Kaspa
Kaspa is an emerging cryptocurrency that has recently topped CoinMarketCap's trending list after surging over 200% in the last month. It has also fared as one of the top-performing cryptos the past year, pumping over 2,000%.
However, analysts are backing Kaspa for significantly more upside potential. Currently, it holds a $3 billion market cap. This renders it a mid-cap project, providing room for growth while removing some risk associated with newer small-cap cryptos.
Kaspa's hype is driven by a novel use case, tackling the blockchain trilemma through a technology called "BlockDAG."
Essentially, Kaspa is a scalable layer 1 blockchain that can compute multiple blocks simultaneously through its innovative blockchain architecture. It leverages a Proof-of-Work consensus mechanism, which is often deemed more secure and decentralized than Proof-of-Stake, which most new blockchains use.
The project's notoriety is quickly ramping up, with the team recently announcing that it will be listed for futures trading on Binance.
Analysts are significantly bullish on Kaspa, with Cryptographur recently making a profound statement that "there isn't a next $KAS."
Instead, the commentator insists that Kaspa is a product of a decade of research, alluding that it is impossible to replicate.