Meme tokens have gone beyond their initial reputation as mere jokes and are now providing practical use cases within their ecosystems. This transformation has sparked renewed interest in meme coins, with the potential for them to be in high demand in 2023. The success of established meme tokens in recent times confirms this trend, and the crypto community is eagerly anticipating further developments.
As we dive further into what appears to be a strong 2023 for altcoins, we should take particular note of meme coins. There are two meme coins worth looking at specifically: Love Hate Inu and Tamadoge. We go into the details of both these tokens and the opportunities they present for crypto enthusiasts.
The first of these is Love Hate Inu, a meme token that has gained significant attention in the crypto industry, and stands out due to its unique utility. The second is Tamadoge, a fun, wide-ranging meme coin that is making waves for also having a lot of utility.
We dive into both tokens here, and explain all you need to know about them.
Love Hate Inu Brings Utility to Meme Coins
Love Hate Inu distinguishes itself from other meme tokens by implementing a decentralized voting system that utilizes smart contracts to prevent spam and manipulation. By staking their tokens, holders can vote on various issues, and they can earn more tokens by participating in polls and voting on current topics. To prevent spamming and voting manipulation, users must stake their LHINU tokens for at least 30 days to participate in polls. The Love Hate Inu ecosystem comprises two primary components: the Vote Submission Platform, which proposes poll ideas for community review, and the Management Dashboard, which transparently oversees the voting process.
Love Hate Inu's goal is to encourage community involvement in relevant subjects through polls. The platform is expected to launch in Q3 2023, with LHINU token holders and interested brands being able to create and promote their polls from Q4 onwards. The LHINU token is the platform's currency, and further information on its functionality will be provided below. The rise of meme tokens with practical applications within their ecosystems has sparked a renewed interest in these coins, and Love Hate Inu has received significant attention in the crypto community due to its unique approach.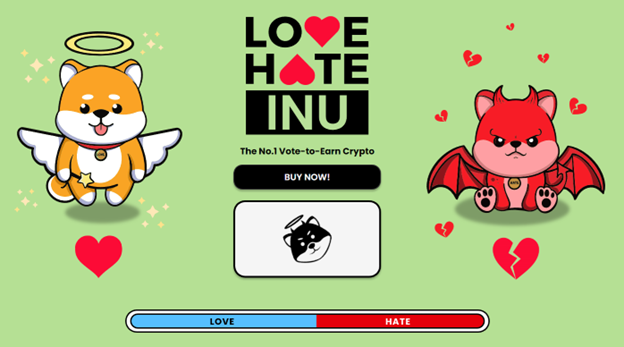 Love Hate Inu's blockchain-based platform offers a diverse range of meme polls that cover topics like politics, entertainment, and social issues, with participation available to LHINU token holders. The team prioritizes a secure, transparent, and equitable voting mechanism that leverages blockchain technology.
As users stake their tokens and participate in polls, they receive incentives in the form of tokens from the poll creator. The voting power of each user is determined by the number of tokens staked and the vesting period. Initially, the Love Hate Inu team will oversee the available polls on the platform, but they plan to transfer control to the community via a Vote Submission platform that is slated to launch later in the year. The Vote Submission platform will enable users to submit their poll ideas for community evaluation.
Love Hate Inu Presale Going Strong
Love Hate Inu's LHINU token has generated significant interest during its ongoing presale, with more than $4.6 million already raised. Potential investors can purchase LHINU tokens using cryptocurrency or traditional credit card fiat transactions. The presale offers 90% of the total token supply, with the remaining 10% designated for marketing campaigns, development, and the distribution of Vote to Earn rewards.
The team promised to reveal its CEO after surpassing $3 million in the presale, and they have fulfilled that commitment. The CEO of the project is industry veteran Carl Dawkins, who previously served as the Head of Growth at Tamadoge.
The LHINU presale comprises eight stages, and potential investors are advised to act quickly and capitalize on the early stages to take part.
Interested investors should act fast to take advantage of the current LHINU token price of $0.000115, which will rise to $0.000125 in the next phase. With the presale distributing 90% of the 100 billion tokens to the public, the risk of malicious individuals performing a rug pull is reduced, resulting in a fair presale. To purchase Love Hate Inu tokens, investors can use ETH or USDT, and credit card payments are also accepted. LHINU tokens do not have a vesting period, unlike some other presales. Early investors may have the potential to earn a profit of almost 70% since the presale is divided into eight stages.
Tamadoge is Another Striking Meme Coin
Tamadoge may initially seem like any other new cryptocurrency project featuring a token with an adorable mascot, but there are several unique features that make it a special meme coin. While it has some of the expected features of a meme coin, it also stands out due to its strong position and potential for growth in 2023.
One of the key factors that sets Tamadoge apart is its connection to Doge, as it positions itself as the "newest Doge on the block." The TAMA token serves as a gateway into the Tamaverse, a metaverse where users can create, breed, and battle their Tamadoge pets. The Tamaverse also features a marketplace where users can purchase food, toys, and cosmetic items for their virtual pets, offering a highly engaging experience.
Tamadoge is committed to being a meme coin with metaverse aspirations, incorporating concepts such as Play-to-Earn (P2E) and battles with collectible creatures. Furthermore, the team has assured investors of the platform's security by undergoing a full audit of the contract code.
Major Exchange Listing on the Way
Given the impressive features and strong community surrounding Tamadoge, it's no surprise that the crypto community is discussing an upcoming listing of TAMA on a major exchange. In fact, TAMA token has already experienced a 20% increase in value, and a Tier 1 exchange listing would be a significant milestone for this exciting new project. There are rumors that the listing is on Binance, though this has not been confirmed. The specific exchange will be revealed on April 24.
As the ecosystem continues to develop and new features are introduced according to the roadmap, the hype for a listing is only expected to grow. It's worth taking a closer look at the roadmap to gain a better understanding of where Tamadoge is headed in the future.
Tamadoge Has Much More Coming in the Future
Although still in its early stages, the Tamadoge project team is already planning for its future development with a detailed roadmap that outlines various ideas. Some of these ideas are currently under consideration, while others are already being worked on.
Several features that are currently in progress include a pet store, a mobile app, a staking feature, additional Doge levels, and a referral program. Meanwhile, the Tamadoge arcade has already launched several games, such as Super Doge, Rocket Doge, To The Moon, Tama Blast, and Tamadoge Run.
To ensure user engagement over the long-term, the team has several ideas in the pipeline, such as augmented reality experiences and partnerships to enhance the interactivity of the Tamadoge metaverse. By late 2023, the team plans to release a Tamadoge AR app that allows users to care for their virtual pets using their phones. It's clear that the team is committed to providing ongoing support to ensure the project's success.
These are just the beginnings of what could be a significant evolution in the meme coin space. As a result, Tamadoge is a project worth keeping an eye on, and it's not surprising that it shows immense potential for a Binance listing.
Tamadoge Has Several Notable Elements
Tamadoge has achieved impressive success within a short period, positioning it as a potential candidate for listing on major exchanges such as Binance. The project has remained a top performer due to its meme appeal and Play-to-Earn features, as evidenced by the high trading volume of the TAMA token in the last 24 hours.
What sets Tamadoge apart from other meme coins is its focus on utility, offering a variety of features that serve different purposes, primarily centered around P2E elements. In addition, the team plans to increase the project's utility by introducing more P2E arcade games, augmented reality experiences, and partnerships that enhance the interactivity of the Tamadoge metaverse.
Tamadoge's focus on metaverse gaming aligns with the current market trend, with the TAMA token serving as the backbone of the Tamaverse, earning rewards by playing games and engaging in battles with other players. The Tamadoge pet store offers various items such as toys and food for a player's Tamadoge, and earned tokens can be spent there.
Community engagement is crucial for metaverse projects, and Tamadoge has shown a strong and cohesive community. Although there is a competitive element to the game, with a leaderboard system that allows players to compete and earn TAMA rewards.
Meme Coins are Becoming a Robust Niche
Love Hate Inu and Tamadoge are prime examples of how meme tokens are broadening their investment horizons by incorporating blockchain-based voting systems or other use cases. This has emerged as one of the most desirable applications of this technology. Considering its favorable growth trajectory, it is advisable to keep track of Love Hate Inu's progress and potential investment opportunities. Likewise, investors should also keep an eye on Tamadoge.