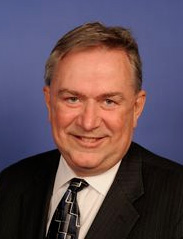 Congressman Steven Stockman of Texas appeared last night at the New Year's Eve bash at the New York City Bitcoin Center and announced acceptance of bitcoin for his upcoming senate campaign, but perhaps more interestingly, his desire to put together a bill in support of bitcoin.
The representative is seeking support of a clear-cut bill that is designed to keep federal, state, and local government from interfering with bitcoin and the bitcoin economy, according to Charles Peralo, a director of new business at the NYC Bitcoin Center and was in attendance at the New Year's Eve event.
"Stockman understands the revolutionary value to bitcoin," said Peralo to newsBTC. "What Stockman sees is anti-inflation practices, the cheapest possible transactions on the web, [and] a cheap and quick way to act as a medium of exchange between other currencies and also many other things yet to be discovered."
Whether or not Stockman's proposed bill gains traction is yet to be seen, but the Congressman has attracted a fair amount of attention from the bitcoin community, not surprisingly.
"He's not asking for the promotion of bitcoin. He's also not asking [that] the government gets behind bitcoin. He's just seeking sensible legislation to make it so the government will not attack bitcoin. So this way it can grow naturally without the fear of a government ban."