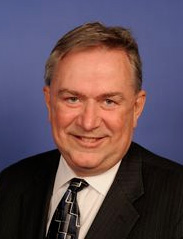 Congressman Steve Stockman of the 36th District of Texas is embracing digital currency. He made himself known in the bitcoin space at the end of last year when he began accepting bitcoin donations for a Senate campaign.
Last night at the New York City Bitcoin Center, Representative Stockman brought a copy of a bill he's planning to introduce to the 113th Congress (second session) on the topic of virtual currencies.
Entitled "To change the tax status of virtual currencies from property to currency", the bill (formally called the Virtual Currency Tax Reform Act) seeks to change how the Internal Revenue Service and other authoritative agencies in the United States views virtual currencies.
As you may recall, the IRS released guidance not long ago indicating that bitcoin and other virtual currency users classify their holdings as property as opposed to currency. For users, this has become rather problematic primarily because by the rules, users would have to keep track of all of their transactions and calculate gains/losses at the end of the year.
To say that would be a hassle and cumbersome is an understatement.
"We salute Congressman Stockman for making good on his promise to support digital currencies like Bitcoin," said Nick Spanos, NYC Bitcoin Center founder.
"The Congressman displayed an interest in Bitcoin's path-breaking, job-creating technology early on.  On behalf of the entire digital currency community who have a stake in this nascent industry's growth and its normalization into the economy, Bitcoin Center NYC thanks Congressman Stockman for leading the charge amid what often seems like conspicuous silence on the matter," he continued.
Virtual Currency Tax Reform Act
"This is a nascent industry. Along with 3-D printers and nanotubes, cryptocurrency is the future," said Representative Stockman. "We need to encourage it, not discourage it. There is risk associated with every budding industry in America."
The proposed legislation has not yet been given a number.