The Miami Dolphins are accepting crypto asset payments in partnership with Aliant Payments and the Litecoin Foundation.
An increasing number of professional sports teams are using the coins as well as associated betting platforms to offer fans an enhanced experience. This exposure of crypto asset to a larger audience looks to help spread awareness, increase adoption, and educate fans on the benefits of blockchain-based payments.
Litecoin Foundation Partners with Dolphins
The deal with Litecoin, the fifth-largest crypto asset, makes it the Miami Dolphin's official coin and provides it with in-game branding and advertising at Hard Rock Stadium and online.
The experience lets fans use Litecoin to purchase 50/50 raffle tickets – of which half of the proceeds go to the Miami Dolphins Foundation – both online and at 14 kiosks and raffle stations.
As of October, Aliant reported 46 Litecoin transactions at the then-most recent home game. When the partnership initiated the 50/50 raffle, the proceeds jumped from an average of $72,000 per game to $86,000.
Aliant CEO Eric Brown hinted at talks with several additional professional sports teams speaking at October's Litecoin Summit. Brown suggested several baseball, football and basketball teams were potentially in line to start accepting crypto asset, including the heavy-handed hint of "America's Team," aka the Dallas Cowboys.
As for others in the US, the NBA's Sacramento Kings were way ahead of the pack, accepting Bitcoin back in 2014 and MLB's Los Angeles Dodgers hosted a crypto giveaway last fall. Despite these forays, in general, it appears US sports teams have been slower to adopt than sports organizations overseas. 
Crypto in Sports Across the Pond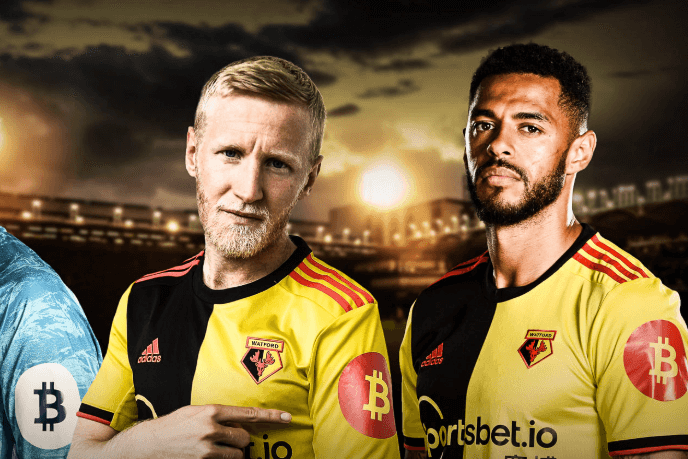 As for the English Premier League, global multi-asset investment platform eToro signed an ad partnership with six teams this August for the 2019/2020 season, putting them on-par with Adidas, who are the most used team kit supplier in the league.
In connection, this September it was revealed that he Bitcoin logo (₿) would appear on the sleeve of Watford FC as part of an educational drive led by the innovative sports betting brand Sportsbet.io.
As for the European continent, Ubisoft-backed, fantasy soccer game Sorare has signed several European clubs to create a blockchain trading card game featuring the world's top footballers. Among the clubs that have signed on to participate include several from major German and Spanish soccer leagues, such as Atletico Madrid, Schalke 04, and Valencia CF.
The large majority of these sponsorships are not inked explicitly to make money, but more for education and brand recognition. Although doing a partnership with a team isn't driving major revenue for the crypto assets themselves, it has become a crucial pathway to get these payment methods in front of a wider audience that may have never otherwise heard of them.
"This collaboration propels Litecoin in front of an audience of millions of people around the world at a time where adoption of cryptocurrencies continues to gain momentum and the ecosystem is able to support real-world use cases in ways previously not possible," Charlie Lee, Litecoin creator and managing director of Litecoin Foundation said.
"We see this as a powerful way to raise awareness and educate people about Litecoin and crypto on a tremendous scale," he added.
Featured Image from Shutterstock