Over the weekend, Bitcoin broke back above $10,000 for the first time in 2020, but an abrupt selloff caused an over $250 drop in less one minute and pushed the crypto asset back below the important psychological level.
But neither the move up or the rejection has caused a significant change in BitMEX Open Interest, suggesting that the fireworks the market is expecting have yet to come.
Bitcoin's Move Above $10,000 And Back Below Cause Drop in Open Interest
The crypto market and asset valuations are heavily determined by retail traders on top crypto exchanges doing battle via buy and sell orders of Bitcoin and altcoins.
No platform is more dominant in that respect – often dictating the ebb and flow of the crypto market itself – than BitMEX.
Related Reading | Bitcoin is Setting Up For a Violent Long Squeeze, Which May Trigger New Lows
As more and more traders get into position on that platform, it causes a rise in a metric called Open Interest.
Open Interest represents all of the cumulative value currently in position, ready to profit – or suffer losses – from the next major price movement in Bitcoin and altcoins.
For the past few weeks, Open Interest has been soaring, rising to some of the highest levels the metric reaches before a massive move occurs, and Open Interest cools down while the short-term trend is chosen.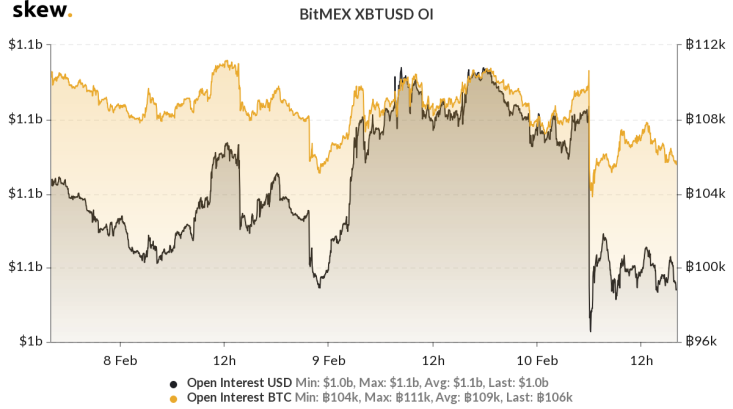 Each time Open Interest spikes above $1 billion in USD value, or over 100,000 BTC at stake, an exceptionally powerful move will occur as a result of all the traders in position.
Depending on the direction of the movement, many of the traders in position will take profit while others get liquidated or stopped out at a loss. The resulting action causes Open Interest to reduce to normal, stable levels before the cycle repeats.
Right now, even despite a slow and sustained move to above $10,000, and a subsequent, few hundred dollar rejection to below the key FOMO trigger level, Open Interest remains well over $1 billion and 100,000 BTC, suggesting that the fireworks the crypto market has been expecting haven't arrived yet.
Clearly, it's going to take a much more explosive move to cause traders to alter their positions. Longs continue to outweigh short positions across the most prominent crypto platforms by two to one, which could result in a dangerous long squeeze that causes Bitcoin to reach new lows.

Crypto Market Expects Fireworks If BTC Can Hold Above $10,000
On the flip side, if Bitcoin can continue its rally above $10,000, a strong push above the key level could cause FOMO like the crypto market hasn't seen since the peak of the crypto bubble of 2017.
Back then, Bitcoin broke above $10,000, then not even a month later had reached an all-time high of $20,000.
Related Reading | Bitcoin Futures Expiration, Soaring Open Interest Could Signal Major Move Ahead
Another strong break of $10,000 could cause similar results, which would finally be the powerful "fireworks" type move crypto traders are anticipating that would finally bring Open Interest on BitMEX back to normal levels.