A week or two back, I got an unsolicited message on Twitter, Crypto Twitter if you will. When the private message opened, I was greeted by a note from GRAY®, a Singapore-based company focused on luxury-centric hardware.
To my surprise, their chief executive, Kevin Wu, was offering to send me one of their latest products — The Corazon Titanium, their play on cryptocurrency hardware that took heavy inspiration from the Trezor Model T, one of the top security solutions for Bitcoin "HODLers". As I explained to my editor at NewsBTC, "the Corazon is pretty much a specced out Trezor T".
In fact, the Titanium and others in the Corazon lineup were purportedly created in collaboration with Trezor, a well-known, long-standing crypto upstart.
By the time I took a look at GRAY®'s website, my curiosity piqued, so I accepted the kind gift, and here I am reviewing it a few weeks later. Let's take a look, shall we?
Unboxing The Crypto Device
The very nonchalant, simple unboxing experiences that the ShapeShift KeepKey, Ledger Nano S or Nano X, the normal Trezor Model T, and other hardware crypto wallets provide weren't present with GRAY®'s device.
First off, the box itself, which is sealed by two 'government-issued' tamper-proof stickers, is quite clean. The design is minimalistic — my favorite — and the branding is subtle. Plus, everything is in black and white.
The silky design carries over into the box's contents. As seen below (image from GRAY®), upon sliding the Corazon-festooned cover off the box, you're met with a matte black block of foam in which the device is encased.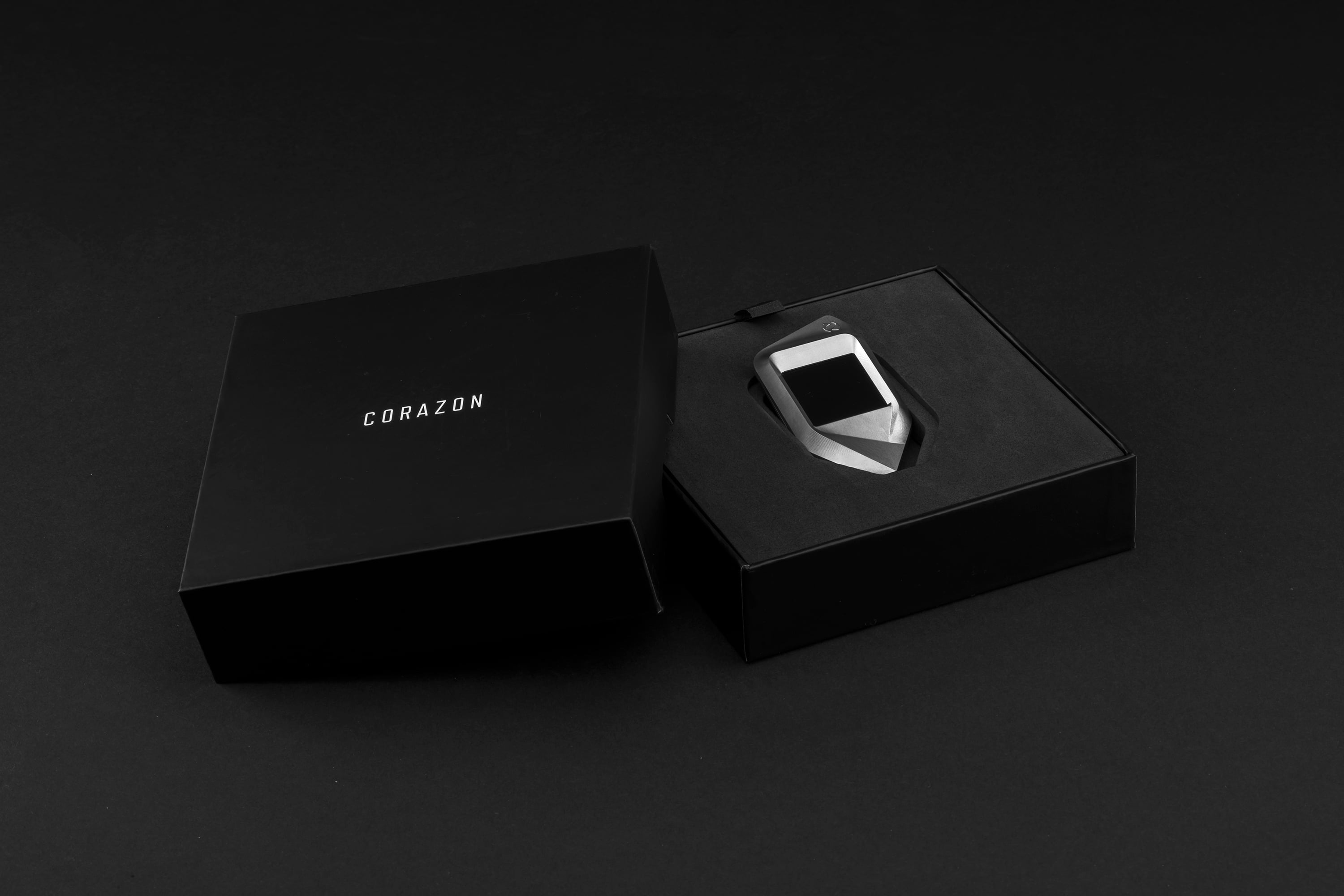 Under the foam piece is a hefty stack of crypto-related documentation, including a recovery seed card for those extremely conscious about backing up their keys. I know, the same old, same old, but important to have nonetheless.
And under that is the lengthy USBC-to-USB cord, which, I must say, looks a lot better than the Amazon Basics ones I order on occasion, or even the one that Ledger includes with its devices.
Overall, the unboxing experience is quite exciting really, just what you would expect from a company whose existence is built on stellar aesthetics and knock-your-socks-off product design. Fun, eh?
Ladies and Gentlemen, the Corazon Titanium
Although I normally don't allocate a whole review section to the device's physicality, the Corazon Titanium has to be an exception. The device is simply a beast. No joke.
While the Nano S is light, this device is heavy. It could easily double as a really, really conspicuous paperweight if you wanted to. I don't own a scale, but I would assume the Titanium weighs a solid 150 grams, not much less than the smartphone you are presumably reading this review on. This may not sound like a lot, but if you were carrying this in your pocket, you'd easily notice.
The wallet has a nice finish, sporting a nice space grey color scheme and a brushed texture. And the GRAY® and Trezor branding are minimal, actually kind of complementing the device instead of sticking out like sore thumbs.
What's most important though is the material used to build the Titanium. If you haven't guessed it already, this piece of crypto hardware is built using titanium, "aerospace grade" titanium to be exact.
Due to some unfortunate logistical mishaps, I was unable to shoot, burn, or freeze the device to test its durability. But, considering the attributes of titanium, I wouldn't be surprised if it was much more durable than the classic Trezor Model T, especially in terms of temperature resistance and corrosion.
So make no mistake, unlike your phone, the Titanium is unlikely to easily scratch.
Using it to Store Crypto
Despite its flashy appearance, using the device was simple and sleek. In fact, using the GRAY® device is just how one would use a normal, plastic-clad Trezor Model T.
To start the process of storing your cryptocurrency bags, you plug in the device to your computer. The USBC side goes into the Titanium and the USB side goes into your computer. If you messed that up, I don't know what to tell you.
Upon plugging in the device, your computer should register that something was plugged in and the Titanium itself should turn on, greeting you with a- digitally enthusiastic "Welcome!".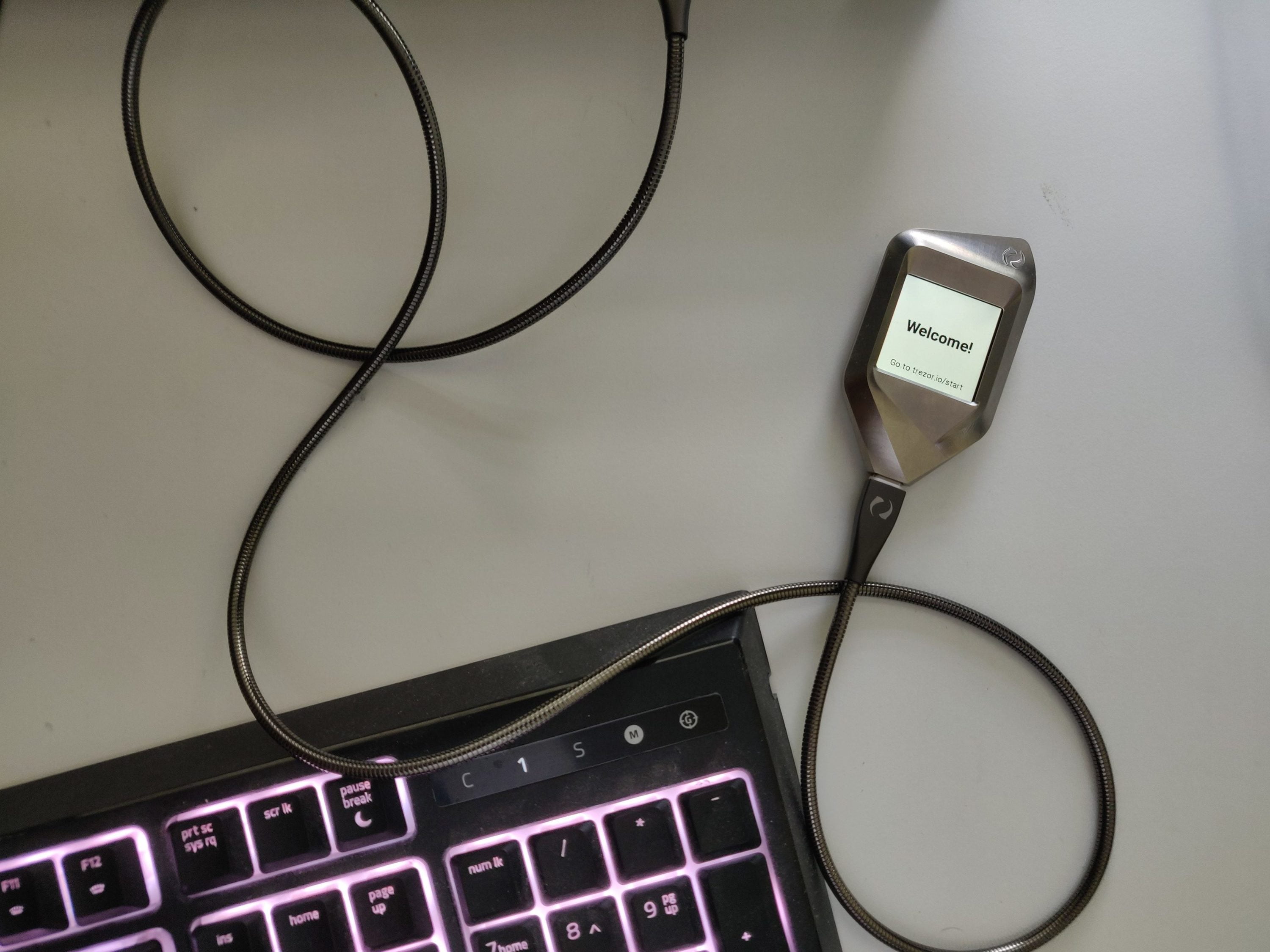 As prompted, you are then supposed to visit Trezor.io/start, which will trigger a backup process, during which you will need to take your handy recovery seed card, then fill it out. From there, you can then use Trezor's software, namely a program called Bridge, to store an array of assets.
These include but aren't limited to Bitcoin, Ethereum, Ripple's XRP, Litecoin, Tether, Stellar, Monero, Tezos, ZCash, all ERC-20 tokens, and Cardano. The specced out Trezor can also "secure your digital identity", as it does sport a password manager.
'Too Long, Didn't Read' Conclusion
If you don't want to read my whole review, here's a short spiel.
Overall, the Corazon Titanium is a solid, nice-looking device that comes shipped in a nice package. The device itself could easily take a beating, seeing that it is, after all, built out of one of the earth's rarest and hardest metals.
As a crypto asset hardware wallet, it serves its purpose well, harnessing the technologies and portal built by Trezor (Satoshi Labs) to allow for storage of Bitcoin, Ethereum, other crypto assets, and even keys for non-blockchain applications.
However, with the device clocking in at $959 Singaporean Dollars, which is just shy of $710 for American readers, it may be out of reach for normal consumers. If you're a cryptocurrency HODLer, have a bit of money to spend, and want to stand out a bit in a crowd of plastic Trezor Model Ts, this device would be perfect for you.
Or, if you have a tad more to spend, the Corazon Titanium's older brother, the Corazon Gold, has your name written all over it. That runs for over US$1,500 though.
My overall score for the Corazon Titanium: 8.0/10
Disclaimer: GRAY®'s chief executive, Kevin Wu, reached out to me via Twitter & LinkedIn, asking if he could send me the device for a potential review. I agreed. No financial transactions were made, but I did receive the device at no cost. Regardless This review is entirely objective, made from the perspective of a (relatively) small crypto asset holder that cares about security and privacy. Readers and investors should always do their due diligence before purchasing any device or cryptocurrency mentioned in this article. 
Featured Image from Shutterstock. Some Review Photos Courtesy of GRAY.