There is no doubt that Bitcoin has been in the driving seat over the past couple of months. Its epic performance has eaten into the crypto markets to such an extent that altcoins are still largely on the floor. That is all except Chainlink which has literally shot for the moon this month.
LINK Lashes Rival Cryptos
Chainlink has made monumental gains over the past month, surging over 270 percent as its market capitalization tops $1 billion. It has performed that well that it is now 16th place in terms of market cap which is above NEO, IOTA, Cosmos and Ethereum Classic. With another $100k or so LINK will be as big as Dash.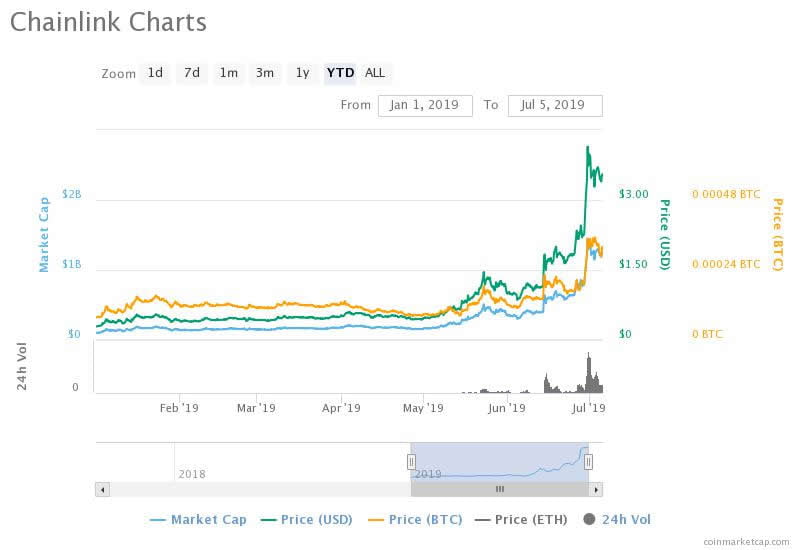 As a wall of red bleeds into crypto markets during Asian trading today, LINK is bucking the trend and still gaining. At the time of writing Chainlink was trading at around $3.50. Considering this altcoin was less than $0.30 at the beginning of the year, it has pumped over a thousand percent.
Very few others can match that performance. Even Litecoin, which has pumped 300 percent this year, is way behind comparatively. Bitcoin meanwhile has made around 200 percent in the same period.
Chainlink is a blockchain project that attempts to solve a problem involving adjudication of smart contract inputs and outputs. It provides a tamper proof link to solve the 'oracle problem' for smart contracts that have no knowledge of real world data.
According to Forbes, the project's solution to this problem involves the use of a decentralized network of 'oracles' to lower the risks associated with placing trust in a third party. The economic model build around the LINK token is based on incentives or activities such as paying for data and putting up collateral or 'reputation' to improve the reliability of oracles in the network.
Why The FOMO?
Chainlink is the hot cake in crypto land at the moment, just as EOS was in April last year. As we have seen time and time again these fomo driven altcoins can come and go pretty quickly. Verge was good example of such a massive pump and dump on a promise of some ground breaking tech, and XVG is virtually dead these days, down over 97 percent from that peak.
Fundamentally, LINK prices have been driven by a couple of things recently. The Coinbase Pro listing clearly gave it some momentum but these exchange driven pumps are no longer what they used to be. A possible tie up with Google Cloud, which name dropped Chainlink earlier this month, caused an epic spike in prices.
The same Google announcement also mentioned Ethereum, which didn't move indicating that a lot of the LINK action is purely speculation and fomo which is all part of the ebb and flow of crypto asset market cycles.
Image from Shutterstock