Crypto markets consolidating today; Bitcoin takes a breath, LTC back up,  XRP, EOS and Tezos retreating.
Crypto markets have remained in consolidation for the past 24 hours. Very little movement has occurred on most of the majors as Bitcoin shows no direction at the moment. Total market capitalization remains around $285 billion this Wednesday morning.
Bitcoin peaked at $9,250 yesterday but failed to hold that level, sliding just below $9k three times in the past 12 hours. It did recover back above it every time though and is currently sitting at $9,150. With heavy resistance above $9.5k and a new support zone at $8.7k BTC could consolidate here for a while.
Ethereum is still stagnant, dropping back below $270 again in a downside correction. The next key support level is $260 and a fall through this could lead to larger losses for ETH. Without any clear fundamentals it is hard to see where else it can go in the short term.
Altcoin Outlook
Red dominates the top ten during today's Asian trading session. XRP could not hold on to its gains despite the big partnership announcement and has fallen back over 3 percent to $0.43. Bitcoin Cash, EOS and Stellar are shedding a similar amount as altcoins remain weak. Only Litecoin and Binance Coin are in the green, but only just as these two continue to hold strong.
The top twenty outlook is also mixed but most crypto assets remain flat for another day. Ethereum Classic and Tezos are the only two that have really moved in the past 24 hours and both are falling back. Zcash is making a comeback and is about to flip NEM for that 20th spot as ZEC grabs 8 percent on the day.
FOMO: Insight Chain Cranks
The pump of the day has gone to INB which has spiked 85 percent to reach $0.34. There does not appear to be anything obvious fundamentally driving this EOS based blockchain project. Nearly all of the volume is on one exchange, Livecoin, indicating that the pump is probably manipulated.
Ardor is doing well today with a climb of 26 percent and privacy based Zcoin is third with a 16 percent gain on the day. At the red end of the top one hundred is Aurora which probably isn't worth mentioning any more. Zilliqa and Chainlink are also dumping over 7 percent each.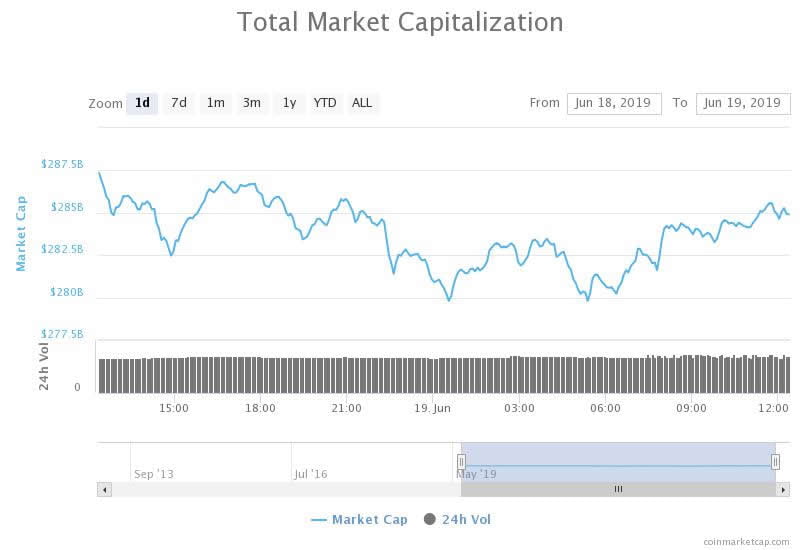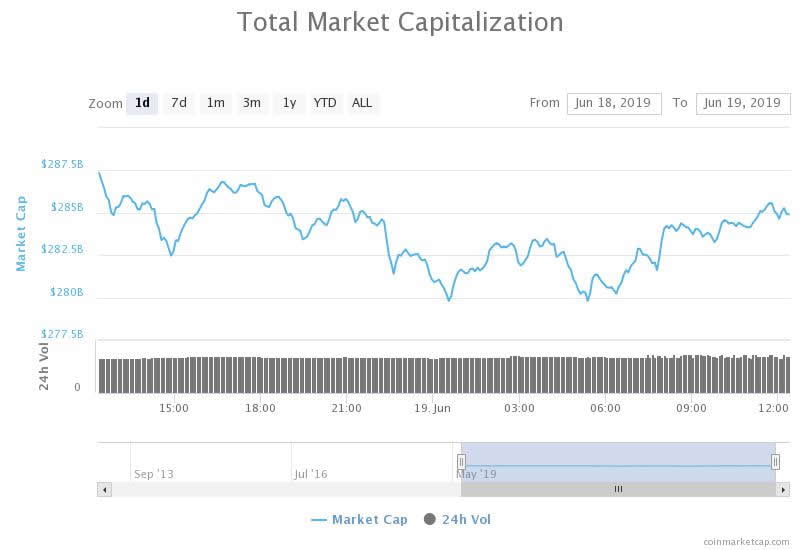 Total crypto market capitalization has not really changed much over the past day. It is back to yesterday's level of $284 billion with a daily volume of $54 billion which has fallen significantly this week. Altcoins are still largely frozen as Bitcoin continues to dominate, still commanding over 57 percent of the market.
Market Wrap is a section that takes a daily look at the top cryptocurrencies during the current trading session and analyses the best-performing ones, looking for trends and possible fundamentals.