Crypto markets have found a new level; Binance Coin pumping hard, EOS and Maker still sliding.
Monday's crypto market dump has found a new level and the selloff has abated over the past 24 hours. This has prevented another huge rout though further losses cannot be ruled out. Total market capitalization has stabilized above $125 billion for the time being.
After dumping $100 yesterday Bitcoin has found a new channel around $3,760 where it has traded for the past day. Daily volume is back up to nearly $9 billion for BTC but it appears to be all bearish at the moment. As predicted Bitcoin fell after failing to break strong resistance at $3,900, all indicators suggest that further losses are imminent.
Ethereum has leveled out at around $127, dropping a further percent or so on the day. All of February's gains are getting wiped out as ETH continues to weaken and follow in the shadow of Bitcoin. XRP has not fallen in the same magnitude which has reduced the gap between second and third places to just $800 million. The Ripple token is currently trading at $0.305.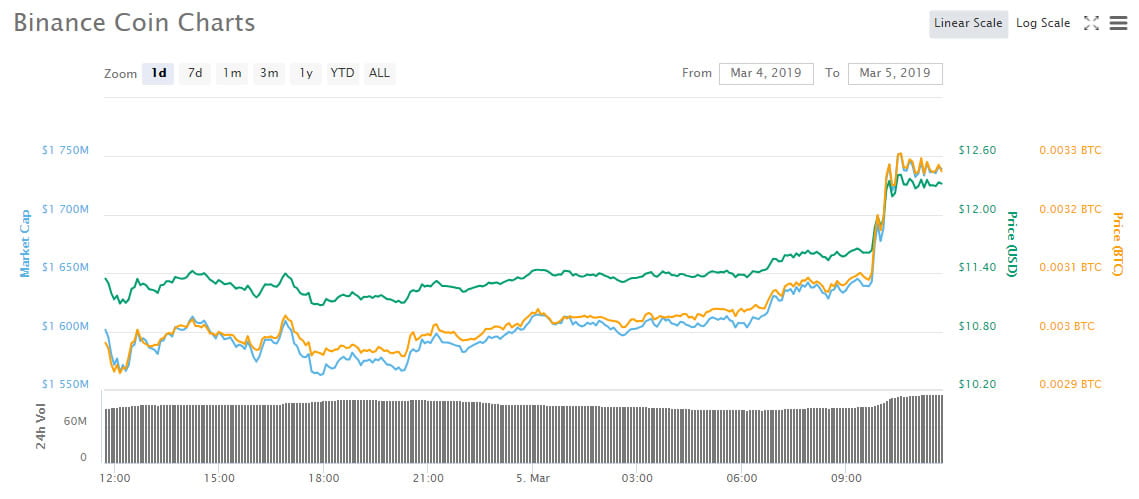 Only one altcoin is surging in the top ten during today's Asian trading session and it is developing a pattern of its own. Binance Coin appears to be behaving like a stablecoin; it pumps when markets dump. BNB is currently up 10.5% as it hits an 8 month high of $12.50. Binance boss CZ appears to have taken over from Justin Sun for volume of twitter posts in any given day;
Progress, slowly but surely. pic.twitter.com/RN7kBKOsVT

— CZ Binance ??? (@cz_binance) March 4, 2019
Either way his exchange backed token is flying at the moment as it surges past Stellar and Tron to take eighth spot by market cap which is currently $1.7 billion. Changpeng Zhao's current AMA and recent DEX announcements are driving momentum for BNB. Tron is the only other altcoin in the green in the top ten as it made almost 3% over the past 24 hours.
Looking further down at the top twenty Bitcoin SV is having a rare bounce as it adds 4% on the day taking its price to $66.50. The rest are still in the red with Maker shedding the most at 5%. Monero, NEM and Zcash are all still weak with further losses of 3% today.
FOMO: MOAC on The Move
Today's fomo induced pump is MOAC which is up 14% at the time of writing. There does not seem to be much driving momentum for this multi-level blockchain scaling platform so it could well be tomorrow's dump. Also getting a boost at the moment is Loom Network with a 12% pump.
Following a couple of days of fomo, Ravencoin is cooling off today as it becomes the top one hundreds biggest loser dumping 13% on the day. Revain and Bitcoin Gold are not far behind as they both shed 12% making up the only three to drop double digits at the moment.
Total crypto market capitalization has found a temporary floor at $126 billion following the $4 billion dump yesterday. Daily volume has crept back up to $28 billion but signals are bearish and the selloff is likely to continue. Crypto markets are at exactly the same place they were three months ago as the consolidation continues.
Market Wrap is a section that takes a daily look at the top cryptocurrencies during the current trading session and analyses the best-performing ones, looking for trends and possible fundamentals.