Crypto markets rebound adding $6 billion; Bitcoin Cash surging, Cosmos enters the top twenty, Ravencoin flying again.
Contrary to all signals yesterday crypto markets have turned bullish again today as $6 billion gets injected back into digital assets. Bitcoin's push back to resistance levels has heaved market capitalization back up to $175 billion.
Just when it looked like BTC would drop through support it bounced back at charged back to $5,400 today adding 2.5 percent. Volume remains above $14 billion and signals now have turned bullish indicating that there could be another push up to $5,600. Analysts are of mixed opinion as to where BTC will go next but more consolidation in this range is likely.
Ethereum has also gained a couple of percent on the day taking it up to $160 again. There are no real fundamentals driving ETH at the moment as it mirrors the movements of its big brother.
The top ten is all green today as Asian traders load up on altcoins. Bitcoin Cash has cranked out an 11 percent gain to reach $270 as daily volume jumps to almost $2 billion. Litecoin and Stellar have also made good gains today with 4 – 5 percent added, the rest are gaining a little less.
The top twenty is also all green and has a new entrant. Cosmos has arrived from nowhere to sixteenth as Coinmarketcap has just recorded ATOM market cap which is at $835 million. This has enabled it to instantly flip Tezos, ETC and NEO. XTZ has had a good day itself with 7 percent added while Tron and Monero made 4 percent on the day.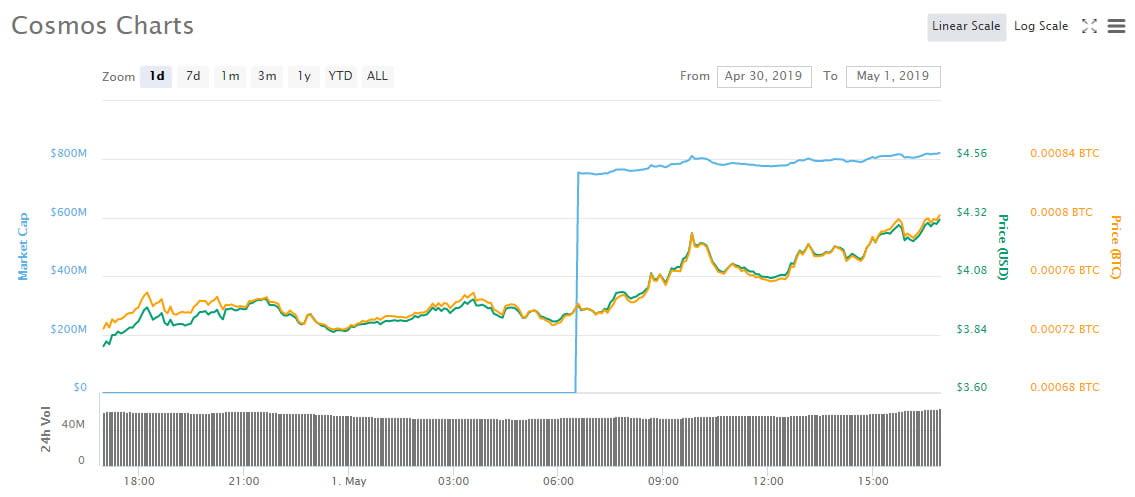 FOMO: Ravencoin Pumps Again
After a dump comes a pump, or is it the other way round? RVN is back with the fomo again today as it tops the top one hundred with a 17 percent surge. There doesn't appear to be a great deal driving momentum fundamentally so watch out for the dump tomorrow. The aforementioned Cosmos has pumped 12 percent surging into the top twenty and Horizen has made it into the big one hundred with a 10 percent gain today.
For the last few days ODEM has been getting fomo and today it is predictably dumping with a loss of 13 percent.  There are no other major declines going on in the world of altcoins at the time of writing.
Total crypto market capitalization has jumped $6 billion, or 3.5 percent on the day. This has taken it back to the middle of the range bound channel at $175 billion. Daily volume is still solid at $46 billion and consolidation is likely to continue within this channel.
Market Wrap is a section that takes a daily look at the top cryptocurrencies during the current trading session and analyses the best-performing ones, looking for trends and possible fundamentals.