Crypto markets back in the green today; Litecoin still climbing, ETH doing well, XRP, XLM and NEO flat. 
A lot of traders expected Monday's red start to the week to continue and accelerate losses into Tuesday. As a testament to how fickle and volatile crypto markets can be the opposite has occurred pumping $8 billion back into the space. Total market cap is back above $250 billion again and green is the dominant colour on the crypto charts.
Bitcoin made another one of its 'Bart Simpson' chart patterns late yesterday as it spiked around $400 in less than two hours. The move sent BTC surging from $7,650 to just above $8,000 which keeps it range bound on the week for now. Since the spike BTC has retreated back below $8k but has held gains giving it a 3.3 percent rise on the day.
Ethereum mirrored the move jumping 4 percent back to $245. ETH remains coupled to its bigger brother so the next direction is likely to be dictated from above.
The top ten is all in the green during today's Asian trading session. One clear winner has emerged though as yet again Litecoin surges double digits. The halving fomo is keeping LTC strong as it pumps another 10 percent to reach $128. The rest are making 2-3 percent aside from XRP and XLM which are still static.
Top twenty movements are similar with privacy coins Monero and Dash doing the best gaining over 3 percent. The rest are up marginally on the day as Bitcoin leads them forwards again.
FOMO: Aurora Pumping Again
As we have seen countless times before AOA is pumping again. This time with a whopping 80 percent as it surges into the crypto top forty. As usual nothing is driving it fundamentally so expect a dump of similar proportion tomorrow. Fantom has also entered the top one hundred with a 70 percent spike as it gets listed on Binance;
Trading on @binance has commenced for $FTM. #FantomiansUnitehttps://t.co/BGySqpsBbN

— Fantom Foundation (@FantomFDN) June 11, 2019
Getting beat up today is GXChain, yesterday's fomo coin, which is the only double digit loser at 11 percent.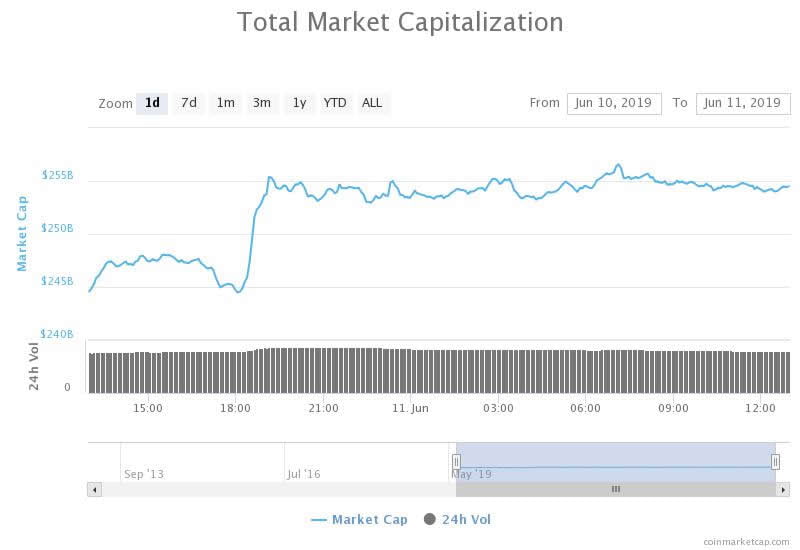 Total crypto market capitalization is up $8 billion today as Bitcoin drives it to $254 billion. The move has maintained the consolidation as all eyes are on BTC and its next larger shift. Whichever direction this turns out to be, will be the same one for the altcoins.
Market Wrap is a section that takes a daily look at the top cryptocurrencies during the current trading session and analyses the best-performing ones, looking for trends and possible fundamentals.