Crypto markets continue upwards; Binance Coin and Litecoin on a rip, ABBC Coin surges out of nowhere.
Crypto markets have continued their upward momentum today as further gains are added. The majority of the majors are in the green and total market capitalization is pushing north of $130 billion. There is still strong resistance ahead though so how far markets can climb this time remains to be seen.
Bitcoin surpassed $3,900 a couple of hours ago and hit an intraday high of $3,940. This could not be sustained however and BTC immediately fell back a little. It is still up over a percent on the day though volume has tailed off a little. Failure to break through resistance at this level will result in a pullback.
Ethereum has made it to $140 again but still failed to make further gains. ETH is currently up a couple of percent on the day and is hovering just below $140. XRP has made slightly less and has reached $0.317; compared to the rest of the altcoins Ripple's token has remained weak for the past month or so.
The top ten is mostly green for the third day in a row as altcoins continue to gain during the day's Asian trading session. Binance Coin is absolutely murdering it as it reaches a ten month high and tops $15. BNB has now also flipped Tether with a market cap of over $2 billion for the first time in over a year.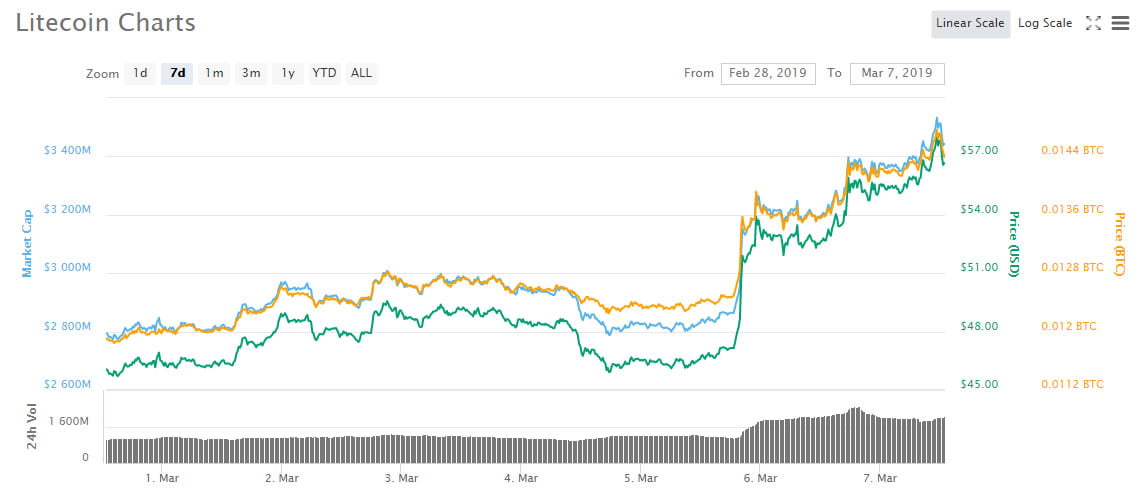 Also on a pump is Litecoin which has surged another 10% taking it to $58 before a slight pull back. This is the highest LTC has been for five months as volume surges to a yearly high of over $2 billion. Over the past 7 days Litecoin has surged 24%, it is about to flip EOS for fourth place and may have already done so by the time you read this. The momentum has come from the major release of Litecoin Core v0.17.1 RC1.
The big mover in the top twenty at the moment is Ontology which has flipped Zcash to enter this section. ONT has added a further 7% on the day taking it to just under a dollar. Monero and Ethereum Classic have made 3% each but the rest have not done much over the past 24 hours.
FOMO: ABBC Coin on a Rip
Again the relatively obscure ABBC Coin has surged by 78% today propelling it up the market cap charts to 24th, ahead of VeChain and Dogecoin. The epic pump has taken ABBC to $0.60 as this relatively obscure altcoin has surged over 800% in the past couple of weeks.
Also getting a good dose of fomo today is Aurora pumping 27% followed by Ravencoin up 22%. The only double digit dump in the top one hundred is Quant dropping 11% on the day, Veritaseum is not far behind with an 8% slide.
Total crypto market capitalization has grown by 2.3% since yesterday. Another $3 billion flowing in has taken markets up to $134 billion. Bitcoin dominance has slid below 52% largely at the expense of LTC and BNB. Failure to break resistance at $4k for BTC will result in the rest of the market falling back again.
Market Wrap is a section that takes a daily look at the top cryptocurrencies during the current trading session and analyses the best-performing ones, looking for trends and possible fundamentals.