Crypto markets still consolidating; Stellar makes a move up the chart, Kin cranking, the rest marginally down.
Crypto markets are still consolidating as they have been for the past couple of days since the weekend pump. Altcoins are still making the most as Bitcoin stalls at resistance at $4,000 once again. Total crypto market capitalization has remained just above $140 billion and up almost $10 billion on the same time last week.
Bitcoin dropped back to $4,000 over the past 24 hours but did not fall below it and has gradually crept back up to $4,050 where it currently trades. Volume is over $9 billion and BTC appears to be poised to test its weekly high again, a move to $4,200 could spell a larger break to the upside.
Ethereum remains at $140 but has weakened over the past few days and cannot seem to gather momentum at the moment. ETH is still up on the week however and remains $1.5 billion clear of XRP in terms of market cap. The Ripple token has also remained flat over the past couple of days and is still trading at $0.312.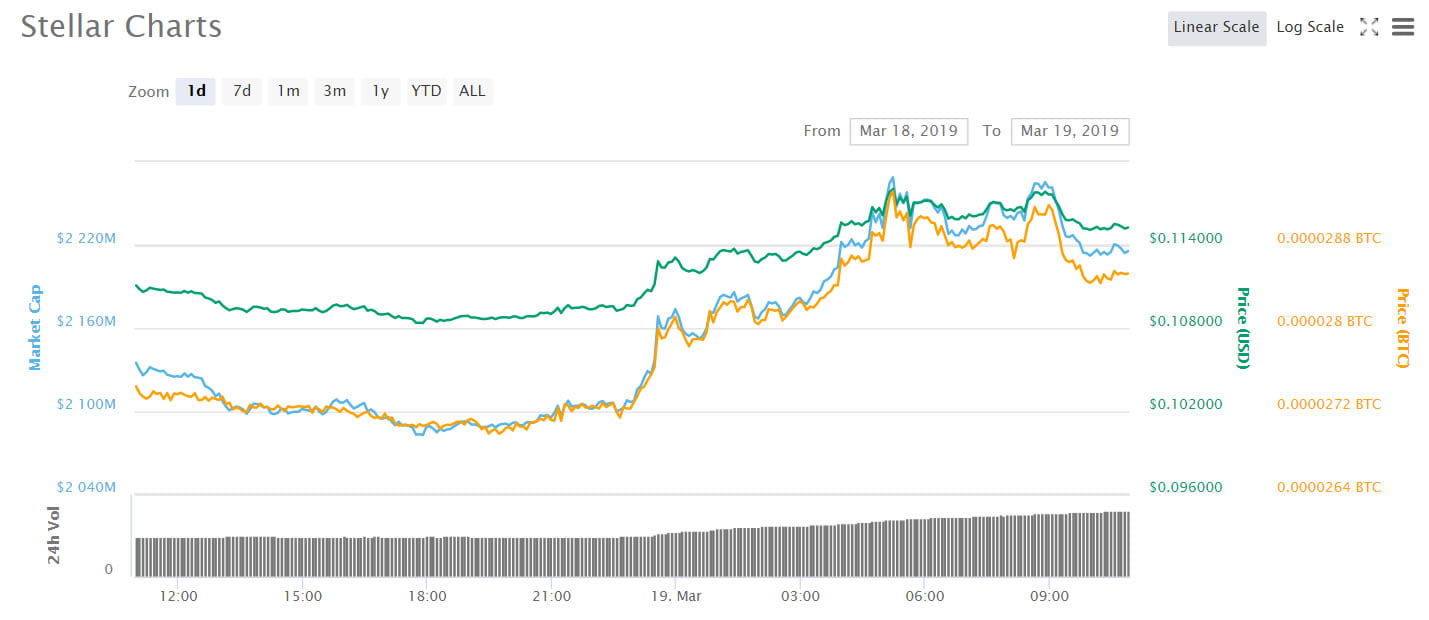 At the time of writing the top ten is all in the red during today's Asian trading session. That is all but on altcoin which is bucking the trend and climbing 4% on the day. Stellar Lumens has just been listed on Coinbase which has added to the momentum though it has not produced the epic spike seen in other listed cryptos such as ETC or BAT.
Stellar Lumens (XLM) support is launching at https://t.co/bCG11KveHS and in the iOS and Android apps within the next 15 minutes. You may need to update your app to properly buy, sell or convert XLM. We will update when XLM is fully live. https://t.co/YSIYNPO4JP

— Coinbase (@coinbase) March 18, 2019
The news has enabled XLM to flip Binance Coin and Tether to take seventh spot with a market cap of $2.2 billion at the time of writing. Stellar has made almost 20% this week climbing from below $0.10 to a high of $0.117 before pulling back a little. Volume has risen from $155 million to $257 million as Stellar climbs the charts.
All other crypto assets in the top ten are falling at the moment with Litecoin and Bitcoin Cash losing over 2.5% each. In the top twenty every altcoin is in the red, the biggest losers are Bitcoin SV, Dash and NEM but losses are only 2% or so. The rest are only marginally down on yesterday's levels.
FOMO: Kin Cranking
Today's top one hundred top performer is Kin which has pumped over 50%. The digital content payments ecosystem token is only worth two satoshis at the moment and the pump appears to be pure fomo, at least according to the Reddit stream.
Enjin Coin is also having a good day with a gain of 15% during Asian trading and Maximine Coin is close behind with 13% added on the day. There are no major dumps going on at the moment but those at the sticky end of the table include Digibyte and Bytecoin dropping 6% or so.
Total crypto market capitalization has remained around $140 billion where it was this time yesterday. Volume remains at $30 billion and markets have generally been range bound since their mini-pump on Saturday. If Bitcoin fails to break resistance again things could fall back pretty rapidly.
Market Wrap is a section that takes a daily look at the top cryptocurrencies during the current trading session and analyses the best-performing ones, looking for trends and possible fundamentals.