A market wide dump this Wednesday has seen $15 billion exit crypto markets as Bitcoin leads them back down again. The choppy conditions have continued and BTC has remained range bound for now but this could be its fifth foray into four figure prices.
Weekly Crypto Gains Wiped Out
Since the weekend, BTC has been steadily gaining ground above $10k. A golden cross on the hourly time frame with the 50 and 200 moving averages indicated that this trend was strengthening. However, the opposing cross on the four hour chart prevailed and a downside turn ensued. From an intraday high of around $10,800, Bitcoin slumped to $10,100 in just a couple of hours during Asian trading this morning.
The move has knocked almost 7 percent off the price and BTC is in danger of heading back into four figures at the time of writing. A dip to $9,750 last Thursday could well be repeated again this week but there have been a lot of buyers lurking at this level previously.
Yet again panic appears to have set in as crypto traders dump en-masse. The fear and greed index has flipped to 'extreme fear' again, dropping to 11 out of 100 on the scale. This could suggest that markets are oversold and BTC may begin consolidating around the $10k level before its next move.
On the down side the mid-$9,000s has provided solid support and below that there is $9,150 which has been its lowest dip so far since the rally began. A number of traders have eyed the weekly MACD which also looks extremely bearish and could signal further losses. 'ChonisTrading' noted;
"$BTC – weekly MACD closing in on cross test in the coming weeks… The last time these indicators crossed the BEAR market was confirmed…"
Altcoins Crushed Again
The $700 slump by Bitcoin has had the usual effect of obliterating the altcoins, many of which are falling harder and faster. Around $15 billion has left the space since this time yesterday as crypto market capitalization falls back to $265 billion.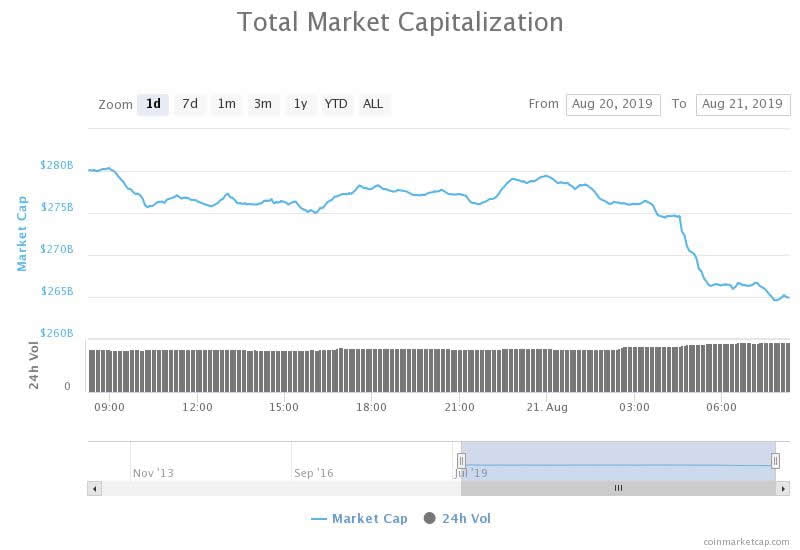 Ethereum could not make any ground above $200 and has been crushed 6 percent back to $188 today. XRP has shed 5 percent in a slide back to $0.266 and Bitcoin Cash has dumped a similar amount falling to $305. Bitcoin SV, Monero and Chainlink are falling even harder.
The only altcoin in the green at the moment is Ethereum Classic which has gone against the flow registering an 8 percent gain to reach $6.20. The rest of the market is in pain again as the cycles repeat.
Image from Shutterstock