When it comes to the top ten cryptocurrencies by market cap, few of the frontrunners of the emerging asset class have performed as poorly as XRP – the crypto token often referred to as Ripple. Since bear market lows were set in most digital assets, they've since gone on to surge as much as 300% in Bitcoin and Ethereum, and 600% in Litecoin. Ripple, however, has offered investors a meager 45% by comparison.
Despite the relative underperformance compared to other assets in the crypto market, analysts conclude that Ripple charts are the most bullish out of any altcoins, especially the large caps, and could make up for ground its lost to other digital assets. Analysts are watching a massive "bullish pennant" on XRP price charts, and are expecting a massive parabolic movement that could take the price of Ripple to a target of $10 per XRP.
XRP/USD: The Most Bullish Chart of All High Cap Crypto Coins
The crypto bear market is dead and gone, and rising from the ashes is the first signs of a new bull market. Bitcoin is approaching $10,000 with momentum, and the entire altcoin market is coiling after its longest period of accumulation ever, in anticipation of a major move up.
Related Reading | Bull Market Imminent? Why Investors are Stacking Ethereum, XRP, and Litecoin 
Crypto analysts everywhere for weeks have been sharing bullish price charts for Bitcoin, as well as other "high cap" altcoins like Ethereum, and Litecoin, which are both expected to outperform Bitcoin in the coming weeks. Ethereum has been building up momentum, and Litecoin's rise is being fueled by pre-halving hype.
$XRP has probably the most bullish USD chart out of all high cap coins. pic.twitter.com/InutWfugbP

— Galaxy (@galaxyBTC) June 16, 2019
Ripple, on the other hand, has been the butt of jokes across the crypto market, until recently. Now, the sentiment is changing for XPR – the native crypto token of the Ripple blockchain – and crypto analysts are now saying it's the most bullish out of all altcoin price charts.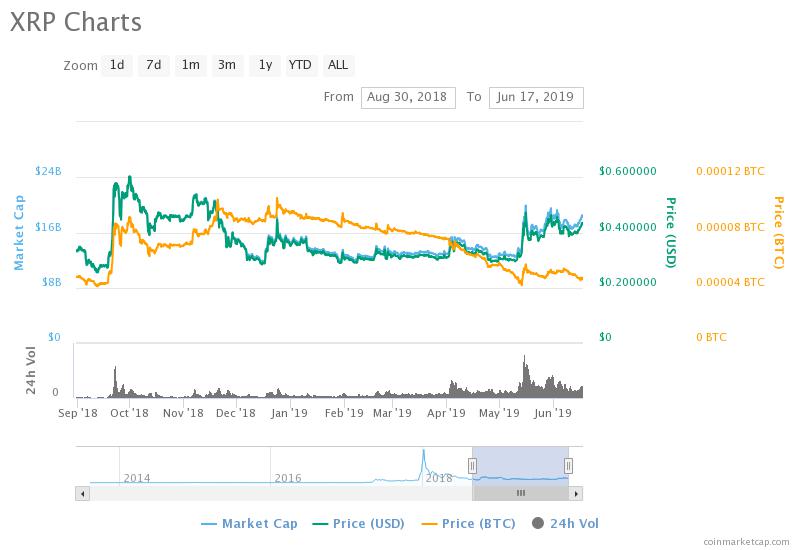 More Than Just a Ripple: XRP Price to Grow 2000%, $10 Price Target
Crypto analysts have been watching the formation of a "huge bullish pennant" closely, which could be the spark that ignites the XRP rocket toward new highs.
$XRP Daily Chart.

A HUGE bullish pennant which will take some time to play out, but bullish nonetheless. Short term, running into some resistance at the 78.6 retrace. A break of that could lead to a break of the highs and a test of the 127.2 retrace at .50.#XRP #Ripple pic.twitter.com/sQ4t6j4h7D

— CryptoFibonacci (@CryptoFib) June 16, 2019
A bullish pennant is– as the name implies – a bullish continuation pattern. The current pattern formed after falling once again to long-term horizontal support, where a powerful bounce occurred. Traders conclude that the pennant "will take some time to play out," but what when it does, it could have XRP retesting resistance at 50 cents.
$XRP long term forecast : $10
My ripple long is by far my most confident trade right now along with $ETH. This coin is going to pump hard, and anybody thinking about selling in, thinking its going to dump, is going to get rekt#ripple pic.twitter.com/oIuFFgG2NB

— TheWolfOfAllStreets (@GerardWalker5) June 16, 2019
A break of previous highs above 50 cents would send the price of XRP skyrocketing toward a "long term target" of $10 toward the end of 2019. The highs for XRP also coincide with the "local top" many Bitcoin analysts are looking at for the peak of the next bull run.
Should XRP price reach $10 from resistance at 50 cents, it would represent a 2000% gain for Ripple holders.
Featured image from Shutterstock