Another flat Saturday as markets are stagnant; Only BAT and DGTX heading higher.
The weekend has brought no joy to crypto markets which have remained immobile for the past few days. The slow downward slide seems to have halted just below $210 billion market capitalization where things remain for another day.
Bitcoin is at the exact same place it was on Friday, $6,480 and there is no sign of a breakout just yet. A similar story is being played out in the Ethereum camp during Asian trading this morning. ETH is immobile again today at around $204.
Alcoins are nearly all in the green but gains are so small they are hardly worth mentioning. The biggest movement in the top ten is Stellar which has inched up 2.2% to $0.244 this morning. The rest are static with small upwards movement of around one percent on the day.
The top twenty is a little more mixed with more red creeping in. Zcash is also up 2.2% trading at $120 right now but the rest have moved less than a percentage point in either direction. Interest in altcoins is at rock bottom this month.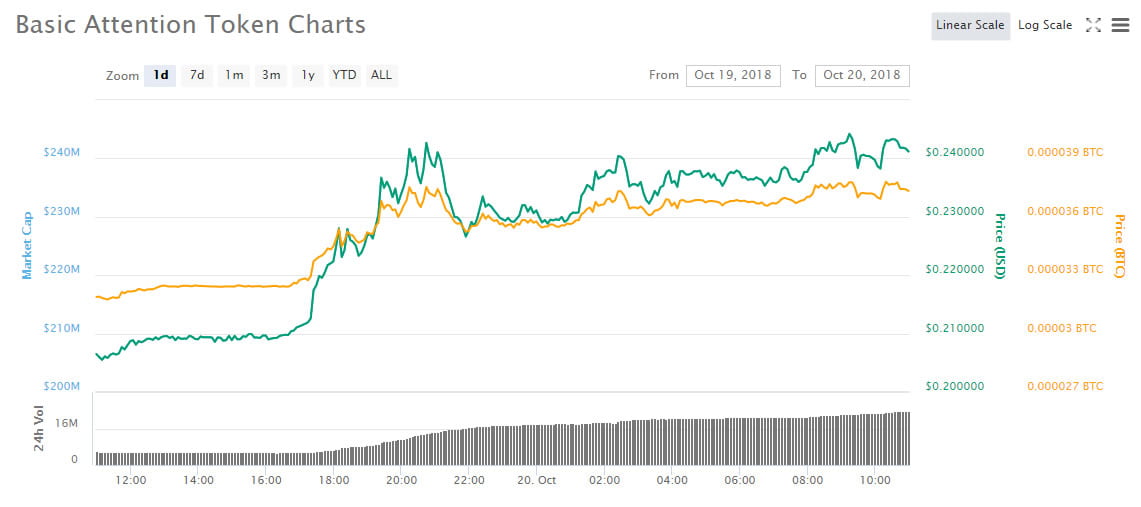 Today's big pump is BAT which has jumped 16% to $0.240 on the day. A new Brave browser release with BAT integrated for tipping websites was launched a couple of days ago which is driving momentum now. Additionally Brave Rewards, which allows publishers and content creators to earn BAT crypto payments based on the time that users spend on their websites, has entered beta testing and is looking towards its final roll-out. Trade volume has quadrupled from $6 to $24 million, over 60% of which is on Binance.
New Brave desktop browser available for download at https://t.co/4wVWi8TElt. This latest milestone on our way to 1.0 is Chromium-based, has 22% faster load time than our previous Muon-based version, & unveils Brave Rewards beta (previously Brave Payments). https://t.co/Zppx5mUZzN pic.twitter.com/RZ5tLm9QDr

— Brave Software (@brave) October 18, 2018
Basic Attention Token has made 33% since this time last Saturday and is also up over 50% on the month. Digitex Futures is also in pump mode, adding 15% to its price levels over the past 24 hours and Aeternity is looking strong with a 10% gain.
Getting the red end of the digital stick is Polymath, as yesterday's pump predictably dumps today. POLY has dropped 11% of its previous gains in this tired pattern of ups and downs. Komodo is also shedding some today with a 7% decline.
Total crypto market capitalization has not moved since Friday morning and is still at $208 billion. The daily lows are getting shallower though so it could get back over $210 billion during Euro and US trading today. Since last weekend markets have climbed 3.5% but they are still very flat.
FOMO Moments is a section that takes a daily look at the top 20 altcoins during the current trading session and analyses the best performing ones, looking for trends and possible fundamentals.