Cryptocurrency markets falling back mid-week; Bitcoin Cash is evaporating, and EOS melting while Waves rides high.
Markets are continuing to fall back as the week goes on and the general trend since the weekend has been downwards. Gains that are made do not last long and total market capitalization is back around the $125 billion level again and looking more bearish today.
Bitcoin could not hold on to the $4,000 level and has slid back to below $3,900 again. After posting an intraday high of $4,075 Bitcoin immediately fell back by almost $200 where it currently resides. Ethereum is weakening by the day and is dangerously close to falling below $100. ETH is currently down around 3% on the day to $108.
Altcoins are all red again today as momentum slips away and things head south. Bitcoin Cash is falling apart, dropping further than any other altcoin in the top ten for the past few days. Today BCH is down another 10% taking it close to $140, its all-time lowest level.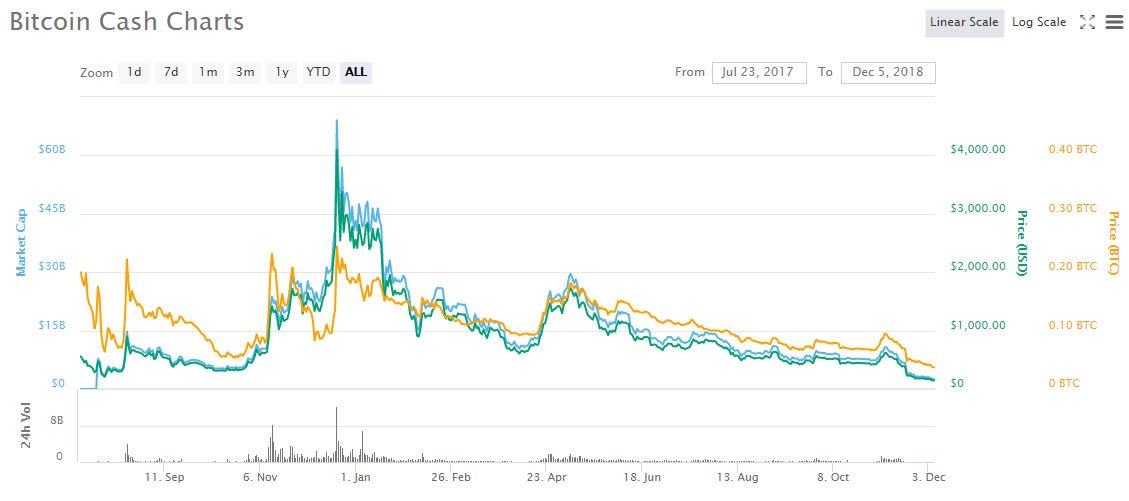 Cardano, as usual, is quick to follow, also disappearing down the digital drain dropping another 7% on the day, closely followed by EOS with even greater losses as it has been in the spotlight yet again for centralization issues.
In the top twenty things are not as grim with Ethereum Classic posting the biggest loss of over 10% as its developer team throws in the digital towel.  At the time of writing only Binance Coin and Maker are both up 7 – 8 percent making them the top gainers in the top twenty.
The top altcoin of the day is Waves which has made a solid 25% taking it over $2. The roll-out of its mobile wallet seems to be driving momentum for the Russian crypto platform. Aion and Factom are both just over 6 percent up at the time of writing. FREE Coin is looking very spurious with random spikes. There are very few altcoins making decent gains today. Dumping double digits during Asian trading at the moment is Nexo and Pundi X.
Total crypto market capitalization as declined by a further $5 billion since the same time yesterday. The 3% slide has taken markets back to $125 billion, below levels this time last Wednesday. Bitcoin dominance is just below 54% as everything falls in unison.
FOMO Moments is a section that takes a daily look at the top 20 altcoins during the current trading session and analyses the best performing ones, looking for trends and possible fundamentals.