After years of rumors and leaks on Chinese social media, Shenzhen residents became the first in the country to trial the digital yuan.
Distribution of funds took place via a lottery-style promotion with 50,000 "red packets," each worth 200 yuan ($30), up for grabs.
Chinese citizens living in Shenzhen registered their interest via the local government app, iShenzhen. The lottery draw took place yesterday, with winners accessing funds through the official Digital Renminbi app.
According to the South China Morning Post, during the trial, the money is spendable only at designated shops in the Luohu district of Shenzen. What's more, winners cannot send the funds to others or transfer it to standard bank accounts.
The funds can be spent during the seven days to October 18. After this time, any unspent winnings become void.
Dan Wang, Chief Economist at Hang Seng Bank, spoke about the benefits of the trial on the local economy. He estimates the 10 million yuan government spend will bring a fivefold increase to the region.
"A back-of-the-envelope calculation would suggest that this 10-million-yuan programme will generate at least 50 million yuan in total demand."
Fears Over Digital Yuan's Role in Crackdown on Sovereignty
The Shenzhen trial shows real progress in China's rollout of the digital yuan. However, at the same time, others see it as the crystalization of ultimate control by the Chinese Communist Party.
Partner at Primitive Ventures, Dovey Wan, said the digital yuan is already similar to the WeChat/Alipay cashless model that's widely used in China.
"it's just a change of payment channel and another app where you can move "money" around."
But she spoke about her concerns over the centralization of monetary control. With that, Wan believes decentralized cryptocurrencies, such as Bitcoin, are more important than ever.
when retail has been so spoiled by the convenience of digitalization of fiat, and now into digital fiat, they can easily trade self-sovereignty and enslaved by the ultimate efficiency those central servers offer

It's more critical than ever for everyone to really own their keys

— Dovey 以德服人 Wan 🪐🦖 (@DoveyWan) October 12, 2020
And with the Federal Reserve also ramping up its development of the digital dollar, this is a point equally applicable to U.S. residents.
So much so that Shapeshift CEO, Erik Voorhees chimed in on the debate by voicing his opinion on the matter.
In a tweet posted today, Voorhees gave a scathing objection to central bank digital currencies (CBDCs). He points out that the inherent features of CBDCs fly in the face of sovereignty and freedom.
"Central Bank Digital Currencies "CBDC's": won't run on a decentralized blockchain, won't possess privacy feature, won't be borderless, won't be permissionless, won't enforce a specific and limited inflation schedule."
Banking controls, such as the Bank Secrecy Act which requires banks to file a report for deposits over $10k, already exist. But Voorhees said a digital dollar would tighten the surveillance capabilities of the U.S. government.
What's more, Voorhees said governments are keen to use CBDCs to try and stamp out Bitcoin and other competing chains.
Greater centralized surveillance and an (incorrect) belief that by setting this up, the benefit of Bitcoin and cryptocurrency generally is diminished 😂

— Erik Voorhees (@ErikVoorhees) October 11, 2020
A solid performance sees Bitcoin close last week above $11k. Currently, BTC is down 0.75% at $11,280.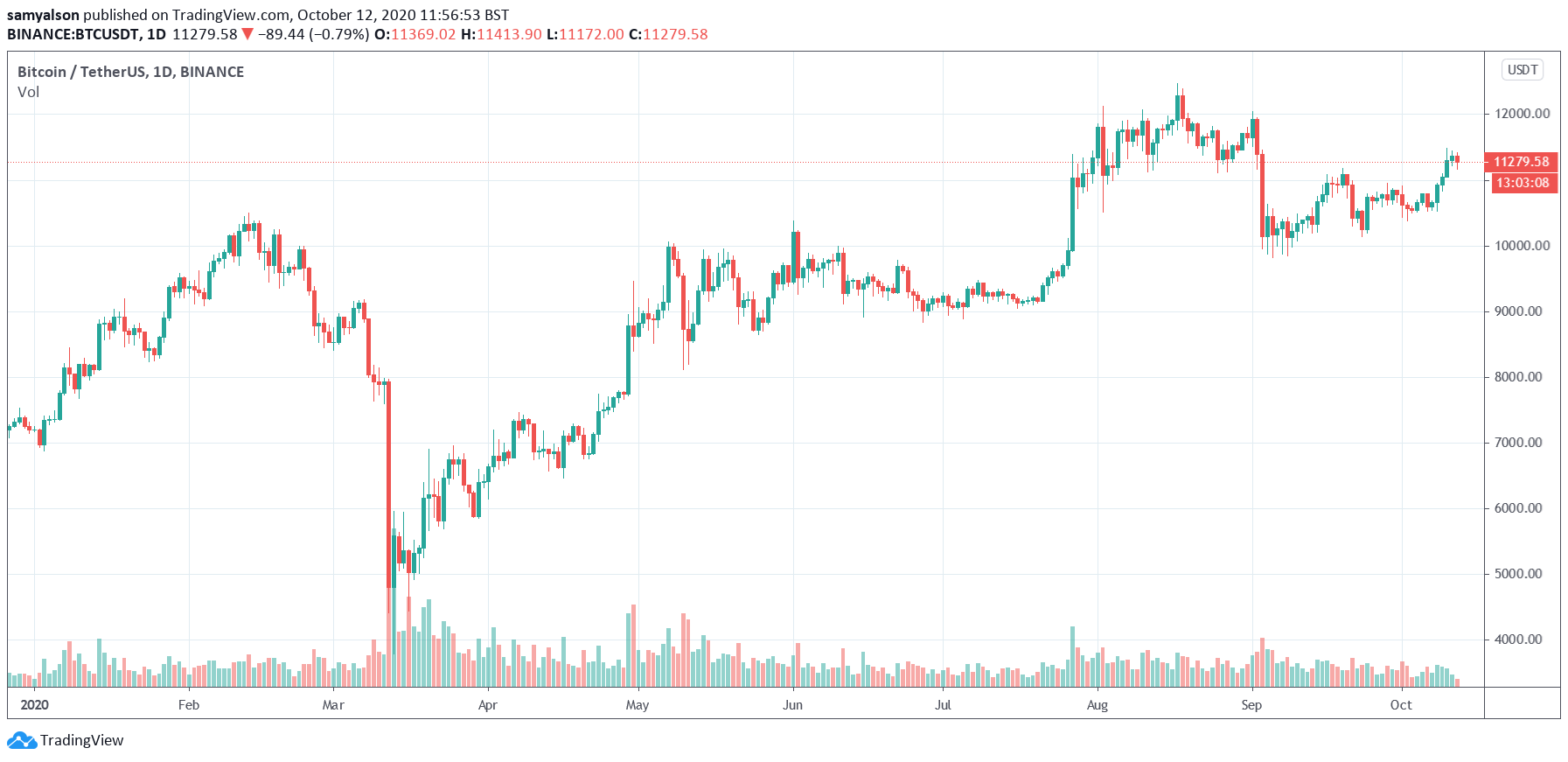 Bitcoin daily chart YTD with volume. (Source: tradingview.com)