The Dogecoin price dropped 2.05% against the BTC in over the last 24 hours, as Bitcoin continued to test its prevailing upside risk near 281; therefore maintaining its bullish bias. The Doge price is reacting inversely to Bitcoin's price behavior; and is therefore continuing on its prevailing bearish bias.
Dogecoin Price 4H HITBTC Chart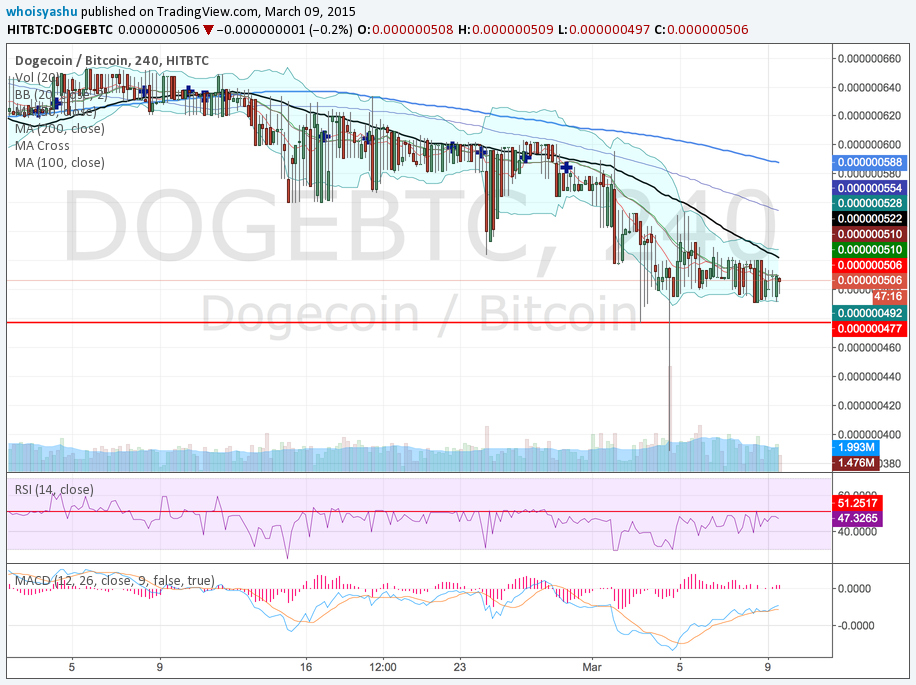 As you can see in the chart above, the Dogecoin price has held a constant downward momentum for quite a time. Over the last 24 hours, the price succeeded to float above 49, while testing upside resistance near 52; therefore forming consolidation between the aforesaid parameters. The near-term sentiment therefore stayed neutral for a brief time, yet in a long-term bearish bias. The technical indicators further prove the saying.
The Dogecoin price is currently way to below the 50 H MA.
The RSI continued to stay below 50, therefore validating the bearish bias (notice the red line)
The MACD blue curve also continued to trend in a negative territory, though remained above the signal line; therefore validating the near-term neutral scenario.
At press time, the price is sighting 52 as its next resistance which, if breached, could validate a smooth correction towards 53. The huge selling pressure around 53 however could early pullback Dogecoin price, that would bring 49-support back in sight. Any further selling pressure near 49 coincides with an extended bullish bias in the Bitcoin market (upside risk near 281). In case Dogecoin price breaks below 49, the downside risk will towards the previous bottom near 47 (while ignoring the accidental dump towards 38).
Conclusion
Setting your stop loss near 49 would ensure a timely exit.