There have been a number of clear victors over the weekend as crypto markets pumped by $10 billion. Litecoin has been the obvious one with a surge of almost 40% since Friday but Ethereum has also make a strong enough comeback to retake second spot from XRP.
Ethereum Back in Second Place
Ethereum has been battered and bruised in recent weeks hitting a new 2019 low Wednesday last week of $103. The $100 level is a key support zone both technically and psychologically and a fall below this would spell a tough recovery period for Ethereum.
During the recent crypto market pump late Friday Ethereum surged over 14% from $105 to $120 by Saturday. This alone has not been enough for it to usurp XRP which also climbed during the rally. However over the past 24 hours Ethereum has continued climbing to reach an intraday and weekly high of $125. ETH has since pulled back a little and is currently trading at $121, but still up 1.5% on the day at the time of writing.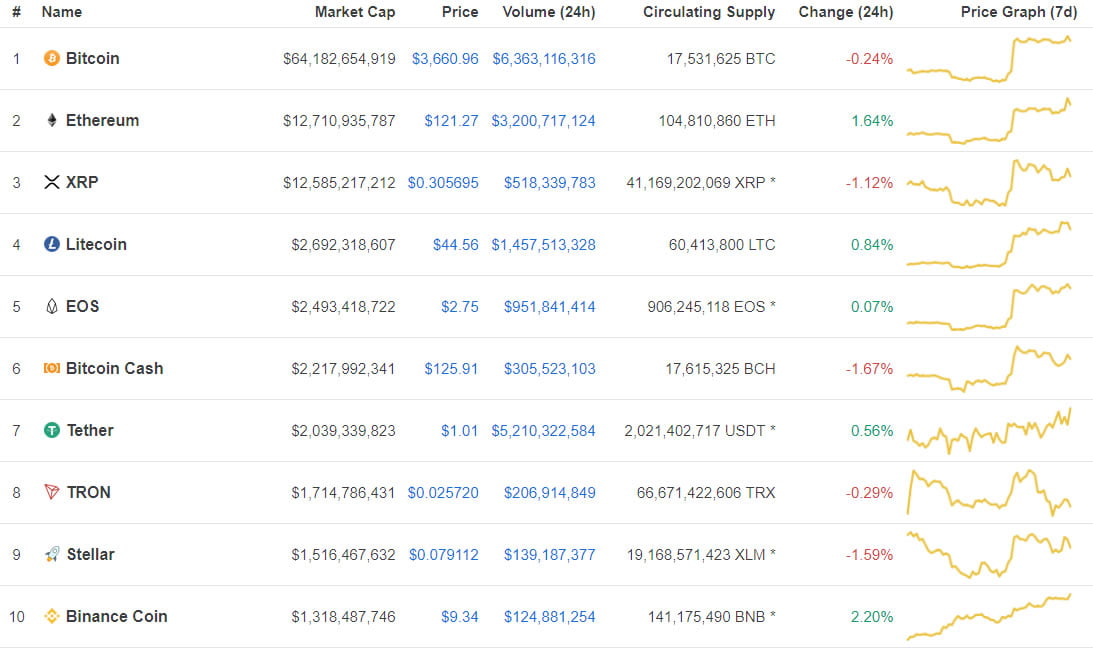 Daily volume is up from $2.7 to $3.2 billion and this has been enough to push Ethereum's market capitalization above XRP according to Coinmarketcap.com. At the time of writing ETH market cap was $12.7 billion and it was in second place. Ripple's token conversely only managed to make 8% during the weekend rally taking it to a weekly high of $0.315.
Since the Saturday high XRP has slid back to $0.305 marking a 1.5% decline on the day. Market cap has shrunk to $12.5 billion as it drops back behind Ethereum and into third spot again. The two are very close and a re-flippening could easily occur if Ethereum weakens more than XRP over the coming week.
The lack of momentum for XRP is perplexing since new partners are continually being onboarded into RippleNet. At the end of last month Japan's SBI financial group released a report recognizing Ripple's importance for cross border transactions. The SWIFT and R3 partnership announced last month could also been good news for Ripple but none of this has been reflected in XRP price.
Ethereum has been further weakened by the Constantinople hard fork delay but a rescheduling to late February could spell more bullish momentum for ETH. The new fork which will address previously discovered security flaws will take place at block 7,280,000 or around February 27.
At the moment though Ethereum is back as the world's second largest crypto asset.
Image from Shutterstock