Most of the world's largest companies experimenting with blockchain are apparently doing so on Ethereum. Amongst the notable names are Fidelity, Google, and HTC.
Blockchain spending has been increasing dramatically over the last few years and it looks like the number two crypto by market capitalisation is leading the way in terms of corporate adoption.
Much of Ethereum's Fabled EEA Still Interested in the Platform
For many Ether investors, enterprise adoption is all important. In 2017, Enterprise Ethereum Alliance announcements were often accompanied by massive price surges for the number two crypto by market capitalisation. Names likes Deloitte, National Bank of Canada, Samsung SDS, and Toyota and many more were gradually added to the list. Meanwhile, investors waited for one of these massive companies to develop a killer application for the blockchain that requires the use of vast quantities of Ether, thus sending the price rocketing.
Things have not exactly turned out as many had expected. The Enterprise Ethereum Alliance (EEA) has not been in the news much of late and there is no corporate use case of the blockchain that has sent the price parabolic again. However, development is clearly still going on.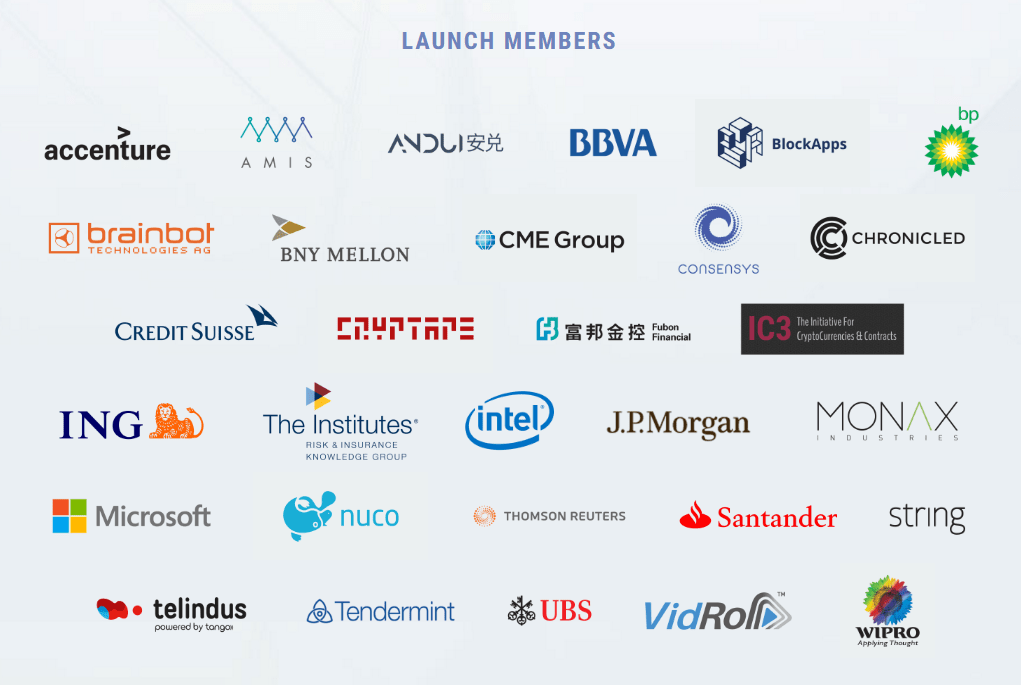 Forbes has just released a list of billion dollar companies experimenting with blockchain technology. The "Top 50 Billion-Dollar Companies Exploring Blockchain" is the first part of two similar articles. It will eventually create a full top 100.
The list shows that most of the world's largest companies that are interested in distributed ledger technology are currently looking at public Ethereum or private Ethereum-derived ledgers to build applications on. Most companies featured are exploring numerous blockchains, however.
Of those that prefer other blockchains, Hyperledger, IBM Blockchain, and Bitcoin all seem popular amongst the corporate giants exploring the tech.
In an article detailing the new Forbes list, ConsenSys stated that 24 of the 50 billion-dollar companies are currently investigating the Ethereum public blockchain, with a further 12 using Enterprise Ethereum-derived platforms in instead.
The ConsenSys piece goes on to opine:
"It's likely that the large developer community, existing standards developed by the EEA, and public compatibility are driving some of Enterprise Ethereum's reported dominance."
What Are The Biggest of The Big Working on?
Below are some of the more notable companies on the list and the specific blockchains they're currently exploring:
Amazon — Hyperledger, Gabric, Ethereum (later this year).
Citigroup — Ethereum
Coinbase — Bitcoin, Ethereum, XRP, Lumen.
Fidelity — Bitcoin, Ethereum.
Google — Bitcoin, Ethereum, Bitcoin Cash, Ethereum Classic, Litecoin, Zcash, Dogecoin, Dash.
HTC — Bitcoin, Ethereum.
IBM — IBM Blockchain, Stellar, Hyperledger Burrow, Sovrin.
JP Morgan Chase — Quorum.
MasterCard — An original blockchain built from the ground up.
Microsoft — Ethereum, Parity, Corda, Hyperledger Fabric.
Nasdaq — Symbiont, Corda, Hyperledger Fabric.
Nestle — IBM Blockchain.
Overstock — Bitcoin, Ethereum, RVN, Florin.
Samsung — Nexledger, Ethereum.
Visa — Hyperledger Fabric.
Walmart — Hyperledger Fabric.
Blockchain Spending Growing Dramatically
According to International Data Corp, spending on blockchain technology solutions increased by 89 percent compared to the previous year. It is projected to reach $2.9 billion this year and $12.4 billion by 2022.
Meanwhile, Deloitte surveyed executives from a range of companies. The results found that 95 percent of those asked were already invested or planned to at some point this year.
Related Reading: Vitalik Buterin Remains Confident About Ethereum 2.0 Development Amid Concerns
Featured Image from Shutterstock and Enterprise Ethereum Alliance.